New England Patriots: Tom Brady Isn't Human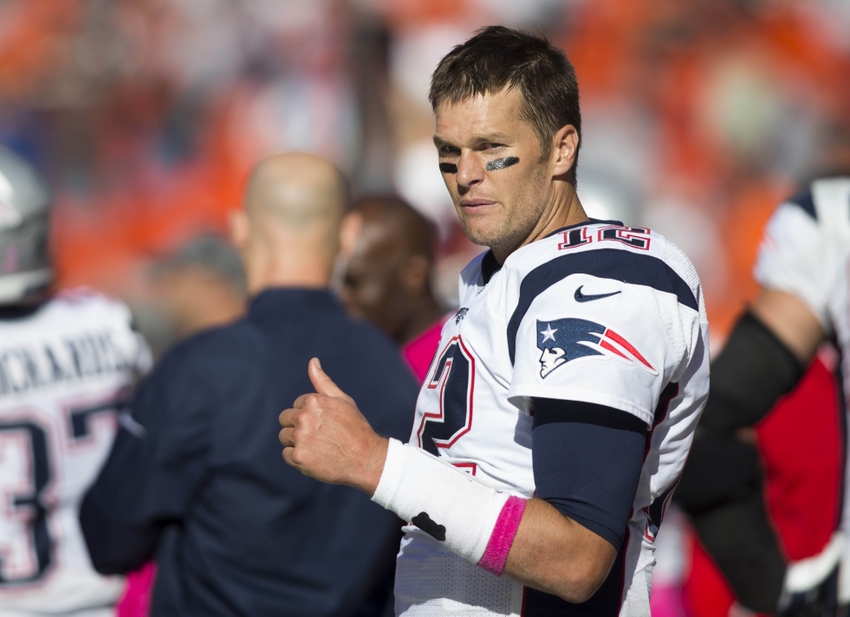 Nothing seems to slow down New England Patriots quarterback Tom Brady, so the only logical conclusion is that he simply isn't from this world
Most NFL Players slow down with age. Take Peyton Manning for an example. He won a Super Bowl at 39 years old, but he looked rough in doing so. The ball had nearly no zip on it and deep passes were a thing of his past.
Other players slow down even earlier than Manning did. Dallas Cowboys quarterback Tony Romo is physically falling apart at age 36 and former Philadelphia Eagles passer Donovan McNabb was all but washed up by his mid-30's.
Then there's Tom Brady. Every single year he gets better and every year people wonder how much longer he could go. Yet he never, ever slows down. Even with ridiculous off field stuff like flat footballs trying to cloud his head, he keeps on rocking. But surely though a four-game layoff due to a suspension would slow down the 39-year old Brady. Right?
Wrong again. Brady is the eldest starting quarterback in the NFL and he spent a quarter of the season off the field. On Sunday, he returned and looked like he didn't miss a beat.
Brady completed 28-of-40 passes for 406 yards with three touchdowns and no turnovers. He operated in the pocket like a machine. He spread the ball around and delivered sharp, efficient passes.
When Peyton Manning threw the ball last season it looked like a man approaching 40 was throwing it. When Brady throws it, it looks like a 25-year old fast ball pitcher.
And what's even more scary for teams ready to play against him? He says he just keeps feeling better despite what his birth certificate says.
So why is it that Brady is immune to aging and rust from sitting on the sidelines? Simple, he's not human. He was surely created in some lab somewhere and will continue to play until he is 50.
What he is doing is completely unreal and the teams remaining on the Patriots schedule are going to have a tough time with this angry NFL cyborg.
Everyone left on New England's schedule is in for some fun. As coach Bill Belichick would say "we're on to Cincinnati."
More from NFL Spin Zone
This article originally appeared on