New England Patriots: Tom Brady is dealing, dominating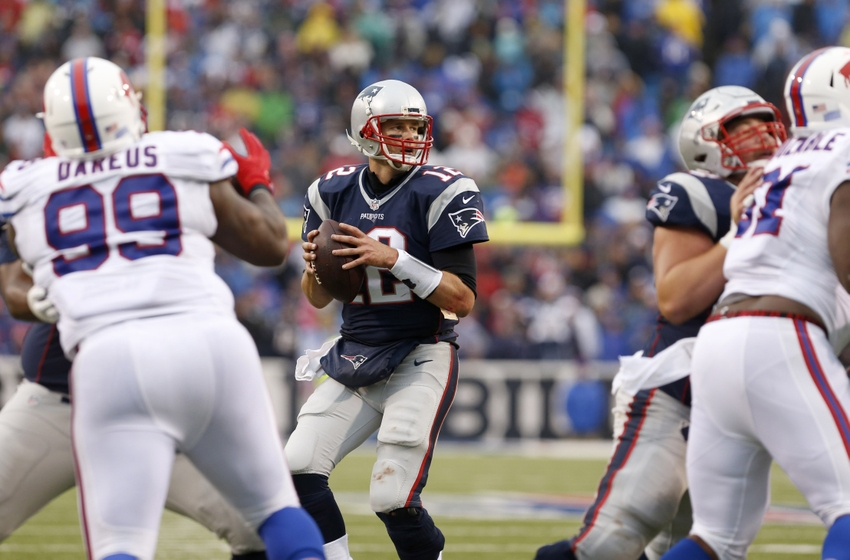 New England Patriots quarterback Tom Brady is on another planet right now, and is absolutely destroying everything in his path…
New England Patriots quarterback Tom Brady isn't playing angry, but he's playing with a chip on his shoulder.
After a tough loss in last year's AFC Championship game to the Denver Broncos and a suspension to start the 2016 season, Brady has been absolutely unreal. Out of this world. Ridiculous.
He's only played in four games, but he leads the NFL right now with a QB rating of 133.9, and ranks 11th in the league with 12 touchdown passes. That's insane considering most of the other guys on the list have played seven or eight games.
Brady doesn't look phased at all having sat out four games this season. In fact, he looks as fresh as he ever has, and that suspension could have been an inadvertent blessing from the NFL, keeping Brady from four games' worth of hits.
The Patriots haven't been flawless as a team, but Brady hasn't made many mistakes. In fact, he doesn't have an interception through the first four starts of the season, and has taken just eight sacks.
He's completing over 73 percent of his passes, and the Patriots have won his four starts by a combined score of 136-71. Just watch what he did on Sunday to the Buffalo Bills…
315 yards.
4 TDs.
26th win against the Bills.

Tom Brady's Week 8 Highlights https://t.co/Ys7kVBB978

— NFL (@NFL) October 31, 2016
At the age of 39, it's fair to wonder what's in the water Tom Brady's drinking. There have been no quarterbacks that I can recall who have played at this kind of dominant level at or near the age of 40. Brett Favre is a name that comes to mind in recent history, but even in his latter years with the Vikings, Favre was throwing plenty of interceptions.
Brady looks unstoppable, and granted, since he has returned the Patriots have played the Cleveland Browns, Cincinnati Bengals, Pittsburgh Steelers (without Ben Roethlisberger), and now the Buffalo Bills (without LeSean McCoy). That's not me trying to say that Brady's level of competition has led him to these crazy results, just pointing out the facts.
The Patriots are 7-1 going into their bye week, and they come out of that bye facing off against the Seattle Seahawks at Gillette Stadium. You can bet the Seahawks will be juiced up for an opportunity to dethrone the Patriots, especially after the way New England beat them in the Super Bowl two seasons ago.
Right now though, it doesn't look like there's anyone Tom Brady could be phased by. He's picking defenses apart and making it look too easy. The Patriots have a great variety of weapons for him to get the ball to, and he showed that weaponry off on Sunday, throwing touchdowns to four different receivers.
The Patriots are clicking, and Tom Brady is playing the best football — dare I even say it? — of his NFL career.
This article originally appeared on