New England Patriots Morning Thoughts: Tom Brady For MVP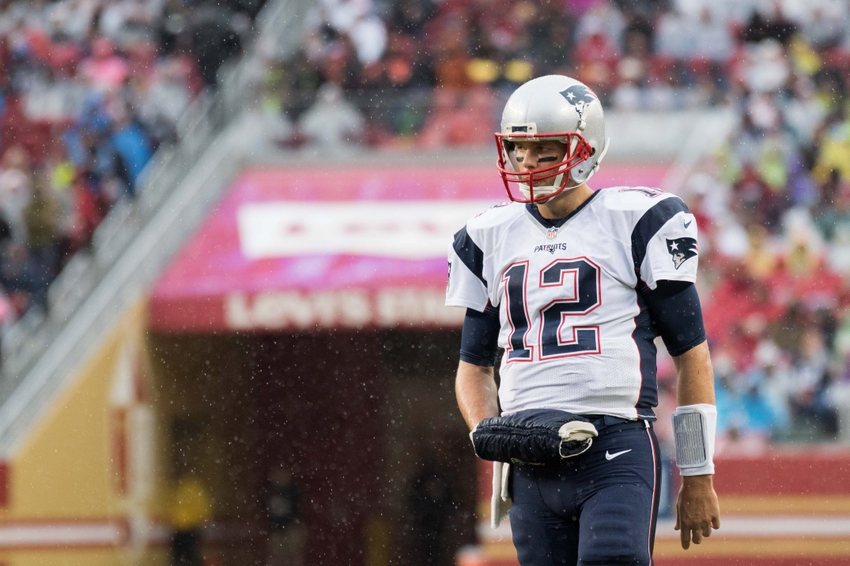 Can New England Patriots QB Tom Brady Actually Win The MVP?
Sitting around my Thanksgiving table this year one of the thoughts that came to my mind as I was watching the Detroit Lions vs Minnesota Vikings game was the idea of New England Patriots quarterback Tom Brady winning the MVP.
This idea has been talked about consistently by fans and members of the media ever since Brady returned from his four game suspension and tore up defenses around the league one after the other. Many of you have probably contemplated this thought or decided that Brady shouldn't be eligible due to only playing a maximum of 12 games compared to a player like Dak Prescott who will be playing in all 16.
Las Vegas betting lines believe at this very moment Brady is the odds on favorite to take home an MVP win at seasons end. Since his return he has been near or at the top of the Vegas odds with the only decline being two weeks ago after the loss against the Seattle Seahawks.
Voters could go another way but what he is doing at 39-years-old is historic.
Arguing for or against Brady depends on how heavily a voter weighs a full 16-game season. Brady missed four games, but since returning from that Deflategate suspension, he's gone 5–1 while completing a career-high 70 percent of his passes on a career-high 13.2 yards per catch. He's 39, but he's throwing farther and more accurately than ever. That's almost unprecedented.
A handful of hall of fame QB's struggled late in their careers, Dan Marino limped into retirement at 38. Peyton Manning died in October of last year at 39, and was then awarded a Super Bowl victory by a stellar defense. And then the Packer great Brett Favre threw as many interceptions as touchdowns (22) when he was 39. Brady at 39 is the best quarterback in football.
Brady's Road Is A Similar Path His Idol Joe Montana Took In 1989
San Francisco 49er's QB Joe Montana in 1989 is almost an exact comparison to what Brady could do. He missed three full games with a sprained knee, and backup Steve Young appeared in 10 games throughout the season, yet Montana shot to the top of the MVP race by playing at an elite level in every game he played.
Montana led the league in passer rating and was fourth in touchdowns and eighth in passing yards. A big factor for Montana was how he dominated prime time chances, roughing up the Saints on Monday Night Football in November (302 yards, three scores, and no picks in a 31–13 win), cruising past the Giants in prime time (three TDs, no picks), and toasting the Rams on Monday night a month later (458 yards).
For Brady the loss against the Seahawks in prime-time will certainly hurt his case, but with a couple of more opportunities in December he still has a chance to shine on the National Prime Time window. The two games to watch going forward is the Monday Night game against the Baltimore Ravens and the late afternoon game against the Denver Bronco's.
A Look At The Competition
Brady isn't alone on top of MVP projections, he has to compete with Oakland Raiders QB Derek Carr, Atlanta Falcons QB Matt Ryan, and Dallas Cowboys running back Ezekiel Elliott among others.
Want your voice heard? Join the team!
With weeks to play the exact candidates and who will fall off or jump on the short list could change greatly. But knowing the kind of player Tom Brady is it is highly unlikely he finds himself out of the MVP conversation.
More from Chowder and Champions
This article originally appeared on