New England Patriots Fantasy Football Outlook: Week 1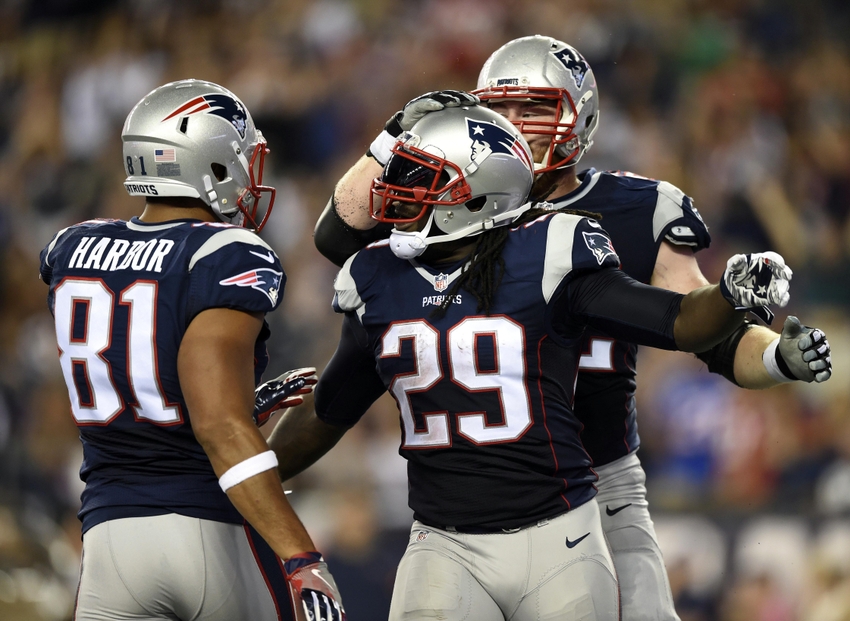 The beginning of New England Patriots football also means the beginning of New England Patriots fantasy football.
For starters, here is a power ranking of the five most potent New England Patriots fantasy football players for Week 1. We will also dive into Patriots fantasy football sleeper of the week as well as a check on the defense. So if you have a Patriots player on the bubble as you finalize Week 1 lineups, you have come to the right place for advice (not necessarily for PPR though).
1. Rob Gronkowski
Even though his status for Week 1 is up in the air, we have to pencil-in Rob Gronkowski as the most promising Patriots fantasy football player this week. The fact of the matter is that Gronk is the best overall football player on the planet right now, so even a hindered Gronk is worth starting no matter what.
2. LeGarrette Blount
All week, this writer has been predicting a hefty workload for the Patriots' lead back. Expect a stat line of 125 yards and two scores for LeGarrette Blount as the Patriots look to establish the run with an inexperienced quarterback at the helm.
3. Julian Edelman
Julian Edelman will probably be the most targeted Patriots pass catcher on Sunday night because of his ability to get open in tight spaces, making him the next best Patriots fantasy football option after Gronk and Blount.
4. Martellus Bennett
Martellus Bennett's stock will skyrocket if Gronk is sidelined, but even with Gronk on the field Bennett will be a desirable red zone option.
5. James White
As Garoppolo gets accustomed to the speed on a meaningful NFL game, he will be looking for safety outlets whenever possible. James White cracks the top five best Patriots fantasy football plays this week as a result.
Patriots fantasy football sleeper of the week:
WR Malcolm Mitchell
He doesn't make the top five simply because he is such a far-fetched play, but Malcolm Mitchell is the Patriots fantasy football sleeper of the week. He will be the last of the Cardinals' worries; we haven't even gotten to Danny Amendola or Chris Hogan yet. Essentially, Mitchell will be the Patriots' No. 4 receiver and No. 8 target when you put Gronk, Bennett and White in the picture.
Another chapter in Malcolm Mitchell's advocacy for children's literacy
So why is this writer going out on a limb and saying Mitchell will break out in his very first NFL start? Simply put, because this is exactly the type of thing that Bill Belichick would do in such a funky game. Expect Bill to put the pressure on a No. 3 or No. 4 corner like Justin Bethel or Marcus Cooper by having Jimmy G target Mitchell in single coverage. The Georgia product was arguably the best wideout in the SEC when healthy, and he holds a ton of potential.
A check on the defense
Currently ranked No. 12 on ESPN's Week 1 rankings, the Patriots are a defense that owners should start. The Patriots' offense may be missing their keystone piece, but for the most part, the Patriots have everyone. Rob Ninkovich is out of the picture, but the Patriots have no shortage of edge rushers, from Jabaal Sheard and Chris Long to Trey Flowers and Shea McClellin (and Barkevious Mingo, don't forget).
Throw Dont'a Hightower and Jamie Collins rushing up the middle, and it's safe to say that the Patriots will be putting pressure on Carson Palmer early and often tomorrow night as they try to show former teammate Chandler Jones up a bit. Palmer is susceptible to multi-interception games, especially when facing a fierce pass rush; such a scenario would make the Patriots fantasy football defense a good play.
Look for rookie cornerback Cyrus Jones to make his mark in his first NFL game with not only an interception, but also a punt return touchdown. Both of which will make the Patriots fantasy football defense a desirable start in Week 1.
This article originally appeared on