New England Patriots 53-Man Roster Projections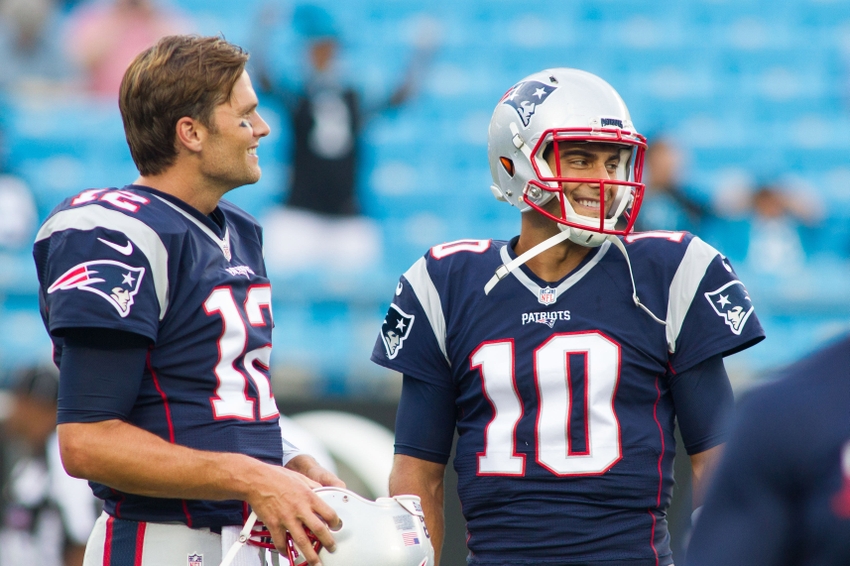 With roster cuts looming, who will make the New England Patriots roster to start the 2016 NFL season?
The New England Patriots trimmed their roster from 90 to 75 on Tuesday, but still have many more cuts coming as they approach the start of the 2016 NFL regular season. By Saturday, the Patriots and every other team across the NFL will have to cut their rosters down to 53 men.
There are many difficult decisions ahead of Bill Belichick, Nick Caserio in the coming days – how many special teams aces can they realistically carry on the roster? Who fills the void while Dion Lewis is on PUP? How can you trim down a defense that has looked so good during the preseason?
All these questions must be answered before Jimmy Garoppolo and the New England Patriots can fully prepare for the Arizona Cardinals on September 11.
The Patriots have plenty of players who will not start the year on the roster – but are more than likely going to hit the roster at some point in 2016. The chief among them is Tom Brady. As nearly everyone knows, Brady will be serving a four-game suspension as a result of the debacle that was DeflateGate.
Along with Brady, both Dion Lewis and Sebastian Vollmer are guaranteed to miss the start of the season as they have both already been placed on the "Reserve/PUP" list. This guarantees that neither can return until at least week seven of the NFL season.
Lewis is still recovering from a "clean up" surgery on his knee that he tore the ACL in during the 2015 season. Vollmer has multiple reported injuries, and some suspect (ESPN's Adam Schefter) he will not play at all in 2016. As for Danny Amendola, he has yet to take the field in preseason action and has all the signs of a PUP stint. This would allow him to more fully heal, and give the Patriots a chance to work on another fringe roster player to see if they have a possible keeper.
Quarterback (2) – Jimmy Garoppolo, Jacoby Brissett
As strange as it may seem, Tom Brady will technically not be on the Patriots' week one 53-man roster. The suspended quarterback gives way to Jimmy Garoppolo and rookie Jacoby Brissett. The Patriots spent a second round pick on Garoppolo and a third round pick on Brissett – meaning both will stick around, if healthy, when Brady returns.
Until then it is Garoppolo's job. The third-year quarterback from Eastern Illinois has had his ups and downs in Training Camp and preseason action, but will take the reins when the Patriots travel to Arizona in week one – for better or worse.
It is obvious that the Patriots will not be the same without arguably the best quarterback in the history of the NFL, Brady. Grapple has been a part of the organization for two seasons and a training camp, however. He should have a good grasp of the playbook – and will have a full complement of weapons entering the year. It is unlikely he can duplicate what Tom Brady did for the New England Patriots when he got his first chance, but look for Garoppolo to be pretty successful for the Patriots until Brady returns.
Running Back (4) – LeGarrette Blount, James White, Brandon Bolden, James Devlin
The New England Patriots might have the most difficult time cutting down their running back group ahead of the 2016 season. They currently have players such as Tyler Gaffney and D.J. Foster that appear to be good players, but just do not fit the roster construction.
That means filling the role of the injured Dion Lewis will be James White. He is not nearly the explosive play maker, but White has been good in the pass game – especially in 2015. He will likely be the check-down option for Garoppolo while LeGarrette Blount takes on the "lead back" role.
There really is no "lead back" in New England, but Blount most closely fits that description. He will be the between the tackles runner and likely be the short-yardage back as well. He can be frustrating on an every down basis, but the big play potential is always exciting for Blount.
A solid addition to the group is fullback James Devlin. He broke his leg in the 2015 preseason, but is back to help clear holes for Blount and possibly Bolden. He has some versatility to make a catch out of the backfield, but his true value comes in the different formations he allows the Patriots to align in.
Tight End (3) – Rob Gronkowski, Martellus Bennett, AJ Derby
This might be the most stacked group on the team, and in the NFL. The New England Patriots love using tight ends, and have two very, very good ones. Rob Gronkowski has ascended into an all-time player in just six season – proving to be one of the hardest players in the NFL to plan for. Add a talented tight end to the other side in Martellus Bennett, and teams are going to have fits preparing for the duo.
Both Gronkowski are known for their ability to make plays in the passing game, but both are also good at the line of scrimmage. Gronkowski is a dominating blocker who can be used anywhere on the field while Bennett is an underrated blocker who can complement the Patriots run game.
With both on the field, the Patriots will be able to go up-tempo and not have to change personnel. They can create in both the pass and run game for Garoppolo, giving the young quarterback two go-to options on the field at the same time. Grapple has also shown a liking to second-year tight end AJ Derby, which is why he makes the roster. He is a skilled player who is still raw in his conversion from college quarterback to college tight end to NFL tight end. Adding Derby near the end zone will create mismatches all over the field for New England.
Wide Receiver (5) – Julian Edelman, Chris Hogan, Malcolm Mitchell, Keshawn Martin, Matthew Slater
It has been noted that Danny Amendola will likely start on the PUP list. This leaves five receivers for the roster – really only four pass-catchers. The obvious choices are Julian Edelman and Chris Hogan.
Edelman has been consistently reliable for Tom Brady, and should provide a similar option for Garoppolo. He has some rust to knock off after missing most of the preseason, but is one of the best route runners in the NFL and as steady as they come.
Hogan was one of the big additions to the Patriots in the offseason, getting good money to come to New England from Buffalo. He is not quite an outside receiver, and not really a slot guy. He can line up anywhere on the field and use his size to mismatch on the inside and his quickness to mismatch on the outside. He has looked good throughout the preseason – short of a few drops.
Malcolm Mitchell also makes the roster after being selected in the fourth round of the 2016 NFL Draft by the Patriots. The rookie receiver looked quite impressive in his preseason debut before dislocating his elbow. Many speculated the injury was more serious, but Mitchell has returned to the practice fields and should be a go for 2016. He is a good route runner with steady hands and great quickness. Similar to Hogan, Mitchell is more of a tweener, but can make plays all over the field.
Finally, Keshawn Martin lands the last real receiver spot over Aaron Dobson. Dobson has had a good offseason, but Martin has not had much opportunity to prove himself due to injury and is frankly a better option at this point. Albert Breer of MMQB reported that the Patriots are actively shopping Dobson, a sign that he is not likely for their roster.
Matthew Slater takes up the final receiver role, but serves as the New England Patriots special teams captain. He is consistently one of the top special teams players in the NFL, and a leader in the locker room. His spot is more than secure.
The offensive line is going to be the most watched group for the New England Patriots in 2016. After struggling through the end of 2015 – including a disastrous AFC Championship game – the team has brought back offensive line coach Dante Scarnecchia.
He is not a cure-all, but he should bring some stability and accountability back to the line. They start the year down a man with Sebastian Vollmer on PUP – meaning Marcus Cannon will have to fill in at right tackle. Cannon was not great in 2015, but is hoping to have a resurgent year as a full-time starter under the coach who has proved to get the most out of him.
At the other tackle, Nate Solder holds strong as the starter. LaAdrian Waddle is going to be the swing tackle, and he has proved to be a valuable addition thanks to his versatility.
The interior of the offensive line is falling into place with one major question mark – right guard. Left guard is a role that rookie Joe Thuney has played as a starter throughout training camp and the preseason, and appears to already be making strides as a legitimate NFL lineman.
David Andrews will start at center after beating Brian Stork for the job – a role that was cemented with the cutting of Stork after a bizarre situation surrounding his release. This also means Josh Kline is essentially a lock for the roster thanks to his ability to play center.
Right guard is a mystery. It appeared Jonathan Cooper was set to take the job when camp started, but then was injured. Then Shaq Mason appeared destined for the spot, but also got injured. While both have been working back, Kline has filled the role. If he has to start the season there, this opens the door for rookie Ted Karras to make the roster. Karras can play nearly any role on the offensive line, including center – a spot that would need a backup.
Even after cutting Terrance "Pot Roast" Knighton, the New England Patriots still have plenty of size on the interior. Malcom Brown appears to be poised for a breakout season in New England. He has the size, speed, versatility, power and drive to be a dominating tackle in Bill Belichick and Matt Patricia's defense.
Next to him is Alan Branch, who fills the traditional role of the run-stuffer. He was suspended for a week, but that appears to be behind him. He has the size and power to dominate on the inside and give Brown some room to work.
The rest of the rotation is difficult to figure out. Markus Kuhn has done nearly everything right throughout the preseason, and has likely played himself onto the roster. He is a smaller defensive lineman who can push the pocket, something the Patriots can use from the inside. They also get that in Anthony Johnson – a player who has also played himself into forcing the Patriots to keep him on the roster.
The slimmed-down Johnson has been extremely quick and disruptive in his time on the field – getting high-leverage reps throughout the final weeks of camp and the preseason.
They will also likely keep Vincent Valentine, strictly because of the draft capital they spent on him. The third round pick has not been overly impressive, but will still likely require a roster spot.

There will be a lot of eyes on the defensive end position entering the season. Both Jabaal Sheard and Rob Ninkovich have been battling injuries throughout the preseason – Sheard a lower-body injury and Ninkovich a torn triceps.
Ninkovich appears to be on track to be back for the start of the regular season, but Sheard is still a question. It is expected that Sheard will fill the void left at defensive end after trading Chandler Jones – making his presence even more important.
Behind them, the Patriots have received very good preseasons from both Chris Long and Trey Flowers. Long has proven that there is still plenty of good play left in the tank after a few injury-plagued seasons in St. Louis. He has been active and appears to be set to play a nice role in a rotation.
Flowers has proven that he can develop into a pretty good pass rusher after essentially missing the 2015 season with a knee injury. He has been good off the edge while being better than expected in the run game. As a sub-rusher he could bring great value.
Grissom still makes the roster, but will need to make great strides if he wants to stay there. He is still developing after being drafted by the Patriots in 2015, but will need to show greater improvements if he wants to see the field.
The impact of the position is softened a little bit by some of the versatility of the linebackers that Bill Belichick has brought in – using them as down linemen in a four-man line or walking them down in a three-man line.
Linebacker (6) – Dont'a Hightower, Jamie Collins, Jonathan Freeney, Shea McClellan, Barkevious Mingo, Kamu Grugier-Hill
Linebacker has become a great position of strength on the New England Patriots defense. Both Jamie Collins and Dont'a Hightower have emerged as terrific linebackers – and both will be playing on contract years with more motivation. Collins appears to have returned to full health after battling illness throughout 2015. He is bigger, stronger and just as fast and athletic as before. This combination will allow Belichick and Matt Patricia to get creative with how they use Collins.
Hightower has become a quintessential Belichick linebacker. Big, strong and smart with the presence in the run game to keep other teams guessing. He is also a very good blitzer, allowing Belichick to use Collins in coverage. He is the signal caller, and has become a leader on the defense.
The Patriots then re-signed Jonathan Freeney. He played a lot in 2015, proving to be a useful backup option. He still struggles to diagnose plays, but his presence on the field along with his special teams value have the team wanting to keep him longer.
Both McClellan and Mingo are new additions, and both are quite versatile. McClellan showed his versatility during training camp and to start the preseason before getting injured. During that time, however, he showed he can play down on the line, as a rush linebacker or as an off-ball linebacker. Minho has not had the opportunity to show that yet, but the Patriots traded for him and love the athletic ability he brings.
Keeping Grungier-Hill comes at the expense of some other players – maybe Aaron Dobson or D.J. Foster – but the Patriots are looking to invest in a hybrid safety/linebacker. He has shown some flashes throughout camp, and should bring some special teams value as he becomes more accustom to the NFL game.
Cornerback (5) – Malcolm Butler, Logan Ryan, Cyrus Jones, Justin Coleman, Cre'Von LeBlanc
The New England Patriots need another big year out of their cornerbacks. After a very good 2015, both Malcolm Butler and Logan Ryan return to their starting roles. Butler is in search of a new contract, and should be motivated to further prove that he is a number one cornerback – something he showed the entire NFL in 2015.
Ryan is also in a contract year, and is coming off a tough preseason. This has left some to question if Cyrus Jones can overtake him, but for now he appears to have a hold on the seconds corner position.
Inside, the Patriots used their first selection of the 2016 NFL Draft on Cyrus Jones. He has good quickness, but could struggle with elite quickness guys. HE can play inside or outside, and he returns punts. This versatility is something the Patriots are always after – making him a solid addition to the defense.
Justin Coleman has had his share of ups and downs in the preseason, but will likely be playing inside on obvious passing downs. He does not really have the skills to play on the outside, making him a true sub-package guy.
Cre'Von LeBlanc makes the roster as an underrated rookie after a pretty impressive preseason. He has shown that the instincts for good cornerback play are there, but he needs a little polishing. He beats Jonathan Jones and Darryl Roberts for what is likely the final spot on the roster.
On the front end of the safety group, the New England Patriots have three players who can cover and bring their own skill set to the defense in Devin McCourty, Patrick Chung and Duron Harmon. McCourty is a defensive leader and captain with good coverage skills and undeniable leadership.
Chung had a very good 2015. He showed better coverage skills than ever before in his career while still providing a physical presence in the run game. His growth pushes players such as Jordan Richards and Kamu Grugier-Hill further down the depth chart.
Harmon has carved out a nice role as the rotational safety that can come in and make some plays while in coverage. He is not the biggest, strongest or most instinctive safety – but he fills his role very nicely.
At the back-end of this group, the Patriots have core special teams players in Nate Ebner, Brandon King and Jordan Richards. They all bring great value to special teams, but none of them bring much to the defense. Richards is still in development after being drafted last year, but with Chung playing as well as he has it is hard to find time for Richards.
Special Teams (3) – Stephen Gostkowski (K), Ryan Allen (P), Joe Cardona (LS)
No surprises for the Patriots on special teams, they stick with the same group as last season. Stephen Gostkowski has been one of the most consistent kickers in the NFL since taking over for Adam Vinatieri back in 2006. He has had a bit of a rough preseason after missing a big extra point in the AFC Championship game, but is locked in as the Patriots kicker.
Ryan Allen has proven to be a solid punter for Bill Belichick – using his left foot to keep opponents uneasy. He is a consistent punter who does a good job directing his unit. The group pairs back up with Joe Cardona for 2016 after a good rookie campaign.
There was some question around Cardona, who was rumored early in the offseason to have to serve his military duty after attending the Naval Academy. He was able to work out a program that allowed him to stay with this team, however. He has had some less than stellar snaps in the preseason, but the Patriots still appear comfortable rolling with the same three on special teams.
This article originally appeared on