New England Partiots Should Enjoy Josh McDaniels While They Can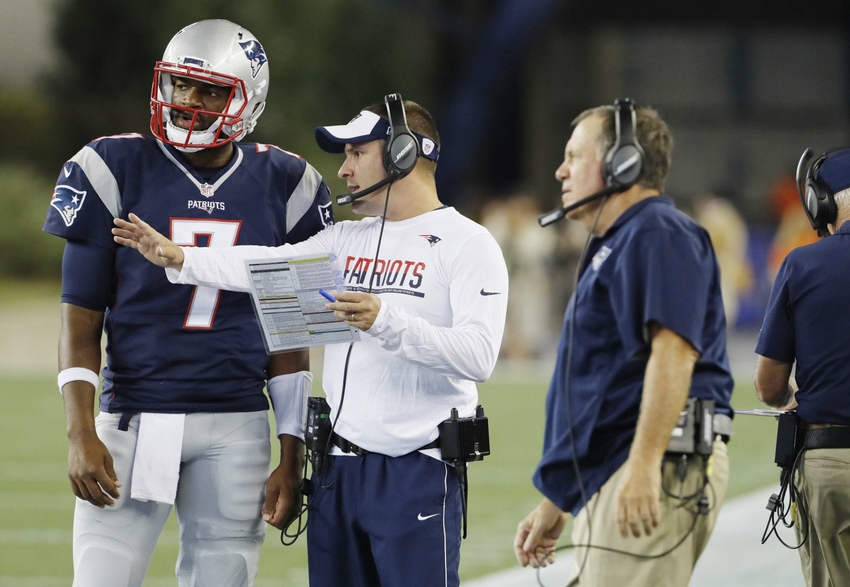 New England Offensive Coordinator Josh McDaniels has been a key part of New England's success during the Tom Brady suspension.
Entering Week 1, no one gave the New England Patriots a chance. The masses screamed "No Brady. No chance against Arizona's defense." They were wrong, and it was because of Josh McDaniels' excellent work as offensive coordinator.
Jimmy Garoppolo was great. He was electric. He was fired up. Patriot fans may not want to admit it, but he looked like Tom Brady.
Josh McDaniels was a key part in building the "Run and Shoot Spread" attack that New England has perfectly crafted over the course of many seasons. Every year, veterans enter the system and immediately have high praise for the way the team operates on offense. McDaniels has done an outstanding job using the pieces of a bunch of slot receivers to create an offense based on efficiency and precision.
He outscored one of the best offenses in football without his Hall of Fame quarterback and tight end.
Entering Week 3, no one gave the New England Patriots a chance. Same story. As the pregame show was wrapping up with the analysts making their picks, the audience saw most of the experts predict Houston to outscore the New England Patriots. How soon people forget.
Want your voice heard? Join the Musket Fire team!
They were silenced as the Patriot offense outperformed the Houston Texans despite the Texans having a $17 million a year quarterback. The Pats had a third string rookie.
In a short week, the Patriots installed a completely different offense. The threat was Julian Edelman, someone that Houston was determined to remove from the Patriots' offensive attack everywhere he went. Josh McDaniels played on that with a fake toss sweep to Edelman in the first half that ended up being a speed option ran effectively by Jacoby Brissett.
We saw the same with the naked bootleg. The defense crashed to the play fake and Brissett capitalized on a great play call.
Easy passes, a solid running game, and great defense may remind Patriot fans of another quarterback many years ago. Remember those first three Super Bowls?
Josh McDaniels didn't find consistent success as a head coach at Denver but a team will be willing to look past that and look at what he has done with the offense without Brady and Rob Gronkowski.
Enjoy him while you can New England. He's ready to take the next step.
This article originally appeared on