Myopic thinking within the NFL an extension of its unwillingness to embrace individuality or change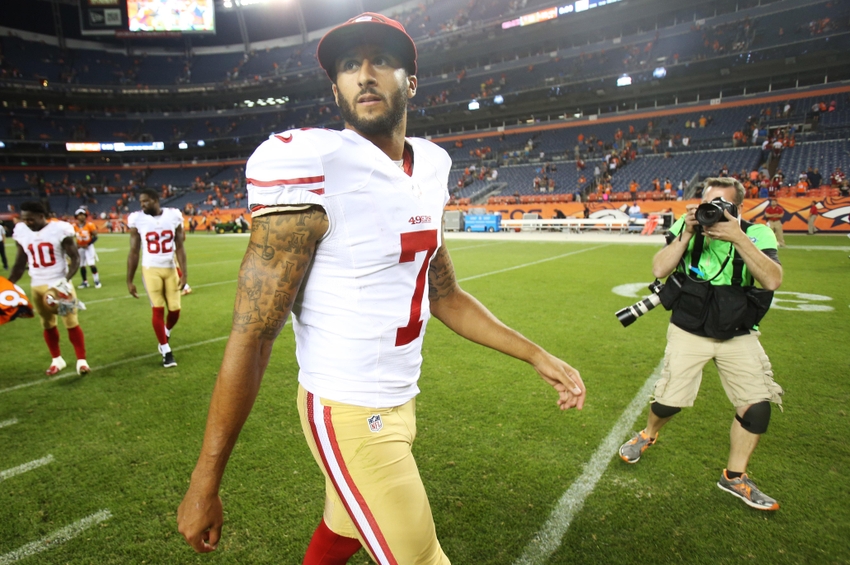 The No Fun League. A draconian empire seemingly run by Roger Goodell, a larger-than-life scapegoat with an even bigger paycheck, the NFL's policies have one interesting trend. And if we want to use the biggest sport in America to drive unity and (perhaps) be something we can be proud of, we need to buck this trend now.
Whatever you think about Colin Kaepernick's decision to sit during the national anthem in protest of the rampant institutional racism in America, you have to be somewhat concerned with how anonymous sources within the NFL have spoken about the quarterback.
Bleacher Report's Mike Freeman, who has been strong in his support for the embattled San Francisco 49ers signal-caller, compiled a list of stirring quotes from league insiders. He should be commended for bringing their comments to light in a fairly balanced manner, considering his own strong opinions on the subject.
The proclamations are scary and just as venomous as anything you'd find from a Twitter user branding the classic egg avatar.
"One executive said he hasn't seen this much collective dislike among front office members regarding a player since Rae Carruth."
But wait, there's more!
"He has no respect for our country," one team executive said. "F–k that guy."

Another said that if an owner asked him to sign Kaepernick, he would consider resigning, rather than do it.
F–k that guy?
F–k that guy?
Shame on you for not having enough bravery to put your name on it.
Or is that the right way for me to think about his comment?
If that "team executive" didn't remain anonymous, the team would be inundated with requests for his firing. He would be vilified by a pronounced section of people, potentially harassed (not everyone is reasonable enough to peacefully disagree), and he could lose his job. If that last hypothetical holds true, then he would potentially be such a big PR nightmare that no team would want to hire him.
I mean, he did curse out a player for exercising his right to peacefully protest.
We've seen it happen so many times. The NFL sure as hell doesn't care about being fair. Ever heard of #DeflateGate?
They just cleared three players linked to PED usage by that infamous Al Jazeera report, but don't forget how they handled the whole process.
The NFL operates as a strict corporation that does not allow for any individual expression.
You want to wear a hat promoting a supplement company? Can't do that.
How about dunking on goalposts? Good one.
Paying tribute to an NFL player who was murdered? $5,000 fine.
You want to promote mental health awareness by wearing green shoes? Better take that fine.
Have a sponsorship with Beats and want to promote breast cancer awareness? Too bad, we have a deal with Bose.
You can try to tell me that "it's about the league's sponsorships", but I don't buy it. Let me ask you something. What corporation wants to deal with the backlash of revoking its deal with the NFL because one of its players decided to raise social awareness?
Unlike the NFL, most mainstream companies don't like to find themselves impeding social progress. The league undoubtedly felt the heat when several major corporations (such as Nike, Visa, and McDonalds) voiced their concern with the league's chronic domestic violence issues, which the NFL could not handle.
Although the NFL itself hasn't done anything to Kaepernick in the aftermath of his display of courage (and whether or not you agree with it, you have to admit that it took some guts), the point here is that the people within the league are responsible for its problems, at some fundamental level at least.
Think about it. When Ray Rice punched Janay Rice, the Ravens covered it up. Well, until TMZ figured out a way to obtain and release the video.
That wasn't all "The Shield". Although the league did its part to cover up the incident, remember who Roger Goodell works for. Goodell (net worth $75 million) works for Steve Bisciotti (net worth $3.2 billion) and 31 other owners. They pay him, they slash his salary when they want to, and they use him as a scapegoat.
How big of a deal is a good-but-not-great player like Rice to the NFL brand? He's a Pro Bowler, but he's not elite (not like Joe Flacco). However, think about what he meant to the Ravens. Rice helped them win a Super Bowl, and he was a franchise-type player for them, loved by the fans and the organization. How often does the NFL promote players of Rice's caliber on their social media channels? Now, how often do individual teams promote one of their two best players on offense?
And who runs day-to-day operations under the owners? Who decides which players to sign and release? Who decides it's worth it to ask Greg Hardy to come over for a visit?
Who would decide to black-ball Colin Kaepernick? You saw that quote Freeman provided from an executive who said he would quit if the owner asked him to sign Kaepernick.
From the top to the bottom, the NFL's message is this: We don't want to rock the boat. Under that motto is a more subtle proclamation: We won't tolerate individuality.
Perhaps one reason for the NFL's unwillingness to rock the boat is that it would infringe on their unquenchable thirst for power; a thirst that has led them to strong-arm the NFLPA at every turn or legally bully players like Tom Brady and James Harrison.
All those instances of the league fining players falls under that unofficial edict. The league doesn't like it when players express themselves and stand out from others, and they don't even like it when players choose to express themselves by being silent.
The individual teams also don't like it when players act freely, such as when Brandon Marshall decided to talk about the sport he plays on TV.  Teams even impose ridiculous punishments. Just ask Eric Weddle or Welker, who was benched for making jokes about Rex Ryan's foot fetish.
What's more problematic is that, as fans and observers, we feed into this.
On a smaller scale, we don't like it when Richard Sherman and Josh Norman talk trash, or when Cam Newton has fun on the field. On a larger scale, we tear apart Kaepernick for taking a stand against racism. We criticize players for making the "hands up, don't shoot" gesture to voice their support for protesters in Ferguson, Missouri.
It's fair to disagree with a person's opinion, but we're walking a fine line in the NFL. There's a difference between criticizing a player and wanting to put a muzzle on them.
NFL players are awesome people. They are mammoth human beings with different personality traits. They spend hours working out, getting ready to put their bodies on the line for our entertainment.
If we aren't going to push for guaranteed contracts, the least we can do is allow them to express themselves as human beings. Isn't that what we all do anyway everyday when we hop on social media channels? We don't want to have to hide who we are, and we want to talk about issues that matter to us with others.
We want to take stands, and we want to change society for the better, whether that's by promoting societal changes or merely brightening somebody's day.
Although the league's domestic violence problems have caused several women to be subjected to severe pain and mistreatment, one good thing did come out of it– awareness. As a public, we started to care more about domestic violence, even though high-profile incidents used to go virtually unreported.
Since so many people pay attention to the NFL, it can be a vehicle for higher-level discussions that can bring people from different backgrounds together. NFL players should be able to lead that charge without fear of being fined, blacklisted, or despised. If we, as fans, recognize that, maybe we can influence league decision-makers and those working for teams to feel the same way.
Kaepernick is unpopular now, because he went against the league's "don't rock the boat" and "do your job" mentalities in one of the strongest ways possible; he refused to show respect to an object that, for many, symbolizes this country's freedoms and accomplishments.
It was a strong stand, yes, but it's one he should be allowed to take without repercussions, other than having to face the respectful disagreements emanating from people who understand that the freedom to express yourself is a basic human right.
Individuality is a beautiful thing when we choose to embrace it.
This article originally appeared on