Mock Draft: Trades and Wildcards Shake Up The Draft Early
Sam Beckenstein/FanSided via NFL Mocks

Fansided
Shake ups and the crazy wildcards are what make the world go round.
Here's a one round look at how the draft could get shaken up through some wildcard picks, and some trades that would reshape the landscape of this year's draft.
Starting with some players that may be under/over valued going high, and some trades that could happen come draft day that could make sense and infuse some talent into franchises.
The Browns need as much talent as they can get all over their roster, and Texas A&M's Myles Garrett is the best player available in this draft and gives them a defensive cornerstone. Garrett's hulk like strength, and athleticism make him a generational type of player.
The Browns need someone who can get after the quarterback, and Myles Garrett's a guy who can do just that. Despite ankle injuries and being double teamed seemingly every play, Garrett still racked up 31 collegiate sacks, 47 tackles for loss, and forced seven fumbles.
It also doesn't hurt that the Browns reportedly have an astronomical grade on Garrett, per Adam Schefter, and with Gregg Williams' attacking 4-3 scheme this makes more sense.
Wildcard. The 49ers are looking like their future may be worse than the Browns' after their failed Chip Kelly experiment, and turmoil in the front office led to a complete overhaul. They need to hit on this draft in order to ensure a shorter rebuild than it could be, and that means surefire, top notch talent.
Foster's a true three down linebacker and would be an elite piece in the middle for decades to come for a 49ers defense that was horrendous against the run. They need to build around Arik Armstead and DeForrest Buckner moving forward, and adding a great player like Foster is a start. On one of the worst defenses in recent memory, they need to prioritize adding pieces there.
The Bears are headed towards a large scale rebuild, and having a quarterback will help limit the time of that rebuild. The Bears currently have Matt Barkley and ay Cutler, but only one's likely to survive the offseason on the roster, and it's most likely not Jay Cutler given his large salary and poor play.
Mitch Trubisky hasn't declared yet, but is the best quarterback in this draft and has shown all the traits an NFL quarterback should have in his one year as UNC's starter. He's efficient, doesn't commit a lot of turnovers, and has mobility in the pocket to keep plays alive. He's everything the Bears should hope for in their next QB.
The Jaguars are a talented team, but need the right coach to unlock their team's potential. Discipline issues and Blake Bortles turnovers hurt them this year, and adding a disciplinarian head coach, and another talented pass rusher should do wonders for their defense. Jonathan Allen's the best player available, and fills a position of need.
Jonathan Allen's an elite run stopper and pass rusher who can make a problematic pairing with Malik Jackson on their defensive line. Allen's hulk like strength and ability to read offensive lines make him a threat every time he's on the field to get to the backfield, and could be an anchor on the line for a decade in Jacksonville.
The Titans need to upgrade their secondary at both corner and safety after finishing 30th in passing defense this year. With no corner to reach at with the fifth pick and several talented corners that can be taken later in the draft, they take the best player available and fill a hole.
Jamal Adams is a special talent at safety who gets after the ball, is aggressive against the run, and excels at playing routes underneath. Adams is worth drafting over a corner here for his monumental potential, and his playmaking ability at the safety position which would be an upgrade over any safety they currently have.
They may miss out on Mike Williams here, but they gain the best player available at a position of need. Defensive coordinator Dick LeBeau could use him in a similar way he used Troy Polamalu in Pittsburgh.
Wildcard. The Jets have a lot of holes to fill, and seeing Mike McCagnan's strategy of drafting the best player available this pick makes sense. People can be skeptical of Tim Williams' abilities because of Saban's usage of him in a limited pass rushing role, but Williams is a complete player who's capable of playing three downs.
When he's on the field, he's a disruptive force who can get after the quarterback and set the edge for his defense. Williams would be a good addition for a team that stands to lose Muhammad Wilkerson and or Sheldon Richardson this offseason. The Jets need a pass rusher and edge setter and they gain a player who can do both.
The Colts need to find a way to extend the lifespan of Andrew Luck, and they helped that cause by adding offensive lineman last draft, now they need a true workhorse back to take some of the pressure off him. With the top defenders off the board, and the Panthers on deck the Colts trade up to take the back who is considered a can't miss prospect.
Fournette's an angry runner who can make a lot happen with nothing. The Colts need a back with Frank Gore well on the wrong side of 30 years old, and only Robert Turbin proving a capable player after him. Fournette and Luck could take the league by storm if they're paired together.
The Panthers missed out on Fournette, and trade back to add some picks in this draft. The Cardinals are a talented team that were plagued by some injuries and poor quarterback play. Carson Palmer's time is running out, and Deshone Kizer is a prospect who needs some time to adjust at the next level, and that's affordable with Palmer and Bruce Arians' coaching.
Kizer's got a rocket arm and good downfield accuracy that would be perfect for this Cardinals offense. With speedy receivers who can burn up secondaries and Kizer's arm strength they could be a special offense. This is a great fit for both sides, and a good move if the Cards want a top quarterback with Cleveland and Buffalo set to pick soon.
The Bengals are a team that showed some serious regression this season, and they need to improve their defense. They need to bolster their pass rush, and after watching Derek Barnett single handedly wreck Nebraska's offense in the Music City Bowl he'd be a great add for the Bengals who need some defensive firepower.
Barnett's a beast with great strength and the ability to dip and bend his way around the tackles. Barnett's produced gaudy stats and passed hall of famer, Reggie White, for the most sacks in Tennessee history with 33. Barnett's sack numbers speak for itself with 33 sacks in 39 games on rocky top.
There are whispers around the Bills organization that they want to move on from Tyrod Taylor, which would be unwise IMO, and if that's true they've missed out on the top quarterbacks. So here they take a quarterback's best friend with an elite college receiver in Mike Williams. Williams has been dubbed as the next Calvin Johnson by some scouts.
With Sammy Watkins' injury history and few other good receiving options on the team this makes sense. Williams is a big target at 6'3″ and has torched defenses all year long with his top notch speed. With Taylor's arm strength, LeSean McCoy, Sammy Watkins, and Mike Williams the Bills' offense could be a problem to deal with.
The Saints' defense has been terrible for the past two years, and it starts with the secondary. They were routinely torched, and a godsend for anyone starting players against them in fantasy football. They need to take some help back there at corner, and Florida's Quincy Wilson is the top prospect available.
Wilson's a tough corner with shutdown abilities and good ball skills. His aggressiveness in run support and tackling abilities just make him that much more appealing for this pick. The Saints were dead last in passing defense, and tied for 20th in touchdowns allowed with 27, they can't miss out on a top corner and continue to let their defense waste away Drew Brees' final years.
Wildcard. The Browns need a lot of things, and upgrades across the board, except at a select few positions, are needed. Isaiah Crowell is an unrestricted free agent after this season, and has proven to be a special talent at times, and totally unreliable at other times. Dalvin Cook's been a monster since coming to college.
Cook's set the Florida State rushing record two seasons in a row and has 4,464 yards and 46 touchdowns in college. Cook's capable of being a workhorse back at a high level, and would be a good complement with Duke Johnson Jr. taking over the third down role. Cleveland needs talent, and Cook's the best available that could greatly benefit their next quarterback.
The Panthers need to invest in their offensive line to keep their franchise quarterback upright, and some time to throw, which he didn't have all year. Cam Robinson's the best tackle in the draft, and could be a good addition for this organization for many years. He's a great run blocker, and is the only tackle to keep Myles Garrett in check in the times they matched up.
Robinson's capable of being an elite run blocking right tackle, or watching the blind side at left tackle. The Panthers' defense needs upgrades in the secondary, but their main priority needs to be protecting Cam Newton, and adding Robinson here makes sense in that aspect.
The Chargers just made a flashy move by announcing their move over to Los Angeles, and here they're able to trade back for three picks and get a top prospect. They weren't horrendous against the past last season, ranking 20th and only eighth in passing touchdowns allowed, but you can't pass up a prospect like Malik Hooker.
Hooker's got limited game tape since he was only a one year starter, but what we have is very impressive. He's a ball hawk with great playmaking ability, and the willingness to come up and stop the ground game. The Chargers have two extra picks now to address their bigger needs, but come away with a player who can replace what Eric Weddle brought to the table two years ago.
Washington's Sidney Jones IV is a fast corner who can be an instant starter for the Eagles' secondary. The Eagles were tied for the 17th most touchdowns allowed through the air, and could use an upgrade at cornerback. Jones' aggressiveness and top notch ball skills would be great for them.
Jones is a great cover corner who blanketed everyone he faced this year. Jones is very athletic and can create turnovers which leaves NFL scouts drooling. Jones had eight interceptions in college, and forced six fumbles recovering three of them. Jones is one of the best players available and fills a need here.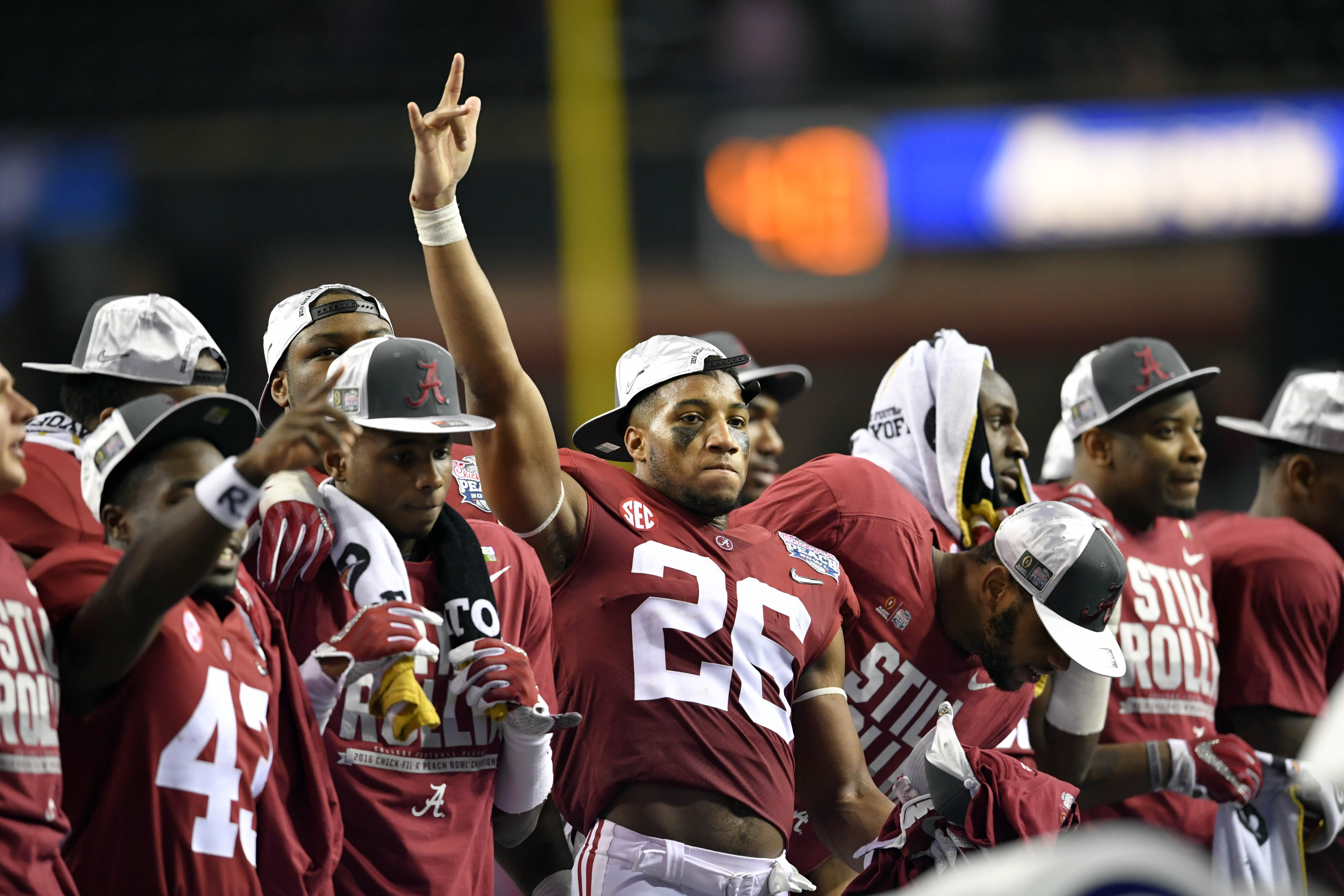 The Ravens are close to being back to where they were when they won the Super Bowl in terms of defense, but need upgrades in their secondary and pass rush to take that next step. Adding a top cornerback prospect like Marlon Humphrey here would continue their ascension. Humphrey's got the makings to be a good corner at the next level.
Humphrey's got good ball skills, he's a great tackler in run support, and has proven he can run with the best of receivers college football has to offer. Humphrey's a great athlete, and would be a good value pick, and would be a great get for Baltimore's defense that needs help at the cornerback position.
The Redskins need to add someone who can stop the run in the middle of their defense, and Malik McDowell's the best tackle prospect on the board. Malik McDowell's not a giant body in the middle, but he is a freak athlete with brute strength who can mess up even the best of running games, just look at his performance against Alabama in 2016.
He's a disruptive player in the middle who can use his strength to cause big problems for offensive lines. The Redskins ranked 24th against the running game, and were tied for 28th in rushing touchdowns allowed, they need to prioritize a gap plugger in the middle and despite not having a big body to plug gaps, McDowell's athletic and strong enough to cause more problems than just that.
Tennessee needs a number one receiver, and they made do with a group of talented receivers. Western Michigan's receiver, Corey Davis, is the best mid major prospect this year and is capable of being a go to receiver at the next level. A great route runner, and excellent athlete, Davis would be a great fit in the Titans' offense with Marcus Mariota.
Davis put up massive numbers this year with 97 catches for 1,500 yards and 19 touchdowns, but his career numbers are unbelievable. With 331 career catches, 5,278 yards, and 52 touchdowns he's etched his way into the record books. Davis would be a great pairing with Mariota, and would give the Titans a true number one receiver.
Stanford's Solomon Thomas was one of the biggest risers during bowl season after a monster performance against North Carolina in the Sun Bowl where he utterly dominated the Tar Heels up front and harassed Mitch Trubisky all game. In 26 college games Thomas totaled 12 sacks, and 24.5 tackles for loss.
A physically imposing figure, Thomas would be a good get for the Buccaneers who appear set offensively, and need some help in the pass rush. A young tandem of Noah Spence and Solomon Thomas could anchor that defensive line for years. Thomas makes sense here as the best player available and filling a position of need.
The Broncos offensive line needs some upgrades, but it's hard to pass up a rare tight end prospect like Howard here. Denver needs an upgrade at tight end, and O.J. Howard would be a great seam stretching and run blocking tight end for Vance Joseph's team to deploy. Howard's presence would greatly impact the Broncos passing offense.
At 6'6″ with the speed of a receiver, Howard's a unique weapon that seemed to be a human cheat code at times for Alabama's offense in times of need. The Broncos can seek help on their line later in the draft, but here they get the best tight end prospect, and one of the top prospects still available on the board.
The Lions offense is hard to stop once they're rolling, and they're capable of coming back from nearly any hole, but their defense creates these holes. They need to continue to focus on building that defense, and especially adding pass rushers and corners. Taco Charlton's an in state product from Michigan, and capable of being a great pass rusher.
Pairing Charlton with Ziggy Ansah off the edge would be a great pass rushing combo for the Lions defense, and would take some pressure off of their secondary. Charlton posted good numbers this year with 13 tackles for loss and 10 sacks in only 11 games. This is a good fit for the Lions' defense, and a good investment for their defense while they're still a playoff caliber team.
The Dolphins need help at corner despite having a resurgent year from Byron Maxwell and drafting Xavien Howard last year, and Florida's Jalen 'Teez' Tabor is the best corner still on the board for them to take. Tabor's a shutdown caliber corner, and would allow the Dolphins to move Xavien Howard to an inside role.
Tabor would give the Dolphins a good logjam at corner, and gives them the option to move on from Maxwell, who is owed $38 million over the next four years. While that's unlikely, the Dolphins need to continue to build for the future, and to get as many playmakers as they can to ensure being contenders long term.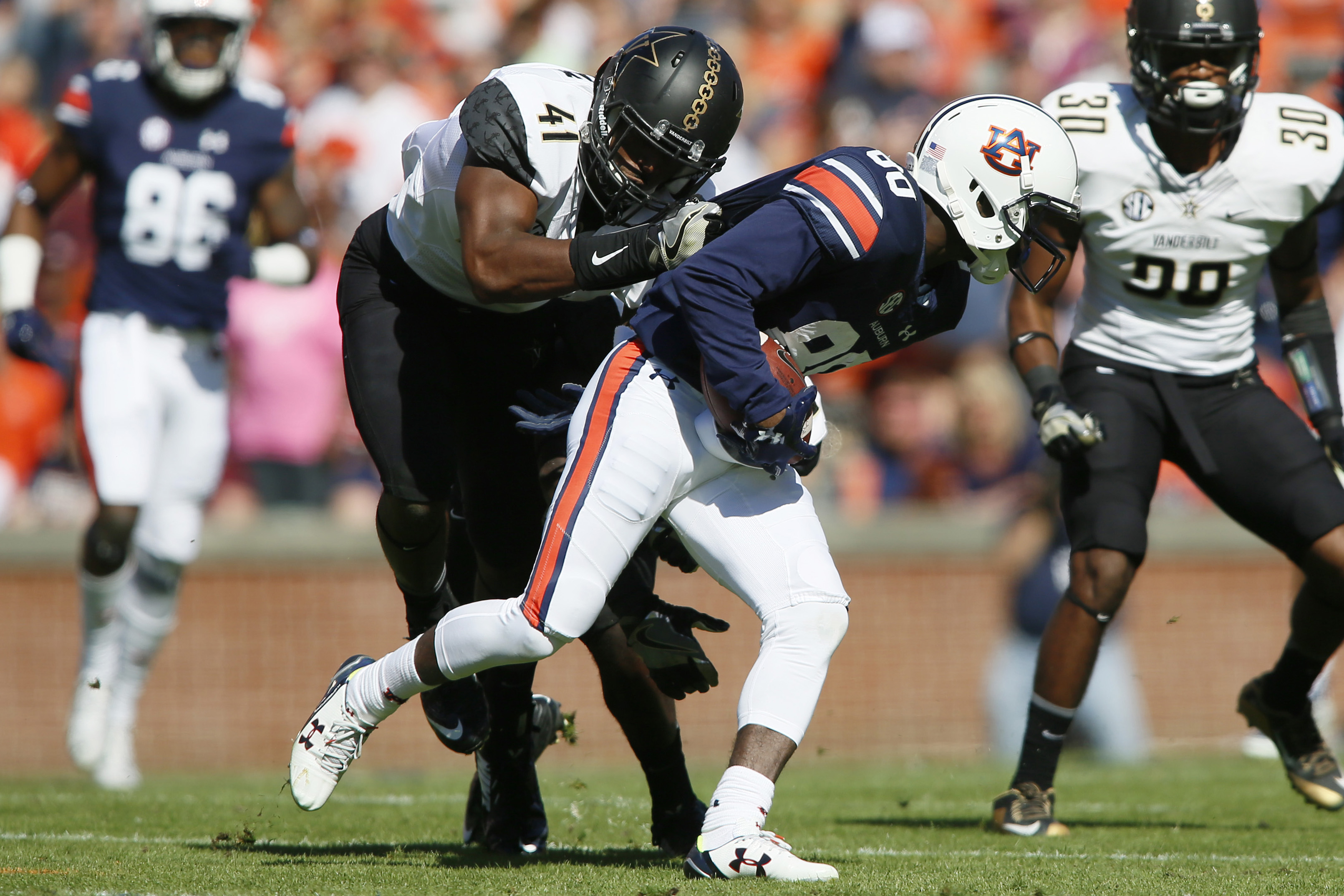 The Giants haven't historically gambled on the inside linebacker position in the draft, but here you can't let a special talent like Zach Cunningham slip through your hands. A prime weak side linebacking prospect could help the Giants defense get even better, and add a ferocious run defender.
The Giants have a Super Bowl caliber defense, and adding a great talent like Cunningham in the middle of their defense could take them to a whole other level. A talented run stopper with 16.5 tackles for loss this year and 125 tackles, he'd be an upgrade over Jonathan Casillas who will be a free agent at the end of next year, and 30 years old.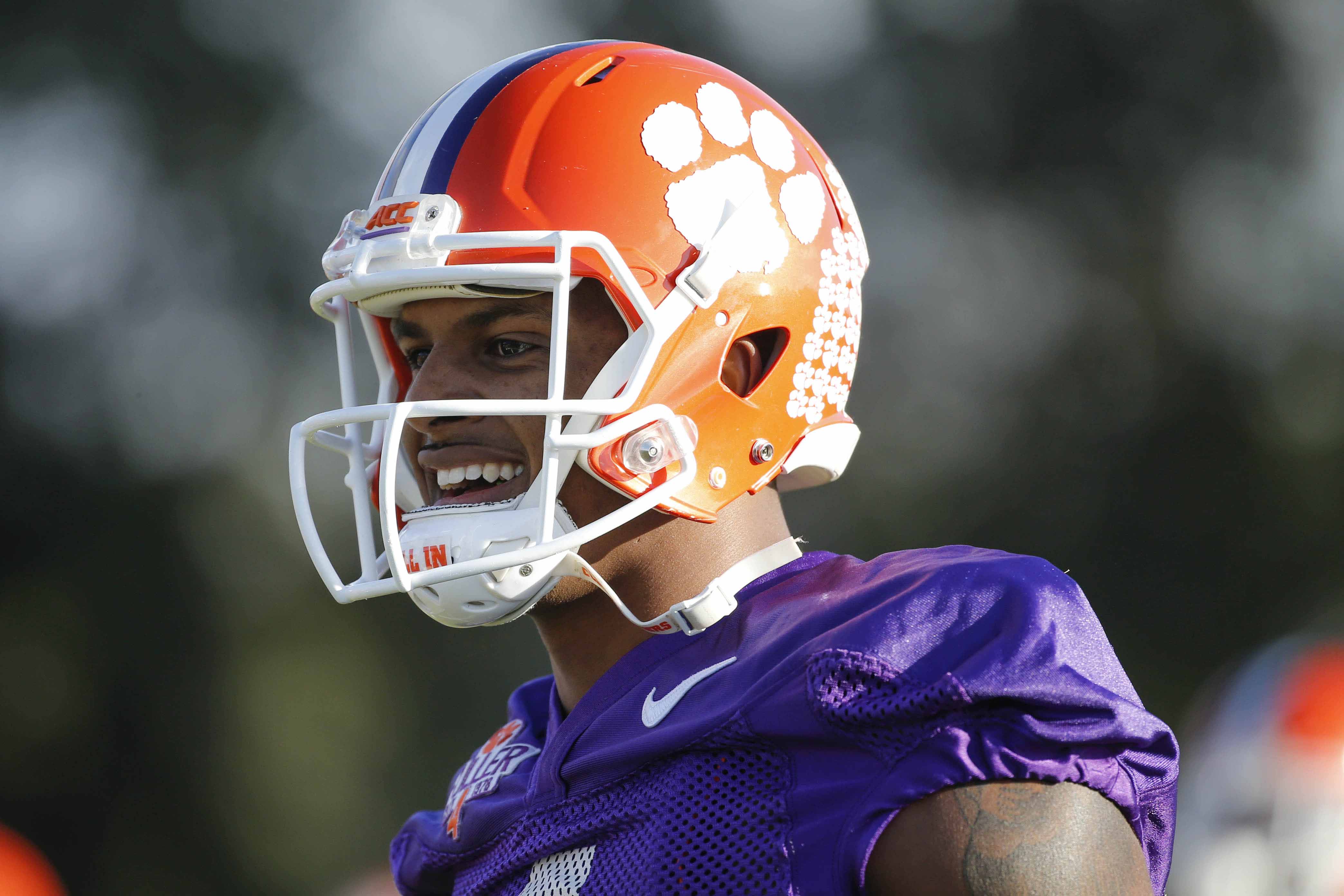 The Browns trade up by dipping into some of their stockpiled picks, and the Raiders move back nine spots to 33, the Browns first second round selection. Cleveland sees the QB needy Houston Texans picking next and Sashi Brown pulls the trigger to score Deshaun Watson, the NFL Draft's most intriguing quarterback. Watson, if he accepts the Senior Bowl invite, will be coached by Hue Jackson in Mobile, a great scouting opportunity.
The Browns will have had their "due diligence" and could peg their franchise quarterback here, and at least add some competition at quarterback. This would give them three top prospects in the first round to build around. Watson would be the best QB option on the team since, well, name one of the failed QBs. Say what you want about Watson's abilities translating to the pros, but he is a winner, and a great talent that needs to be molded.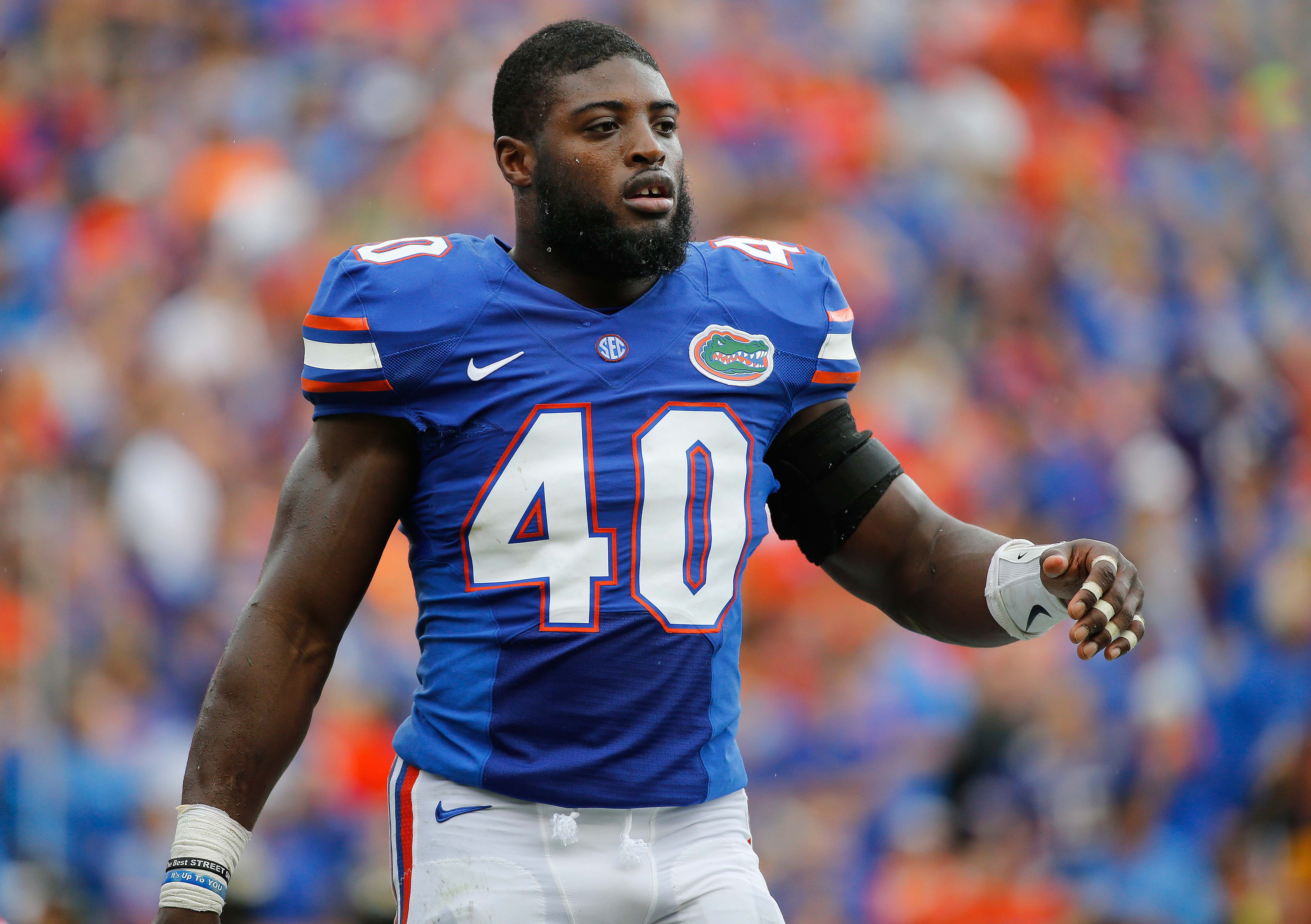 With the top quarterbacks off the board, the Texans make a wildcard pick that will pay off on the field. Jarrad Davis is a run stuffing machine with 201 tackles and 20 tackles for loss in his career. Davis has a history of injuries, but it's worth the selection to fill a position of need.
When on the field he's a top notch talent, Davis played in only 38 games over four years but he was always a standout on the field. Davis stood out on tape asa force flying all over the field to make tackles, and is widely regarded as one of the best inside linebacking prospects in this class.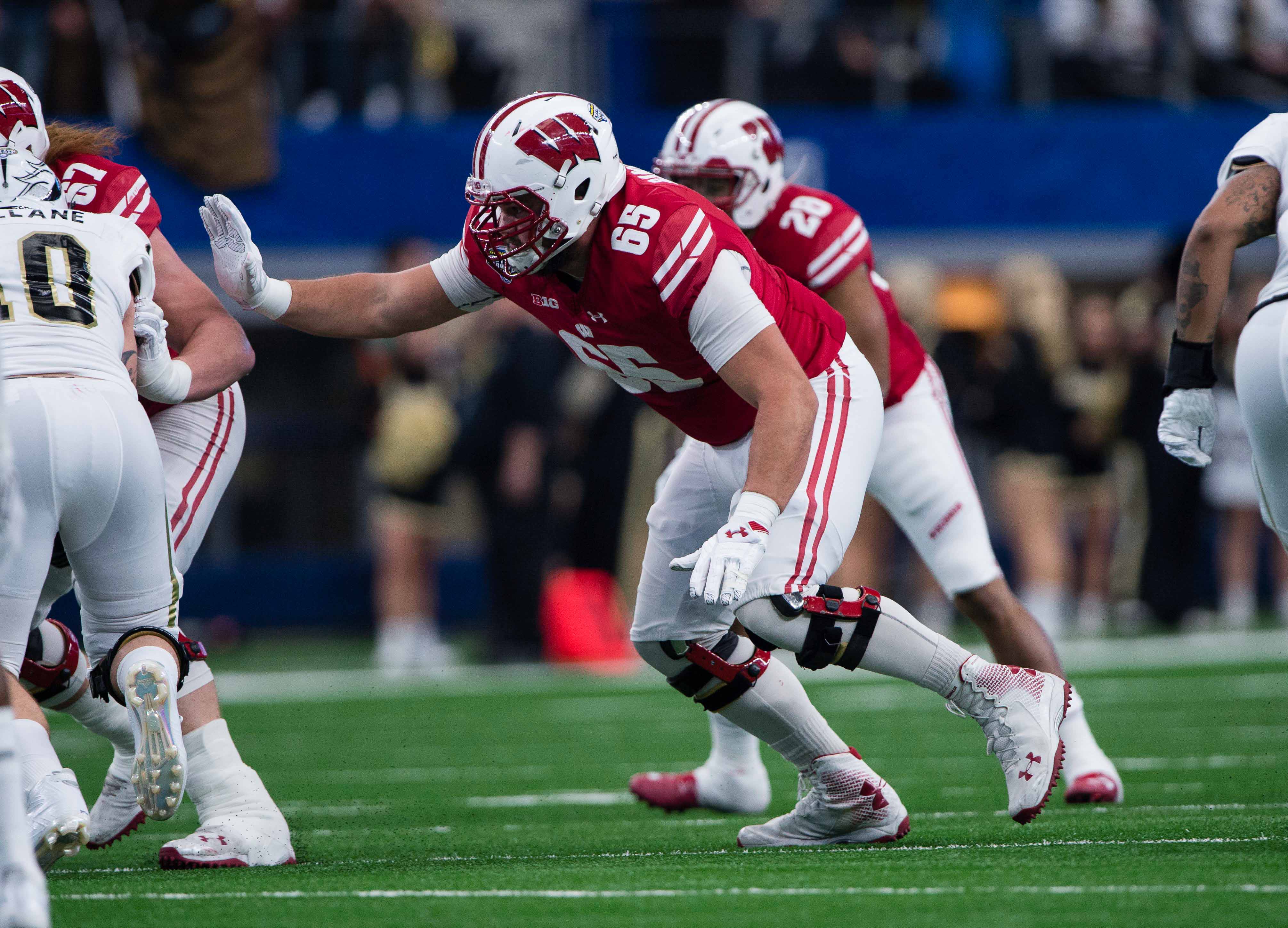 The Seahawks' offensive line was horrible last season, and hung the running game and Russell Wilson up to dry. Wisconsin's Ryan Ramczyk had a hip problem that he said would require arthroscopic surgery, which could cause him to fall a little bit, but not past the needy Seahawks.
Ramczyk is a great run blocker and would be a good fit in their system. The Seahawks aren't an offense that will require you to pass block 30+ times a game, and can be an environment where Ramczyk, who came from Wisconsin's primitive offense, can thrive.
The Chiefs defense is nasty, and they should look to keep adding to it to propel them on a Super Bowl run. Their secondary needs some help after finishing the year 18th in passing defense, and Ohio State's Gareon Conley is the best corner still on the board.
A reliable corner, Conley would be a good fit in the Chiefs' aggressive defensive scheme. He's got good play recognition, ball skills, and creates deflections which make him valuable. Starting corner Phillip Gaines is also a free agent after this season, can't hurt to think long term replacement.
The Cowboys have all of the offensive pieces in place to rip apart the league, and had just enough defense this year to make the most of not being on the field for long chunks of time. Adding defensive help should be the Cowboys' main prerogative this draft, and especially at pass rusher.
They had a lot of help from some no name players, and will benefit greatly from Jaylon Smith's "arrival" and if Randy Gregory can ever get back. Adding Charles Harris here gives them a relentless pass rusher and a talented edge setter to help bolster that average front seven.
We all saw Matt Ryan and company decimate the Green Bay Packers secondary on Sunday, and it's very clear they need upgrades on the defensive side of the ball in order to make another Super Bowl run in Aaron Rodgers' prime. Desmond King is the best remaining corner on the board, and a good fit for their defense.
With shutdown capability, King's a tough corner with the ability to be a difference maker for a team in need of one. Quinten Rollins and Damarious Randall are young, but haven't shown signs that they can be difference makers. The Packers need to keep trying to build that defense up in every way they can to extend their window.
The Steelers' offense is set for the next couple of years with Le'Veon Bell, their glut of talented receivers, and Big Ben still slinging the ball around. They need to continue to upgrade their defense to get back to that elite level of defense that won them their last Super Bowl. Adding help in the secondary and a pass rusher should be their goal.
Alabama's Ryan Anderson is a very underrated prospect who created mayhem for opposing offenses this past season. He posted career highs with 65 tackles, 18.5 tackles for loss, 8.5 sacks, an interception, three passes defended, four forced and three recovered fumbles. He's an edge setter, and a tenacious pass rusher that would give the Steelers a great pairing with Bud Dupree.
This year's defensive tackle draft class continues to show improvements through shrine games, and has proved it's a deep class with names like Dalvin Tomlinson, Larry Ogunjobi, and Montravius Adams likely to be available later. Dan Quinn doesn't conform to your rankings, he does what he thinks is right, and so far his picks have all panned out.
This time he reaches for Temple's Haason Reddick who put on an absolute clinic during the week of the Senior Bowl. Reddick showed he could dominate as a blitzed standing up, and covering open spaces from the edge. He projects to be a player who can play up or down on the line in NFL schemes, and gives Dan Quinn a versatile edge defender.
The Patriots get another elite tight end weapon to add to their arsenal. David Njoku is an elite athlete with all the physical tools to excel in the NFL, especially under Bill Belichick's tight end heavy offensive philosophy. It also helps that Martellus Bennett is an unrestricted free agent this offseason.
Njoku would form a lethal combination with Rob Gronkowski, if Gronk could stay healthy, and would add another big play receiving threat to an already deadly offense. A raw, athletic, big play tight end has New England written all over it with this pick.
This article originally appeared on