Minnesota Vikings waive tight end MyCole Pruitt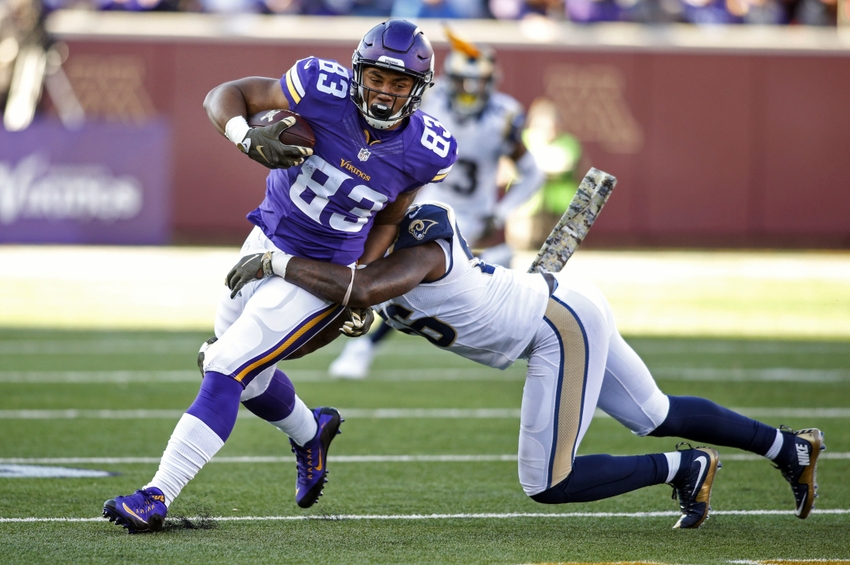 Tight end MyCole Pruitt has been waived by the Minnesota Vikings to make room for quarterback Taylor Heinicke on the active 53-man roster.
The Minnesota Vikings gave fans some great news when they announced that the team was bringing quarterback Taylor Heinicke up from the non-football injury list to the active roster, but that means the team had to say goodbye to someone in order to make room for him.
Sadly, the man who took the hit was tight end MyCole Pruitt. Pruitt has been an encouraging blocker and receiver for the Vikings, and appeared to be a part of the franchise's future at the position.
Here is the official announcement of MyCole Pruitt being waived by the team from the official Minnesota Vikings website:
"The Vikings on Tuesday announced they have moved quarterback Taylor Heinicke off the non-football injury list to the active roster.

Minnesota also announced that tight end MyCole Pruitt has been waived."
This is a bittersweet series of transactions for the Vikings, since Pruitt has a lot of potential, but also has been battling injuries.
However, being waived doesn't mean that Pruitt is gone for good. In fact, it is likely the Vikings will bring him back after his waiver period ends if he is not claimed by another team. Minnesota probably has their fingers crossed that doesn't happen.
"Pruitt was selected in the fifth round of the 2015 NFL Draft out of Southern Illinois. He had 10 catches for 89 yards as a rookie, including a long of 32. This season, however, Pruitt has battled injuries. He caught one pass for seven yards in Week 4 but suffered a knee injury against Houston."
We at The Viking Age would like to wish MyCole Pruitt the best of luck going forward and hope that his path will lead him back to the Minnesota Vikings in the future. But if that doesn't happen, he should be an asset for another NFL team.
This article originally appeared on