Minnesota Vikings vs. Arizona Cardinals: Week 11 game review and grades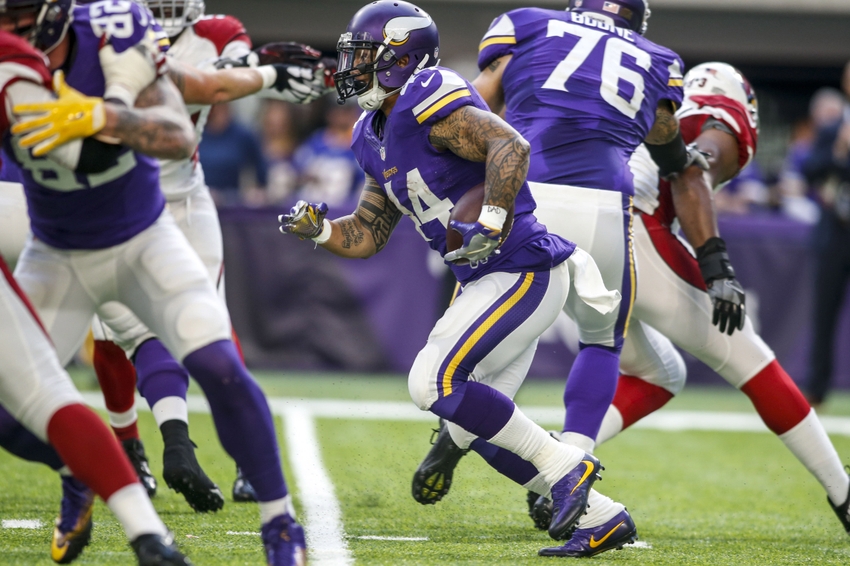 A review of Sunday's Minnesota Vikings matchup with the Cardinals at US Bank Stadium with grades and look ahead to a Thanksgiving day matchup with the Lions.
After 5 weeks consisting of a bye week and 4 losses in a row, it has been painful for Vikings fans watching the team crumble due to injuries. Against the Arizona Cardinals, the Minnesota Vikings did not remedy all their problems. The Vikings did though have enough playmakers make dynamic plays that Arizona could not overcome.
It's almost hard to imagine that after the week 5 game against the Texans the Minnesota Vikings were riding high as the top team in the NFL. Nobody could have imagined the Vikings, tumbling through a 4 game losing streak at that time.
Visions of 16-0 and NFL immortality danced through the minds of fans. The week after the bye the rookie led Philadelphia danced all over those dreams and the downward spiral began.
For 1 week at least that spiral is over. Offensively, the Minnesota Vikings left quite a bit to be desired, but still showed flashes of settling in to a new system at mid-season. Jerick Mckinnon, had the pep in his step that's been lacking lately, Matt Asiata showed more power on his carries, and the offensive line actually pushed across the line of scrimmage much more than they have in the last month.
The Offense – Grade: B-
The highlighted play of the week is one that almost worked, a wildcat jet sweep flea flicker, if Bradford would have been able to step into his throw, it wouldn't matter that there was defensive pass interference, the pass was that close to being caught.
An improved offensive line led to more of an efficient rushing offense, meaning it wasn't dynamic by any means, but it at least got 2 yards when needed. Adrian Peterson cannot return fast enough… Both McKinnon and Asiata can be complementary change of pace backs, but neither have shown the ability to be an every down game changing back.
The often criticized "Wildcat formation" actually today is what made the rushing attack actually look complete. The Cardinals bit so bad on the Wildcat jet sweep flea flicker play, and it stirred up memories and emotions reminiscent of Randall Cunningham and Daunte Culpepper unleashing deep throws to Randy Moss.
If the run-pass-trick play mix can continue to be wrinkles the defense cannot account for it will continue to boost, at least, the appearance of a running game that only totaled 72 yards.
The Ball Hawking Defense – Grade: B+
This defense has had issues as of late closing the deal on 3rd downs. A lot of the success that the Vikings had early on was using the defense for the stop and special teams to flip field positions. Instead over and over again its been the defense out on the field for 10+ play drives only to come back out after a 3 and out.
The team has done a good job conveying the image that it hasn't taken its toll on the team with so much pressure applied to the defense. I believe that truly this defense has been hindered by an offense that up until this week had lost its identity.
The defense came up big in this game and it's not surprising that the Minnesota offense has been on the field for longer drives. Xavier Rhodes got the game ball and NFC Defensive Player of the Week for his 2 interception performance, but strong play from Brian Robison, Linval Joseph, Everson Griffen and many other Minnesota Viking defenders made this game look more like the 5-0 Vikings and not the 0-4 Vikings as of late.
Special Teams- Grade: B+
Jeff Locke punted 4 times on Sunday, knocking 2 punts inside the 20, with a long punt of 72 yards that was aided by a Minnesota bounce and roll. Locke has been very consistent this season with a couple of hiccups but overall strong play. Kai Forbath, the Minnesota Vikings storyline of the week was successful in his only FG attempt and 3-4 on XPs with 1 of them being blocked. Thank God it didn't go wide left!
Blair Walsh will most likely get another job with an NFL team. His strong kickoffs and big time leg will probably get another chance somewhere else and I hope he finds success again. When it was good with Blair it was great, but the negatives now outweighed the positives and here is where we stand.
Cordarrelle Patterson sure found a lane to go through on his way to a 104 yard kickoff return. On top of proving himself to be an offensive asset, Patterson is definitely auditioning for another contract, and hopefully it's with the Vikings. Fans have waited forever for him to mature into the dynamic game changer and the man is truly coming into his own this season.
It's no surprise that the legions of purple wearing fans out there started to jump ship, it was looking bleak for a little while. All of a sudden the Vikings lost 4 games and the number of Cowboys and Seahawks jerseys you see out in public doubled. It was nice for one week to walk out in public and see the fans in purple smiling and talking about positive Vikings feelings, as opposed to the silent somber nod of Vikings fans who were actually just too hurt to talk about it. Hopefully the Minnesota Vikings can keep the good times rolling.
On to next week:
Actually today 4 days later on short rest, the Vikings take a Thanksgiving trip to give the Detroit Lions a revenge Motown Beat Down at Ford Field in Detroit.
It's not just a revenge for the overtime loss, it's more than that. It's the Vikings chance to take first place in the NFC North, get back into the playoff picture, and warm up for the following Thursday Night tilt against the NFL World leading Dallas Cowboys.
One game at a time though, honestly this will be the Lions first game not decided by 7 points or less and I'm not expecting the Vikings to keep it too close.
The Vikings showed that they didn't solve all their problem in the game against the Cardinals, but showed a marked improvement that should continue to improve as the weeks go on.
Vikings 24 – Lions 14
This article originally appeared on