Minnesota Vikings: The border-battle intensifies Sunday Night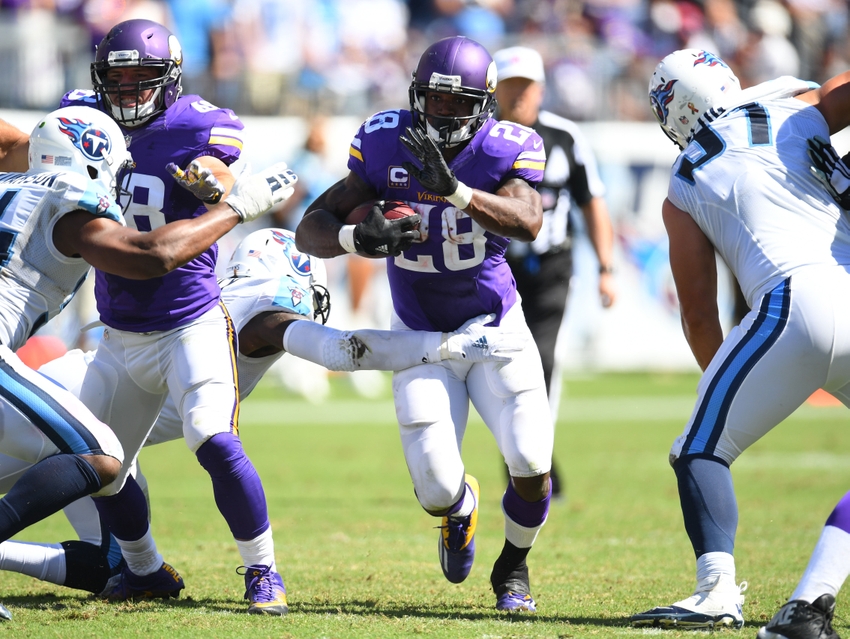 There is no greater rivalry in the NFL. The Minnesota Vikings will host the Green Bay Packers at U.S. Bank Stadium on Sunday. Under the ultra-bright LED lights, the Vikings will look to take care of business.
In the marquee game of Week 2, the border-battle is about to ascend to a whole new level. Not only will the Minnesota Vikings try to establish home-field advantage, but a win over the Packers would make an early statement to the rest of the NFC North.
5 keys to defeating the Green Bay Packers.
Establishing home-field advantage
With the exception of the Pittsburgh Steelers, no other NFL team has a fan base that travels better than the Packers, and they don't have far to go this weekend. Cheesehead's will be streaming over the Mississippi River in droves, but will they find a ticket?
Mike Zimmer has turned this team into a winner, and Minnesota is soaking it up. Single game tickets for Sunday are sold out, and can be only be purchased through a broker. As of Wednesday prices are starting at around $200 for the "cheap" seats, not exactly budget friendly. I expect there will be some green and gold, but not in the volume people have come to expect.
It should be a rowdy sea of purple in the stands for the defending NFC North Champions. Establishing a strong advantage for the home team is vital, Minnesota Viking' fans will play a critical role on Sunday. I hope the entire Midwest hears the thunder coming from Downtown Minneapolis.
Cordarrelle Patterson
The Minnesota Vikings are looking for any advantage to help them to a victory. Cordarrelle Patterson could once again play a significant role for the Vikes. His kick return versus the Tennessee Titans sparked a dominate second half for Minnesota.
His forte might be on special teams, but performing well during his limited offensive snaps could be the difference. Norv Turner singled out Patterson with his play-calling last week, and Patterson stepped up. He may have had only one reception for six yards, but it was a crucial catch for a first down. Look for Cordarrelle to have a few more opportunities this week.
Shaun Hill or Sam Bradford
Despite the numbers, Shaun Hill performed well in the season opener. He did exactly what he was supposed to do. Nobody likes the phrase "game manager", but that's what Hill excels at. He may not have made all the big throws, but he didn't make a lot of mistakes either.
Minnesota gave up a first-round draft choice to acquire Sam Bradford from the Eagles. Teams do not trade away high draft picks to watch that player ride-the-pine. I expect Bradford to make his first appearance against the Packers, in what might be one the biggest games of his NFL career. Bradford is a seasoned veteran who should be up to speed with the playbook by now.
The pressure is on, can Bradford deliver?
Adrian Peterson
Minnesota Viking' fans have heard that Adrian Peterson's 31 year old legs are wearing down. Peterson rushed for 31 yards on 19 carries against the Titans, not very Peterson-esque. No need to fret just yet however, let's just take a quick look at 2015. The Vikings opened the 15' season at San Francisco with a brutal loss. Peterson's rushing total in that game, 31 yards. AD still went on to a fantastic season, winning the NFL rushing title.
No matter what coaches might say, it takes a game or two to readjust to live-action. Peterson takes the entire preseason off, he will feel more comfortable in Week 2. Look for #28 to break the century mark in yardage in his second outing.
Zimmer's defense
If I chose to break them down individually, this article would morph into a novel, not exactly easy-reading. Coach Zim preaches a team mentality, do your job and good things will happen. Week 1 was a prime example. After getting back to the basics, the Vikings D absolutely manhandled the Titans. Green Bay has little more fire-power, but Zimmer has the remedy.
Aaron Rodgers is the premier QB in the NFL, but Zimmer has made him look very average over the last couple of years. Minnesota is riding high after a solid performance from Harrison Smith and company. If the Vikings can stop the trimmed down Eddie Lacy on first and second down, it may spell trouble for the Pack.
Danielle Hunter is building his confidence early, and what young athlete wouldn't want to shine when the lights are brightest. It may be Hunter's national coming out party as the NFL's best young pass rusher.
Anthony Barr had a quiet afternoon last Sunday. When healthy, Barr is the Vikings biggest threat to make a big play on defense. The Vikings need the game-changer to step up.
Xavier Rhodes does not need surgery on his knee, and is considered a day-to-day decision. Minnesota cornerbacks could use all the help they can get, heal fast Mr. Rhodes. If you thought Trae Waynes got targeted by the Titans, wait until Rodger's starts flinging it around.
This game is shaping up to be a low-scoring defensive battle, and Minnesota will have the advantage. Field position will be critical, and every point will count. Blair Walsh and Jeff Locke hopefully have worked out last week's kinks.
It's only Week 2, but Sunday's game will show just how far the Minnesota Vikings have progressed. The Packers are ranked as the number one team in most NFL Power Rankings. A win over the Packers should silence all of the doubters going forward.
This article originally appeared on