Minnesota Vikings: Tackle Jake Long suffers Achilles injury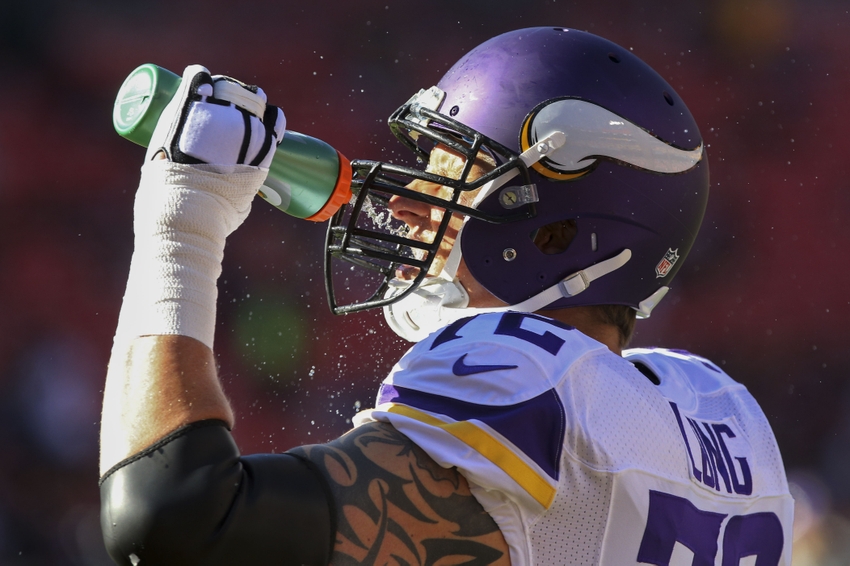 Minnesota Vikings offensive tackle Jake Long left the game against the Washington Redskins in the 4th quarter due to an Achilles tendon injury.
The news for Minnesota Vikings fans continues to get worse as the season goes on. Injuries are piling up for the football team, and they don't seem to be slowing down any time soon with another name being added to the list.
During the November 13, 2016 game against the Washington Redskins, offensive tackle Jake Long went down during the 4th quarter. It was obvious something major was wrong with how he was on the ground, and the news given about his injury after the game confirmed it.
Multiple news sources are reporting that the injury is to his Achilles tendon, not his knee as many first thought. However, that doesn't mean that there is much of a silver lining to this rain cloud.
Star Tribune beat writer Matt Vensel took to his Twitter account to alert fans that the injury could be serious.
Mike Zimmer said Jake Long hurt his Achilles. Likely a season-ender.

— Matt Vensel (@mattvensel) November 13, 2016
Meanwhile, Chris Tomasson of the Pioneer Press was much less optimistic regarding the situation, stating that the team must press on going forward.
Mike Zimmer says Vikings have no choice with jake long likely out for season but to press on

— Chris Tomasson (@christomasson) November 13, 2016
Head coach Mike Zimmer gave this news during his post-game press conference, which was not yet available to stream on the team's official website. However, this does put the Minnesota Vikings in a bad spot moving forward.
Minnesota has already seen several offensive tackles either get long-term injuries or even retire this year. In fact, Long himself was a midseason replacement for the injured Matt Kalil, who does have a chance to return this year if he is healthy and the team chooses to make him their one activated player for the year.
Jeremiah Sirles and T.J. Clemmings will likely be the starting offensive tackles going forward, and that means there is little to no depth behind them on the roster. If Long is put on injured reserve, fans should expect practice squad member Austin Shepherd to be elevated to the Minnesota Vikings main roster.
This article originally appeared on