Minnesota Vikings reportedly working out some kickers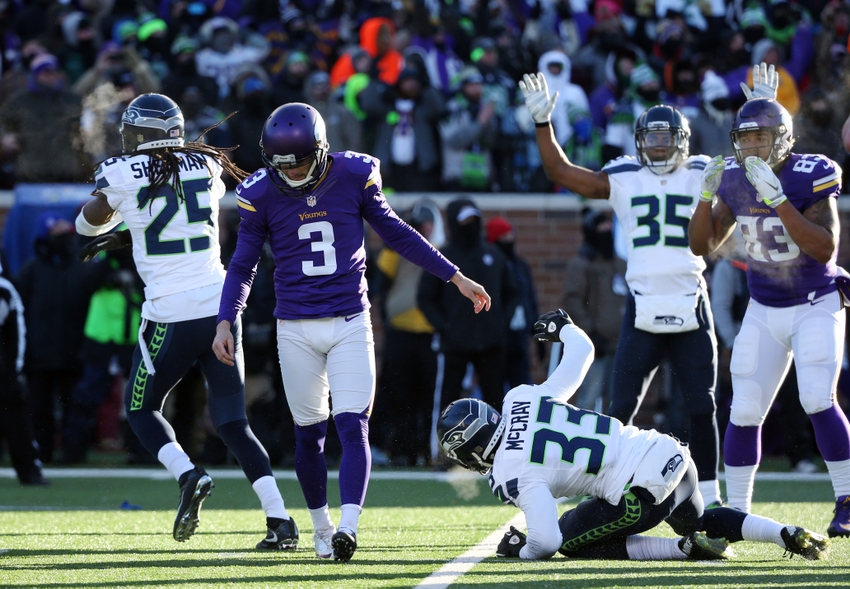 After a rough start to the 2016 season, the Minnesota Vikings appear to be getting serious about bringing in some competition for kicker Blair Walsh.
Sadly, it looked like it was bound to happen. Eventually, the Minnesota Vikings would grow frustrated with kicker Blair Walsh even though they wanted to be patient and wait out his 'slump'.
But the time has apparently come for the Vikings to see what other options they have moving forward. Even though Walsh is one of the highest paid kickers in the National Football League and broke numerous team records during his rookie year, he has become more of a liability than asset to this point.
Today, NFL Network and NFL.com's Mike Garafolo took to Twitter to announce that the team is looking into some other kickers, something many fans feel may be long overdue.
Following a missed extra point and a blocked field goal by Blair Walsh, the Vikings are working out kickers this week, source said.

— Mike Garafolo (@MikeGarafolo) November 7, 2016
It seems as though the frustrations of fans from missed opportunities has finally put Minnesota in a position where they have to consider a change of kickers. And considering the outcry during yesterday's game against the Detroit Lions, it may be the time.
Comedian and Minnesota Vikings superfan Nick Swardson feels like "Minnesota nice" has run its course and it's time for some action and isn't one to bite his tongue when it comes to the Vikings on his Twitter account.
Cut Blair Walsh now. Cut him. I'm sure he's a great guy. This is enough. CUT HIM. We've been polite for to long. @Vikings

— Nick Swardson (@NickSwardson) November 7, 2016
Swardson and other fans have plenty of reasons to be upset. Walsh is only hitting 75% of his field goals (25th in the NFL) and a staggeringly low 81.3% of his extra points (last in the NFL). Things get even messier when there have been situations where the Vikings should have kicked a field goal, but decided not to based on kicking woes.
It will be interesting to see if the Vikings Minnesota actually pull the trigger on signing a new kicker despite their salary cap situation and financial commitment to Blair Walsh, but hopefully something good will come of competition being brought in at the position. At this time, no free agents have had their names connected with the workouts.
This article originally appeared on