Minnesota Vikings need to increase playing time for Laquon Treadwell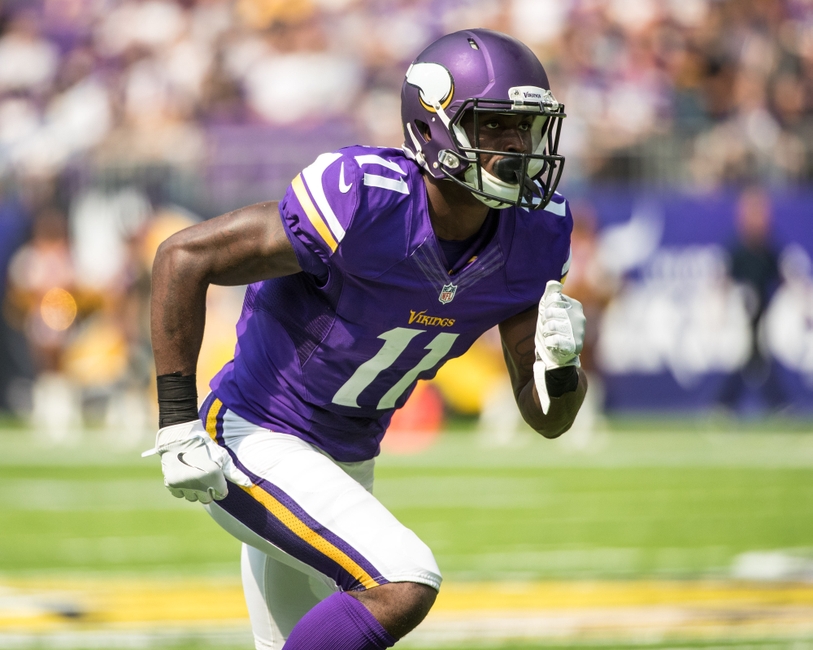 After a 5-0 start the 2016 Minnesota Vikings lose 4 in a row. Is it time to activate wide receiver Laquon Treadwell and move on from Charles Johnson?
The Minnesota Vikings fell 26-20 to the Washington Redskins on Sunday. Continuing a now four game losing streak after starting the season with a hot 5-0 record. The already injury plagued team seen yet another vital member of its squad go down when recently signed left tackle Jake Long was carted off the field with an Achilles injury, likely ending his brief tenure with the Vikings and perhaps even his career.
Long is the latest in a string of injuries that have included quarterback Teddy Bridgewater, star running back Adrian Peterson, left tackle Matt Kalil, and defensive lineman Sharrif Floyd. Mike Zimmer has preached a tough "next man up" mentality that carried the team through its first five games better than anyone could have expected.
But as the saying goes, tides can change fast while fortunes don't always last. For the Minnesota Vikings the wheels appear to not only have fallen off the wagon, but it looks about ready to spontaneously combust at any moment. And I'm not convinced they have enough healthy players left to put out the fire.
Not all is lost, however. Despite the four game losing streak the Vikings are still in contention for the NFC North. Meaning that the time is now for Mike Zimmer to buckle down and get the team back to its winning ways. With all the injuries the 2016 Minnesota Vikings have suffered, I believe that we still have talent sitting on the bench. Talent that I believe can help turn things around now that Pat Shurmur has been promoted to offensive coordinator.
I believe it is time for the Minnesota Vikings to finally activate 1st round wide receiver Laquon Treadwell.
"We all know he ran a 4.65 at his Pro Day. So, either you believe in him and his game or you don't. He's a natural hands catcher and will win 50-50 balls. He's one of the best blocking wide receivers in this draft. He's physical, tough and has great hands."  said NFL Draft guru Mike Mayock on NFL.com during his pre-draft analysis of Laquon's NFL potential.
To me that sounds exactly like what the Vikings offense could use. A physical wide receiver who can block and win contested balls. I respect Mike Zimmer's mentality heading into the season of not wanting rookies to play until they are "ready" and that is perfectly acceptable when the team is 5-0 and everything is working in your favor.
However over the last four games we've seen the Vikings struggle to move the ball ten yards, let alone score points in the red zone. The run game has stagnated and Sam Bradford is under constant duress. New offensive coordinator Pat Shurmur has begun the process of installing his offense, which features lots of quick passes, screens, and high percentage short throws. A system which seemingly fits Treadwell's skill set as a receiver.
And let's be 100% honest here, could Treadwell possibly be doing any worse than Charles Johnson at this point? Johnson, who has only caught 7 passes for 101 yards and zero touchdowns, has struggled producing on a consistent enough basis for the team. Plus with the departure of Norv Turner, one of Johnson's biggest supporters, I find it increasingly harder to imagine him playing with the Vikings in 2017 and beyond.
If Charles Johnson is no help now and doesn't appear to be part of the teams long-term future, then why is he being forced onto the field while Laquon sits on the sidelines? This to me seems like a Norv Turner decision and now that he's gone hopefully it can be reversed!
The time is now for the Minnesota Vikings to see what they have in Laquon Treadwell. The rookie receiver can only learn so much sitting on the bench, he needs to be on the field running routes and (hopefully!) producing for the Vikings. I look forward to seeing if Pat Shurmur can do what Norv Turner could not, and that is find a way to use Laquon Treadwell and give the Vikings a much-needed spark on offense.
At this point what do they really have to lose?
This article originally appeared on