Minnesota Vikings: Mike Zimmer Now Teddy Bridgewater's 'Shoe-Tier"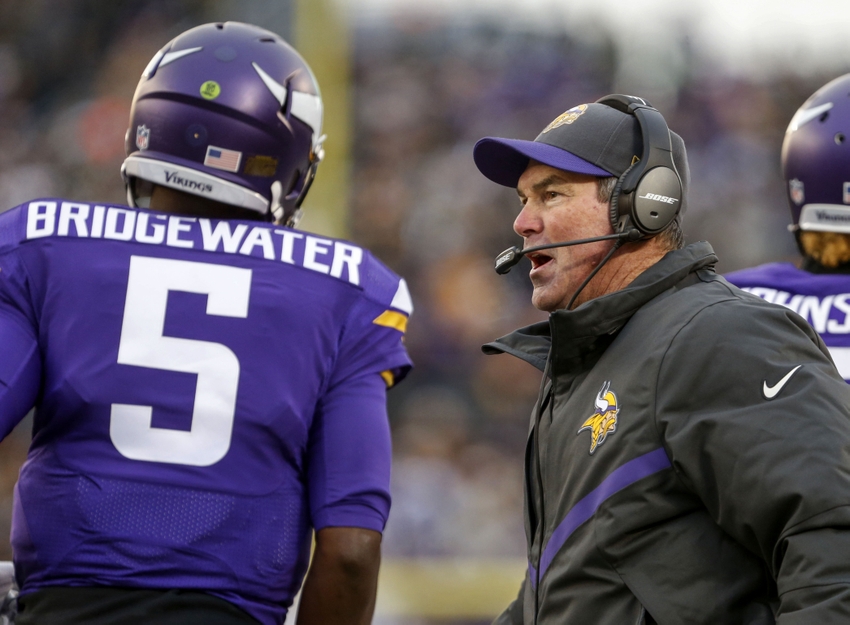 Minnesota Vikings head coach Mike Zimmer has designated himself the 'shoe-tier" for injured quarterback Teddy Bridgewater
Teddy Bridgewater can't play football right now. That's the most simplified version of the consequences from the Minnesota Vikings quarterback's knee injury. He's out for the season and is preparing to have surgery before beginning recovery and rehab. However, some of his Vikings teammates have been messing with him a bit while he's been meeting with trainers in Minnesota. Specifically, defensive back Xavier Rhodes has been giving his quarterback a hard time.
According to a story from Conor Orr of NFL.com, Rhodes has been visiting Bridgewater when the quarterback has been seeing the trainer. When Teddy is lying on the trainer's table, the cornerback will come by and untie his shoes. Just a harmless prank to mess with his quarterback who can't really do anything about it. However, Vikings head coach Mike Zimmer has the back of his quarterback.
In the same story from Orr, Zimmer admitted that he's added a new task to his coaching duties: tying Bridgewater's shoes. Whenever Rhodes pulls his prank on the quarterback, the head coach comes by and re-ties them, dubbing himself Bridgewater's "shoe-tier."
Is this 100 percent silly? Absolutely, it is. However, it just goes to show how close this group is in Minnesota and how much Bridgewater means. That the head coach would not only just be around his injured quarterback that often, but even be tying his shoes is incredible. Now they just have to hope that the day Teddy Bridgewater isn't on the training table for his shoes to get untied comes without a hitch.
More from NFL Spin Zone
This article originally appeared on