Minnesota Vikings featured in FanSided's Fandom 250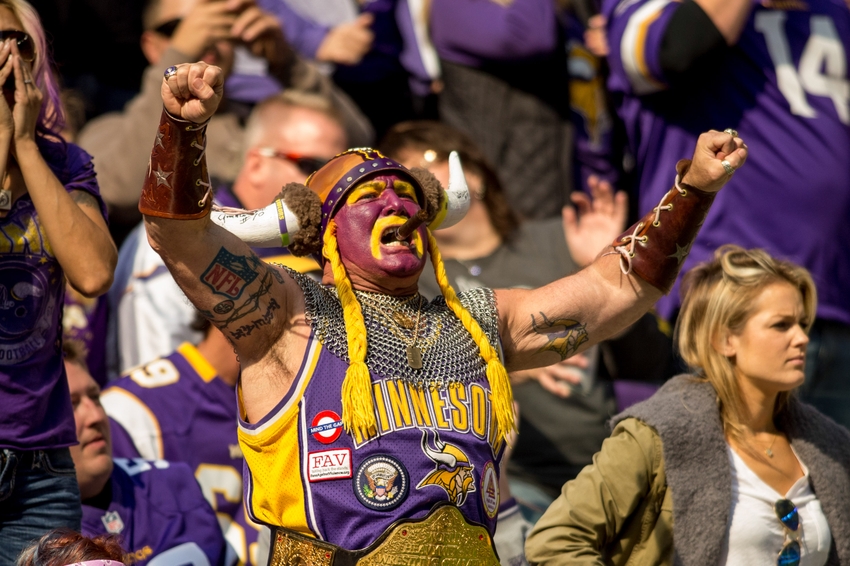 There may be no group of NFL fans that have endured more heartbreak than those who cheer for the Minnesota Vikings and now their passion is being recognized.
On Tuesday morning, FanSided released the site's first ever Fandom 250. The Fandom 250 is a list that features, "the ultimate ranking of fandoms — from sports to entertainment, celebrities to brands."
Included within the list are the fan bases that support Tesla, the WWE, Ronda Rousey, and CrossFit among a variety of others.
Among the 250 fandoms featured on the list, 15 slots belong to teams from the NFL. The fandom that supports the Dallas Cowboys ranked the highest at number five while the Washington Redskins' group of supporters are ranked the lowest from the league at number 215.
In between the Cowboys and the Redskins' fandoms, the group of people that cheer for the Minnesota Vikings each year can be found ranked at the 179th slot on the list.
FanSided attributed the fan base of the Vikings finding themselves on this list mainly due to the dedication they have shown to support their team in their stadium, no matter what the weather conditions may be.
"Under head coach Bud Grant in the 1960s and '70s, Minnesota only lost one playoff game at old Metropolitan Stadium. The Vikings were virtually unbeatable in front of their frost-bitten fans, who often braved brutally cold conditions in December and January to scream for Fran Tarkenton and the gang."

– FanSided 250
Now in their new home at U.S. Bank Stadium, a new generation of Minnesota fans are continuing the tradition of making the Vikings' home stadium one of the toughest places to play in the NFL. But the Fandom 250 pretty much hit the nail on the head when talking about the fan base's thirst for the franchise's first championship in the Super Bowl era.
"There may be no group of fans that deserve a Super Bowl more."

– FanSided 250
No matter how many times Minnesota seems to find a new way to rip the hearts out of their fans' chests, the Vikings can always count on their being tons of people screaming their lungs out in support of their favorite team at each and every home game.
Head here to check out who else made the cut to be featured within the Fandom 250.
This article originally appeared on