Minnesota Vikings DE Everson Griffen has family as his motivation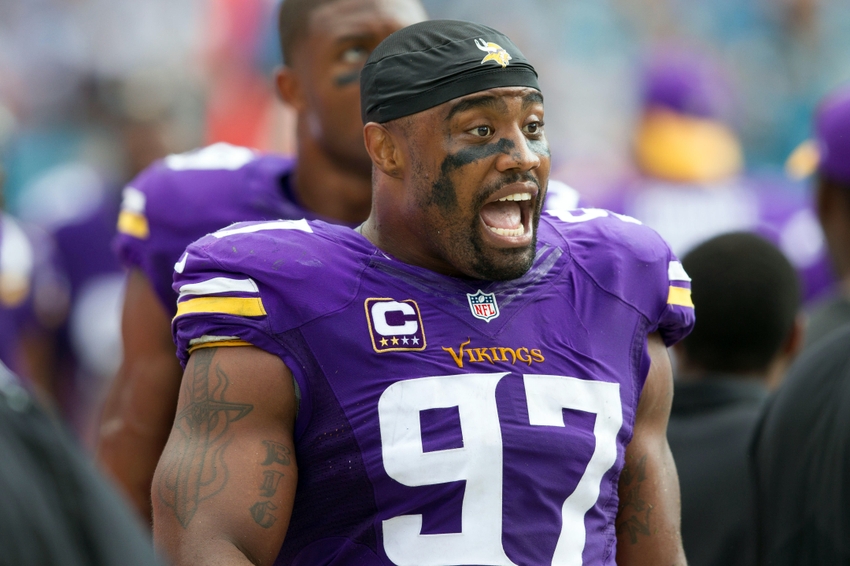 Everson Griffen is known for his passion and motor on the field, but the Minnesota Vikings defensive end has his family to thank for his success.
As fans, it is easy to forget that players from the Minnesota Vikings and all around the NFL are people too. Often times, getting caught up in the action and excitement of professional football can make them seem larger than life, more like movie or tv characters than human beings.
They have families of their own and many other obligations that don't involve a football field. For defensive end Everson Griffen, his primary means of motivation is to be the best man he can be for his family.
According to Vikings.com, a boy was seen on the sidelines at a recent Minnesota practice. Wearing the #97 with the word "DADDY" across the back, it was easy to recognize it was the son of the Vikings pass rusher.
Becoming a man with a family of his own has helped Griffen to be more mature, as he now hopes to set a great example and prove that hard work can pay dividends.
"Not just on the football field, but off the field, too – teach them to be gentlemen," Griffen said. "Tell them that with hard work and dedication, you can pretty much do anything. I just want to be an example for my kids, that no matter where you start, you can always finish strong."
Family has always been a big part of life for Everson Griffen. His mother passed away unexpectedly in 2012, but she still has a major presence in everything the Vikings defensive end does.
"She made sure I got good grades. She kept me in line, and that was pretty hard to do. But she was always there" Griffen said. "She's the reason I'm here. I always had her support. I just tried to do the right things as a kid, and it really helped me get to this point."
Griffen isn't perfect though. He knows that it is human to make mistakes. However , he takes those opportunities to learn more about himself. He considers that to be his journey after being a 'knucklehead' in the past.
"Whatever I did in the past is a learning experience. When you learn from your mistakes and move forward and don't allow them to happen again, that's when you have growth. Now I see that it's my journey. Everybody has their own journey, their own path. But now I'm here, and I'm here to stay."
Everson Griffen is a key part of the Minnesota Vikings defense and should continue to be a strong pass rusher for many more seasons. His family is a great motivator for him, but the thought of possibly one day being a Super Bowl champion has to help push the vocal and exciting defensive end to succeed as well.
This article originally appeared on