Minnesota Vikings at Washington Redskins: Week 10 game review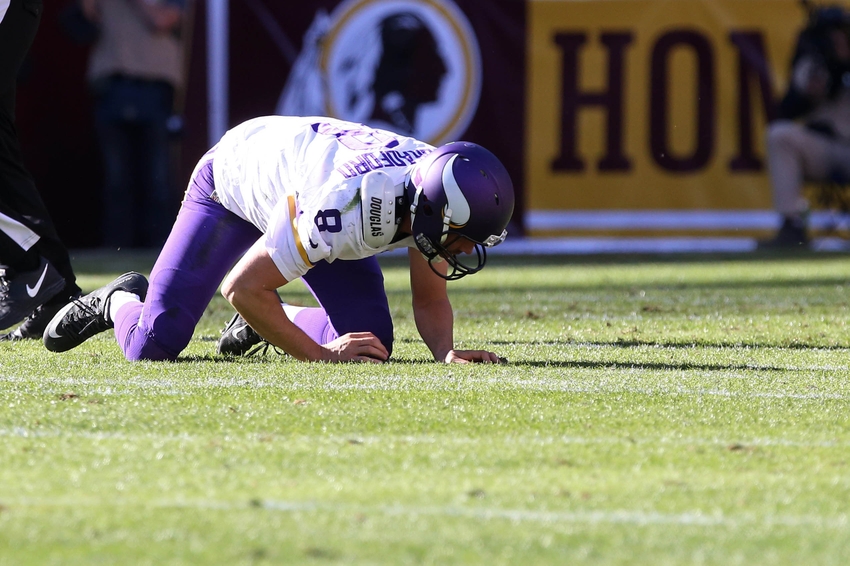 The Minnesota Vikings took on the Washington Redskins in week 10, but what were the good, bad, and interesting parts of their November 13, 2016 game?
As the losers of three straight games, it was essential that the Minnesota Vikings win in week 10. However, that won't be any easy task, as they are up against a tough team on the road in the Washington Redskins.
This was a game that was important for the Redskins as well. The returning NFC East champions have seen the Dallas Cowboys take command of the division and will likely need every game they can in order to keep pace with them or hope for a wild card playoff berth.
While it might be too early to be thinking about the postseason on November 13, 2016, both these teams know their window of opportunity and considering how both have struggled so far this year, coming away with a win could be a huge turning point for both franchises.
The Minnesota Vikings lost to Washington with a final score of 20-26, but what happened during the game? What were the good, bad, and interesting things from week 10? Let's discuss it all, starting with the good stuff as usual!
The Good Stuff
Getting some confidence. The Vikings continued their plan of attack from last week. Extra protection, short passes, and creative runs are helping the offense, but there is still a lot of work to do as far as efficiency and putting it all together on drives to get in the end zone on a regular basis.
Persistence pays off. Being on the one yard line hasn't been a good situation for Minnesota lately. They have failed on several occasions to punch the ball in from that distance. Still, the Vikings pounded Asiata three times with one yard to go during the first half and got the running back in the end zone.
Stefon Diggs is amazing. Every time I think about the failed draft picks at wide receiver for the Vikings I think about just how much Stefon Diggs can do for an NFL team. He's got great hands, speed, and the ability to get separation. There's a reason he is Sam Bradford's favorite target.
The defense can still take the ball away. Coming into this game, Minnesota had a great turnover differential. Sadly, most of that came early in the season, with the team struggling to do so recently. But Sendejo pulling the ball out and Griffen landing on it is a big step for the Vikings defense.
Kyle Rudolph is being the player he should be. Rudolph is a big target. As announcers say, a tight end should be a quarterback's best friend, since they are like a security blanket. Rudolph has consistently been involved in games and staying healthy, which should be important in planning how to fix some offensive issues.
The Bad Things
Same team player collisions. It's bound to happen in the NFL. With all those bodies flying around and how physical the game is, collisions are going to happen. But each time there is a major collision between Vikings players, someone always seems to end up getting pretty badly hurt.
This team is very different without Captain Munnerlyn. The importance of Munnerlyn manning the slot is something that is often overlooked for the Vikings. Neither safety is great in coverage, and Washington's strength at tight end was an easy advantage for them all day.
Robert Kelley looks like a superstar. The run defense has been bad for the Vikings. Recently, some relatively unknown players have been able to gash the Minnesota defense for huge yards and open up the passing game. Whether it is personnel, injuries, or scheme, it just isn't working.
Trying to get an unlikely offsides penalty. When you're playing a field position game, you can't pretend like you're going to go for it from your own 30 on 4th and inches. Nobody is going to buy that. And then to let the play clock expire to give the Redskins 5 free yards is not a smart thing to do when you're struggling against tight ends.
Running the ball. Washington is statistically one of the worst teams in the NFL against the run. Sadly, the Vikings couldn't take advantage of that all day, particularly in short yardage situation, where the Redskins had their number all day. Something needs to change in Minnesota in the run game.
The Interesting Occurrences
Why do announcers keep talking about Jarius Wright? Sure, there was a time that Wright was getting a lot of passes. He got a nice contract extension and looked like he was going to be a big part of the team going forward. But now he sits more than he plays…and announcers aren't really noticing that.
Those announcers and names. DeSean Johnson? Seriously? It's okay, don't bother correcting yourself even though you know you're wrong…just keep going and hope that nobody noticed. Nobody will notice, right? And people will totally think Matt Asiata is playing quarterback for the Vikings too. No worries.
Calling out the Redskins pre-snap tendencies. It's funny to listen to the broadcast and hear the announcers getting tipped off by what the play is going to be by the offensive line. The job of an offensive lineman is harder than many people think, as they have to remember to disguise plays before the snap.
The run game makes me want to throw up. I had a great late breakfast, but I almost got to revisit it thanks to the disgusting lack of a running offense. There are good run blockers on the offense line, but as a unit they are getting killed. What's the problem here and why can't they fix it?
So..what now? That Jake Long knee injury looked bad. If he's unable to go, Minnesota will need to reach even further into their basket of backups for someone to protect their new quarterback. And there isn't much of anything out there to give hope at offensive tackle going forward.
Overall Impressions
Losses like this are never fun. The Minnesota Vikings had plenty of opportunities to put points on the board or make stops, but failed to take advantages of them on a regular basis during this contest.
That doesn't mean there weren't good things. Once again, the team was able to get the ball out fast. And when the ball ended up in the hands of Stefon Diggs, good things tended to happen. He really is a diamond in the rough, and along with Adam Thielen and Kyle Rudolph, there is a lot of hope for the future of this receiving group.
Injuries are the bad part. Not having Munnerlyn for this game was huge, as the Redskins were able to take advantage of the Vikings with their tight ends in a big way. But also the injury to Jake Long at the end of the game is very frightening, since the team has a glaring lack of options, the trade deadline has passed, and they have almost no salary cap remaining to look at options.
Frustration is expected to be at an all time high headed into week 11. And that's completely okay since Minnesota has given their fans very little to cheer about since starting off the season 5-0. Then again, losing 4 games in a row will tend to make a fan base sad.
Next week, the Minnesota Vikings will host the Arizona Cardinals. This should be another challenge, but at least there will be home field advantage with the sea of purple fans in U.S. Bank Stadium. Hopefully, the Vikings will give fans a lot to cheer about.
This article originally appeared on