3 for 1: Peterson eclipses trio of big names vs. Falcons
Minnesota Vikings running back Adrian Peterson entered Sunday's game against the Atlanta Falcons with his sights set on the top 20 in all-time rushers — and one of the biggest names to ever play the position.
He left sitting in 18th position, and with a trio of greats — including a pair of Hall of Famers — sitting in his rear-view mirror.
Peterson, the 30-year-old in his ninth season, ran for 158 yards on 29 carries in Sunday's 20-10 win, and in the process surpassed Hall of Famer O.J. Simpson (11,236 yards), Corey Dillon (11,241), and a second Hall of Famer, John Riggins (11,352 yards).
#Vikings RB Adrian Peterson just passed O.J. Simpson, who gained 11,236 yards from 1969-79, for No. 20 spot on all-time NFL rushing list

— Chris Tomasson (@christomasson) November 29, 2015
Adrian Peterson just passed Corey Dillon into No. 19 spot on the all-time rushing list. Dillon had 11,241. So Peterson just shot up 2 spots

— Chris Tomasson (@christomasson) November 29, 2015
Adrian Peterson at 11,354 career yards, two ahead of John Riggins. Peterson No. 18 on all-time list.

— Chris Tomasson (@christomasson) November 29, 2015
Also, Adrian Peterson has moved past John Riggins on the all-time rushing list. So he's now up to No. 18. Next victim is Steven Jackson

— Chris Tomasson (@christomasson) November 29, 2015
Peterson now sits at 11,354 yards, and has even bigger names to take down. As Chris Tomasson mentions in his tweet, Steven Jackson, who is in his first year of retirement, sits 17th — and Peterson is only 34 yards behind him. The next hurdle which should take at least a couple of games is Fred Taylor at No. 16 with 11,695 yards.
"I just come in and try to focus on doing my job and helping my team win," Peterson told the media after the game when asked about climbing such a distinguished ladder. "I'll be able to look at those things after the fact."
After Taylor, 12 of the 15 names on the list are Hall of Famers, with only Frank Gore, Edgerrin James and LaDainian Tomlinson not in the Hall. (Gore is still active and Tomlinson is a virtual lock when he is eligible, so it is conceivable Peterson will be chasing after 14 Hall of Famers as he finishes off his career).
Of course, he currently leads the league by more than 100 yards with 1,164, and with the 15 games missed last season giving him legs perhaps a little fresher than his years would indicate, there may be no telling when he'll stop passing Hall of Famers — before ultimately becoming one himself.
— The Associated Press contributed to this report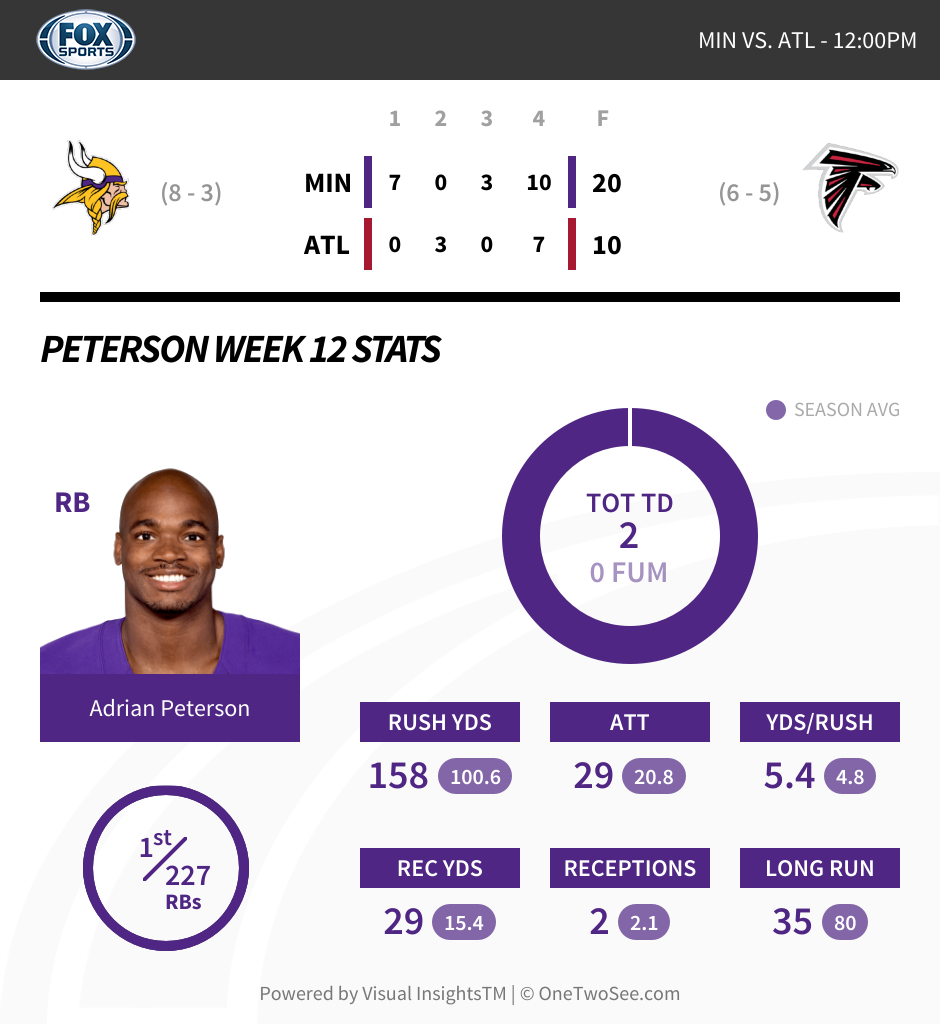 MORE NEWS:
Want stories delivered to you? Sign up for our NFL newsletters.