Midseason Grade For Washington Redskins CB Josh Norman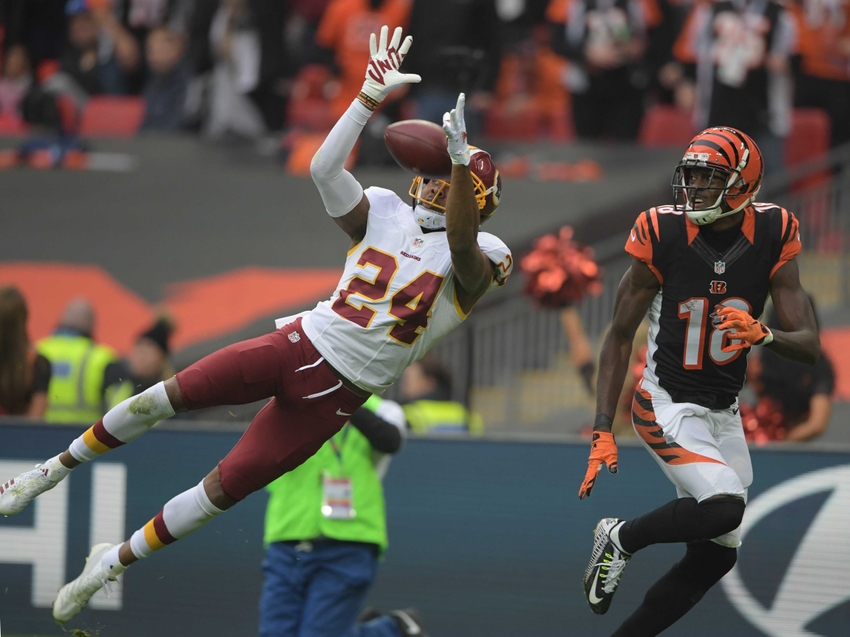 The Washington Redskins have gotten some great play out of Josh Norman in his first season with the team. What grade does he deserve at the midseason point?
When the Carolina Panthers rescinded the franchise tag from Josh Norman last offseason, a wave of shock came through NFL circles. Many wondered how the team could jettison (arguably) their best defensive player solely because of financial reasons. Regardless of the reason, many teams were happy that they would have a chance to sign Norman.
The Washington Redskins emerged victorious in the sweepstakes, and signed him to a five year, $75 million pact. This made him the highest paid cornerback in the league. Thus far during his Redskins career, he has lived up to that billing.
Norman has been absolutely stellar this season. He has started all eight of the Redskins game, and he has been a huge weapon. Norman's coverage ability has helped to take away a whole side of the field from opposing quarterbacks.
However, the start to Norman's tenure with the team was a bit shaky. That was not Norman's fault. In the first game and a half of the season, defensive coordinator Joe Barry elected to isolate Norman on one side of the field. As a result, opposing teams were able to game plan for that and lined up their best receivers across from Norman. The Steelers did this with Antonio Brown and the Cowboys with Dez Bryant. It had disastrous results for the Skins, and Barry changed his tone after utilizing Norman as a roamer.
Since that decision, it is hard to find a receiver that had any sort of good day against Norman. A.J. Green played well in Week 8, but Norman was coming off of a concussion and was plagued by penalties in that game. He has looked absolutely stellar, and he is the driving force behind the improvements in the team's secondary. Prior to this season, that had been a long time weakness of the team.
The only real concern this season has been a couple of injuries. Norman missed half one of game with a concussion, but he also banged up his wrist in one contest. Still, the injuries have not impacted him much. When he has been on the field, he has been playing at a high level. That is what the team cares the most about.
There is no question that Norman has been the best player on this Redskins team. He is simply one of the elite players in the league, and he is somehow living up to his massive contract. Barring unforeseen circumstances, Norman should continue to play the best football of his career in the second half of the season.
Josh Norman's Midseason Grade: A
This article originally appeared on