Miami Dolphins: Ryan Tannehill Isn't the Problem or the Solution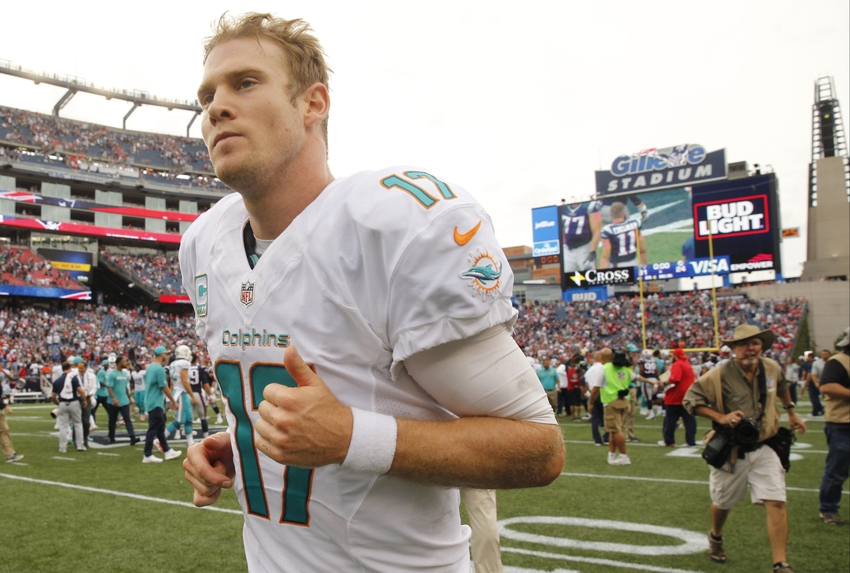 Ryan Tannehill hasn't saved the Miami Dolphins since going No. 8 overall in the draft. The failures aren't all on his back, but his hands aren't clean either.
Damon Huard, Ray Lucas, Brian Griese, Cleo Lemon, Chad Pennington, Matt Moore. These are just a few of the 16 names that started a game for the Miami Dolphins after Dan Marino retired. To say that the position was a revolving door is an understatement. Then with the 2012 NFL Draft came some stability. The Dolphins selected Ryan Tannehill with the No. 8 pick and he's settled in as the starter ever since.
It hasn't always been pretty with Tannehill, but he's been by far the most successful quarterback since the Hall-of-Famer Marino retired. Tannehill has even erased Marino's name from some of the team's record books. By nearly every measure Tannehill's first few years have been a success.
Tannehill has set the Dolphins single-season record for completions. He set the team record for most completions in a rookie season and has the highest career completion percentage in team history. Tannehill owns the Dolphins' club record for most passing yards in a rookie season and the highest completion percentage in a single season. He even set the NFL record for consecutive passes without an interception.
But that statistical success hasn't translated to where it matters most: team success. The Dolphins have yet to finish a season with more than eight wins in Tannehill's tenure and have not made a single appearance in the playoffs.
After nearly every Dolphins loss, you can find an abundance of fans all too happy to heap all of the blame for the latest loss on Tannehill. You can't go more than a couple of tweets without seeing the "TanneKILL" hashtag.
Since Tannehill came into the league, I have been one of his fiercest supporters. I've gone to bat for Tannehill more times than I can count in conversations with my father, who is the biggest Dolphins fan I've ever met.
I've had countless discussions on social media with fans that have devolved into me passionately defending the quarterback, pleading with fans to acknowledge that the offensive line has been abysmal. Begging them to realize that he didn't have enough around him to succeed.
I've used all the standard defenses for Tannehill. "He was a wide receiver in college, he's still learning the position." "He doesn't have an offensive line in front of him." "Tannehill doesn't have enough play makers around him." "Look at the defense, how do you expect him to succeed?" All of these defenses of Tannehill are valid to some degree.
There is a learning curve coming into the NFL, especially when switching positions. When Tannehill came to the Dolphins, there wasn't much in the way of playmakers. The current team has a truly awful defense right now, ranking 29th in yards allowed and dead last against the run.
But as the seasons have progressed and as issue after issue has been aggressively addressed by the front office, I find myself asking how long can I continue to defend Tannehill? I know that he's not the source of all the problems in South Beach. But more and more I'm realizing that he's not the solution, either.
All of the defenses for Tannehill have truth to them. But how many excuses can you make? How often can you explain away failures? How long do you continue to come up with reasons it isn't working, and how long until you look at the lowest common denominator?
What do all of these things have in common? At the end of the day, it's Tannehill. He has had enough time to learn the position. The front office has worked to improve the line in front of him. They've brought in play makers like Jarvis Landry and DeVante Parker.
"Give Tannehill a 'quarterback guru' and just watch what he can do!" Enter Adam Gase. The man who got a record-setting season out of the mighty Peyton Manning, the genius who finally "fixed" Jay Cutler and got him to, at least to some degree, realize his potential.
The season is still young. So it's not fair to completely write off Gase yet. Tannehill does look more comfortable this season than he ever has before. He finally has time to throw and he has control of the offense to a level he's never had before. Miami lets him run a no-huddle offense now. He has the power to change the plays at the line of scrimmage.
And yet, the Dolphins are in the familiar position of having a losing record. Miami is sitting at 1-2, coming off of a win that feels like a loss. Cleveland, a team on a third-string quarterback and decimated by injury, took them to overtime. Yet again, the prospects for a successful season in Miami seem all but hopeless before even reaching the half-way point.
The onus eventually has to fall on the one common thread. Whether it's fair or not, the quarterback is the leader of your team. He's the one who is going to garner the majority of the praise when you succeed, and he has to be the one to take the brunt of the criticism when a team fails consistently. If Tannehill isn't the solution in Miami, then what is? Should the team throw in the towel in hopes of drafting someone like Deshaun Watson or DeShone Kizer?
The draft is always a risky proposition. It's an inexact science and you never know what you're getting. Just look at the Los Angeles Rams this year. They were convinced that Jared Goff was the guy for the franchise—and he started the year inactive.
Does the team bring in a game manager and commit to a heavy running game? That isn't what Adam Gase does. He's an "air it out all day" type of coach and he's had a lot of success doing it. Beyond that, Miami simply doesn't have the personnel for that type of offense.
The running backs are an absolute mess right now. Arian Foster was brought in to bring stability to the team, but he's currently injured. Jay Ajayi can't stay out of the coaches' doghouse. Isaiah Pead and Kenyan Drake aren't primary running back material. They are your "change of pace" type.
The truth is, I don't have a good answer for what direction the team should go in. That's beyond my pay-grade. What I do know is that something needs to change.
No matter what direction Miami goes in, it's time for the fan-base, and myself, to stop making excuses for Tannehill and the consistently disappointing performance of this franchise. It's time they demand that Tannehill put it together and lead this team to success. If that's not going to happen, it's time they demand the front office look to the future and who is next in line to fill the enormous shoes Dan Marino left oh so long ago.
This article originally appeared on