Miami Dolphins offensive recap Vs Chargers week 10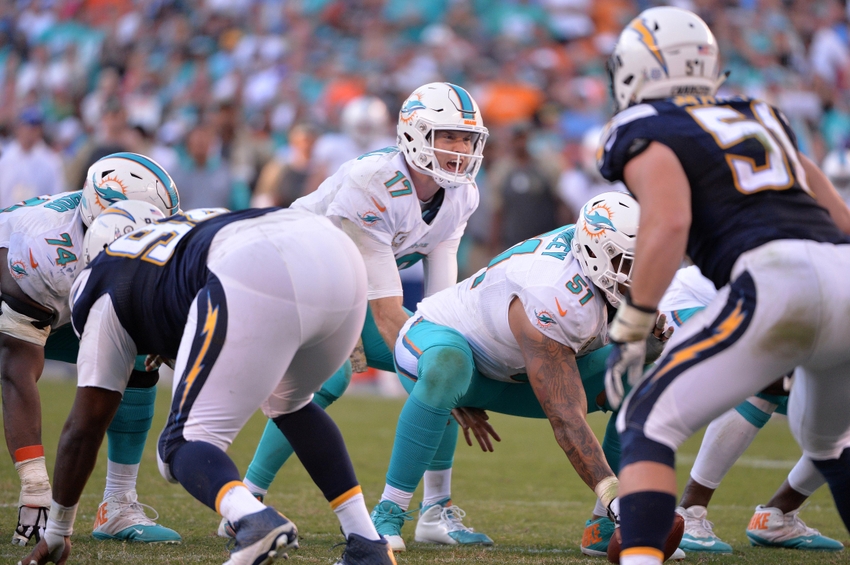 With Jay Ajayi getting 79 yards on 19 carries rushing some of the weight this game had to be placed on Ryan Tannehill's shoulders. He carried the weight well making plays when he had to and taking abuse along with it to secure a Miami Dolphins win over the Chargers.
It was surprising how this game leaned toward a shoot out. That's how the Chargers just beat the Titans by luring them into one. Ryan Tannehill had 17 passing attempts for 24 completions and 240 yards, tossing 2 TD's that was good for a 130.6 passer rating. Jay Ajayi had 19 carries, his last three games he had 24, 29 and 25 carries respectively so there was more room and he most likely could have had over 100 yards and a score. He was heating up in the 4th quarter as had been the case the last 3 games. He broke one run for 40 yards almost making the last man miss.
Adam Gase may have nibbled on the bait a little but not enough for him to get his team hooked. He has been getting deserved credit for his handling of play calling and management overall making it hard to realize at times that he is just in his first year as a head coach. If things stay on this level or even get better as a team then Adam Gase should be in line for coach of the year consideration.
Jay Ajayi was hurt at one point in the game showing signs of serious pain on the sideline while holding his right wrist, he did return to play not long after. The running play has not looked the same as the last 3 games from him by having so much yardage after contact, instead he went down with contact and even arm tackles at times. According to reports this was due to the many stunts the Rams defense was sending.
Brandon Albert had a hand injury causing him to miss 11 plays on the offensive line. Kraig Urbik came in to take over Laremy Tunsil's spot and he moved into Albert's spot. He dislocated his left wrist and is will not be available Sunday against the Rams or possibly the next game or two as well. This is of utmost importance because as the front line goes so goes the team.
This line has limited sacks to only a few over the last 4 games. A sack did end a drive that knocked the Dolphins out of FG range on a 3rd-and-five, Jermon Bushrod was able to recover the fumble. Ja'Wuan James did have a holding call on him negating a 41-yard pass but other than that and the sack allowed the line played well.
The lone turn over of the game was from a miss played punt return by Jakeem Grant. He almost made up for it with other play were he was just one defender away from breaking a kickoff return. This was when the Dolphins were down 10-0 with 7:31 to play in the first half.
DeVante Parker appears to be back in good form again with his five catches on the day for 103 yards and the longest of the game for 56 yards. After the last game Gase took blame for Jarvis Landry not getting many targets, he ended up having a few less than Parker. Kenny Stills was part of a big TD play of 39 yards, he ran an out and up slipping past a safety while Ryan Tannehill rolled out avoiding pressure and it getting hit hard just past the 50 yard line. The overall flight on the ball was over 60 yards as it was caught deep in the end zone.
Of the Best players at every position in NFL Week 10 profootballfocus had this week 2 are Dolphins'.
Quarterback: Ryan Tannehill, Miami Dolphins, 90.0
"Ryan Tannehill made one of the throws of the season this week against the San Diego Chargers, and it was a big reason for his passer rating under pressure coming in at a ludicrous 137.5—more than 10.0 points higher than when he wasn't under duress. Either way, Tannehill's performance this week was excellent, and it marked his best game of the season since Week 2. This has been far from a vintage year for the Miami QB, but games like this show you there's a lot of upside still there."
Wide receiver: DeVante Parker, Miami Dolphins, 86.2
"Ryan Tannehill wasn't the only member of the Miami Dolphins' offense to have a big day, as DeVante Parker—a 2015 first-round pick—had arguably his best game as a pro. Parker caught five of the eight passes thrown his way for 103 yards, with 56 of them coming after the catch as he broke a pair of tackles to gain additional yardage."
Top offensive grades from profootballfocus.com
WR DeVante Parker, 86.1
C Mike Pouncey, 85.4
QB Ryan Tannehill, 78.4
WR Jarvis Landry, 76.6
OG Laremy Tunsil, 75.2
WRs DeVante Parker, Jarvis Landry combine for big days
"While Tannehill's touchdowns went to Kenny Stills and Damien Williams, Miami's top two targets both had impressive afternoons. Landry caught all six of his targets against four different defenders for 53 yards (and posted an 83.4 run-blocking grade), while Parker caught five of eight thrown his way for 103 yards. The offensive line struggled in pass protection, giving up 11 total pressures, but it had a number of strong performances in the run game. Center Mike Pouncey led the way with a game-high 88.2 run-blocking grade."
Team Stats
Dolphins
First Downs 17
Rush-Yds-TDs 25-106-1
Cmp-Att-Yd-TD-INT 17-24-240-2-0
Sacked-Yards 1-9
Net Pass Yards 231
Total Yards 337
Fumbles-Lost 3-1
Turnovers 1
Penalties-Yards 11-81
Third Down Conv. 4-10
Fourth Down Conv. 0-0
Time of Possession 27:01
Jay Ajayi showing great ability to break tackles here.
In a game were Tannehill took abuse he gives some back here
Beautiful touch here by Tannehill and great catch by Damien Williams.
A perfect 55 yard bomb to DeVante Parker while being chopped on the head/neck drawing roughing the passer.
Some say there were too many unnecessary calls on the Dolphins. However this is the one that stands out. You can see Parker's exposed pads. This was a 3rd down try for a TD and ended up being a FG.
Game notes
• The Dolphins haven't won on the West Coast since 2010
• Jakeem Grant and Kenyan Drake were said to be used more on offense, they had 2 and 1 snaps respectively.
• One thing they have gone away from; going to uptempo no huddle after a big play it seemed to work well in the past.
• First turnover by the Dolphins since Week 5.
Final words
This game was clean for the most part and the lack of dirty play probably helped make it a better game overall however some injuries crept up. The injury to Branden Albert played a part on the Dolphins side and on the Chargers side it was NT Brandon Mebane playing a part he did have 61% game snaps to Branden Albert playing 78%.
More from Phin Phanatic
This article originally appeared on