5 players the Dolphins must move on from in 2016
The Miami Dolphins disappointed in 2015, mainly on offense, given the talent on the roster on that side of the ball. Quaarterback Ryan Tannehill seemed to take a step back despite having guys like Lamar Miller, DeVante Parker and Jarvis Landry to work with. Now, entering the offseason, the Dolphins will have several decisions to make regarding free agents and expensive contracts.
These five players are ones that the Dolphins should move on from in 2016 because of their contract situation or cost to re-sign.
1. Louis Delmas
When the Dolphins brought in Delmas from the Detroit Lions, they were hoping to get a playmaker at safety. Unfortunately, in his two seasons with the Dolphins, Delmas has started just 12 games after suffering two torn ACLs. He missed the entire 2015 season after making 63 tackles and one interception in 2014. Now 28 years old, the Dolphins would be smart to let Delmas move on in free agency rather than re-signing him to another risky contract. His health is a major concern going forward and there are going to be younger, cheaper options through the draft. The Dolphins need a rangy safety to pair with Reshad Jones.
2. Greg Jennings
It's safe to say the Greg Jennings experiment didn't work out for the Dolphins. He was healthy for all 16 games but made just five starts. That's obviously disappointing, but his receiving stats are even worse. He caught 19 passes for 208 yards and one touchdown, all of which were the lowest totals in his career. He's under contract for 2016 and will count $5.5 million against the cap, which his more than DeVante Parker and Jarvis Landry combined.
The Dolphins would save $4 million by releasing him, which is the smart move. He didn't make nearly enough of a contribution in 2015, and with guys like Parker, Landry and free-agent-to-be Rishard Matthews as options, Jennings shouldn't be back next season.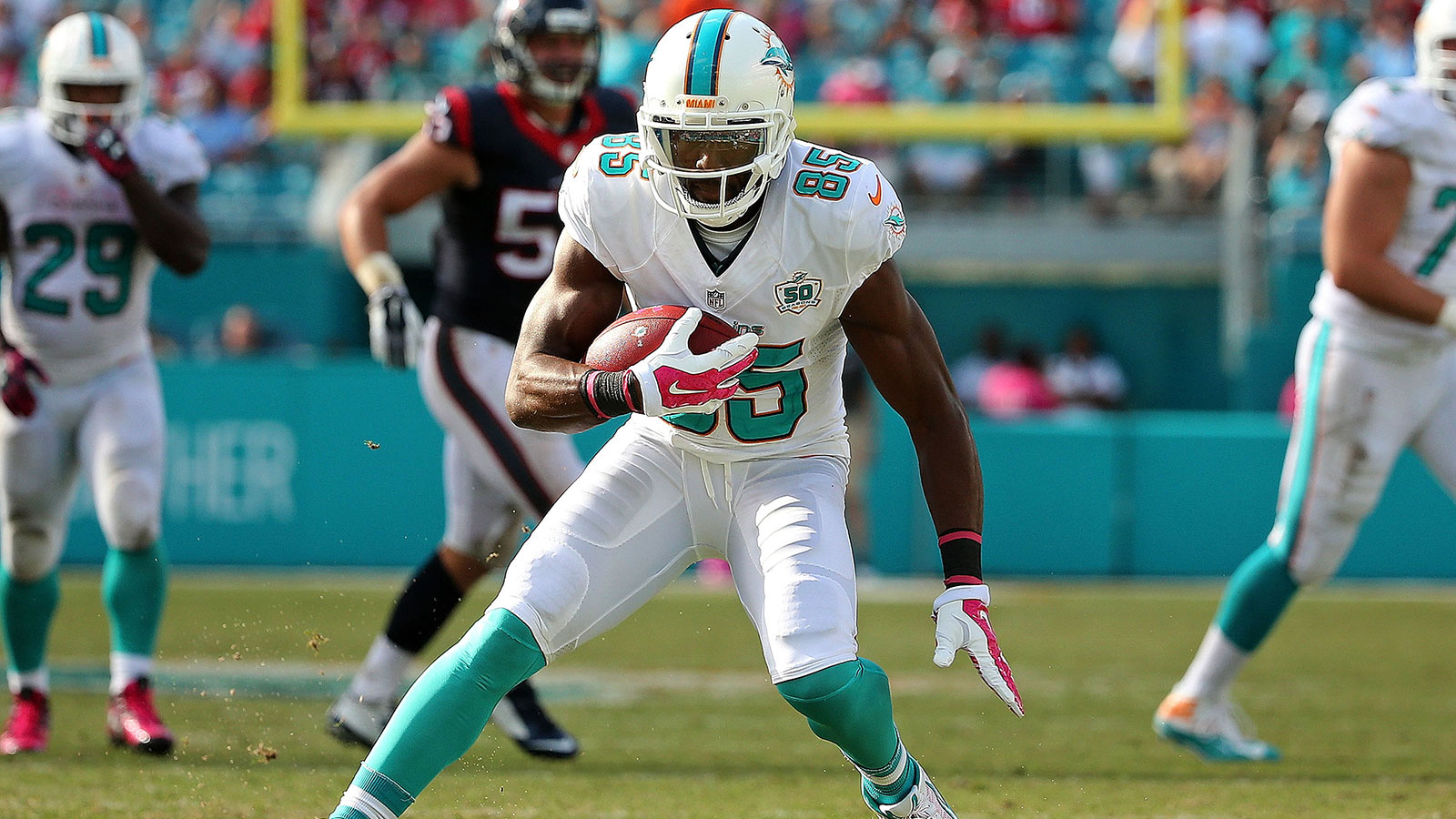 3. Dallas Thomas
The Dolphins' offensive line was a mess for the most part this season — particularly at guard. Both Thomas and Billy Turner struggled in pass protection and played a major role in getting Ryan Tannehill sacked 45 times. Thomas started all 16 games, but that doesn't mean he isn't expendable going into 2016. He'll count just over $856k against the cap next season and would save the Dolphins $705,000 if he's cut. Rookie Jamil Douglas played fairly well when called upon, though he struggled at center. If Douglas can continue to improve, he can play his way into the starting lineup, leading Miami to cut Thomas.
4. Matt Moore
Tannehill will be the team's starting quarterback in 2016. There's little doubt about that. However, there are questions about who his backup will be. Moore will be a free agent in March, and while he's thrown just 30 passes since 2012, he's seen as a viable No. 2 quarterback. In 2015, his cap hit was $2.6 million and he'll likely look to make similar money in 2016. The Dolphins can bring back Logan Thomas, who was brought up from the practice squad late in the year. They could also draft a young quarterback in the mid-to-late rounds in April. Regardless, Tannehill is a relatively durable quarterback and should be the starter for the near future.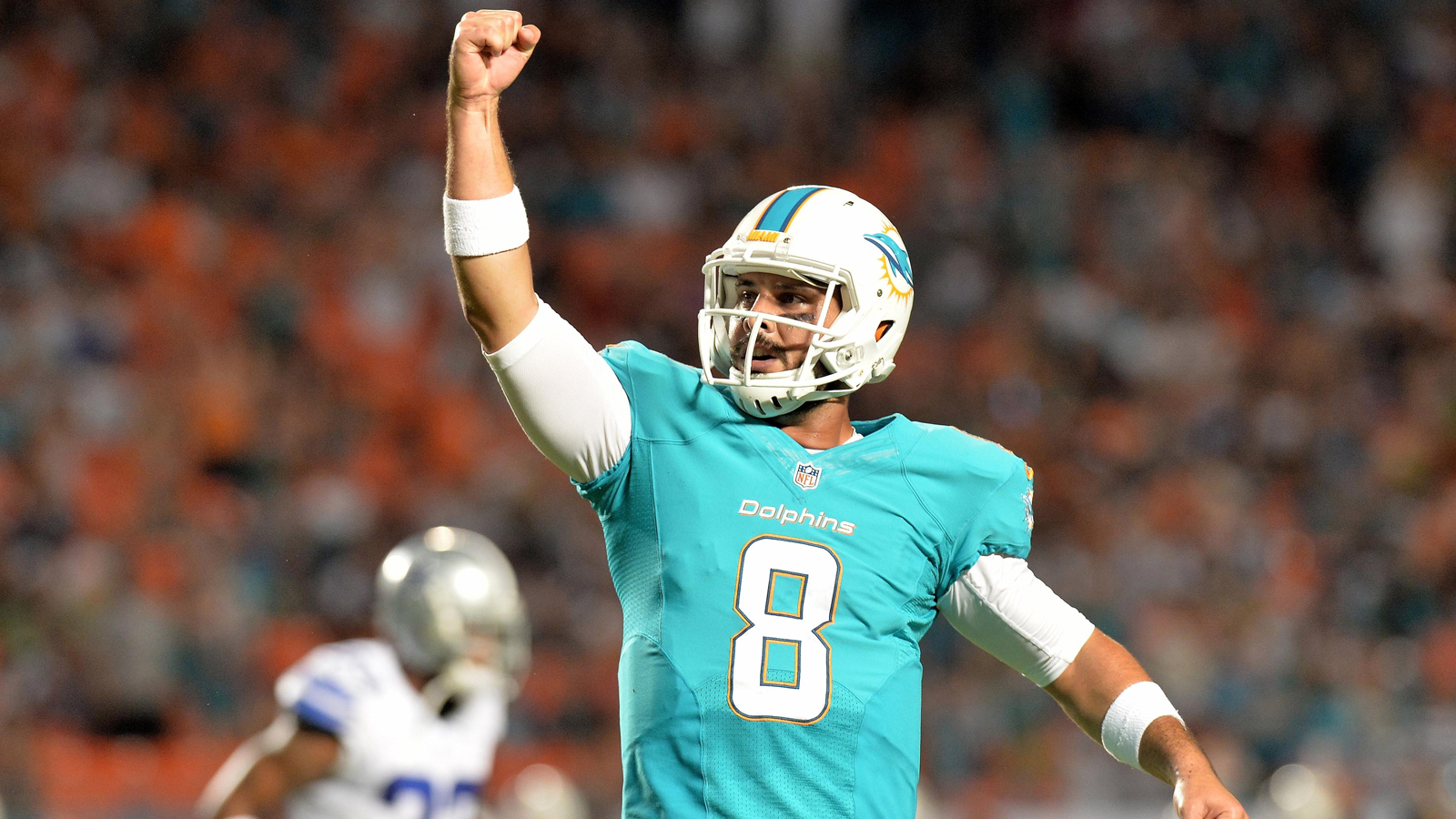 5. Jamar Taylor
Cornerback is a position the Dolphins must address in the offseason. Brent Grimes' play seemed to decline this season, while Taylor continued to disappoint as a former second-round pick. In three seasons, Taylor has started nine games. He has yet to make a single interception and has knocked down just four passes in his career. By no means are any of those numbers good, and it's time for the Dolphins to move on from his poor play. His cap hit for 2016 is $1.15 million, but if he's cut, he'll save the Dolphins $899,475. Brice McCain is a better option as he can play both inside and as a boundary cornerback. The Dolphins have to get younger at the position with Grimes being 32 years old. Taylor is young, but he's been a bust since coming into the league in 2012.
*All salary cap information comes from OverTheCap.com.