Miami Dolphins leave Jay Ajayi home for Week 1 game vs Seattle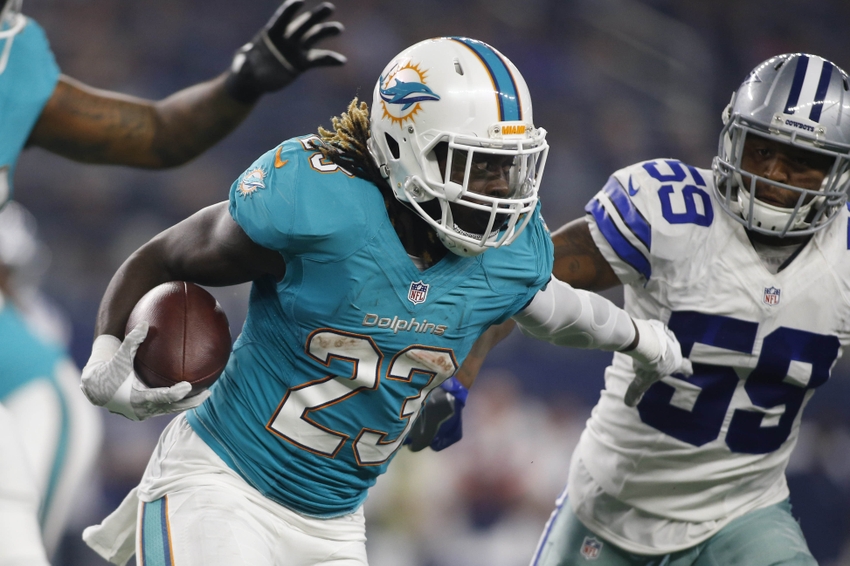 The Miami Dolphins have traveled cross-country for their season opener against the Seattle Seahawks, but running back Jay Ajayi was left at home.
The Miami Dolphins have a tough task ahead of them for Week 1, with a trip cross-country to take on the perennial Super Bowl contender Seattle Seahawks. Having all hands on deck would be nice, but the Dolphins have chosen to do without a piece of depth at an important position.
According to Adam Beasley, Dolphins running back Jay Ajayi will not play after he was left home in Miami due to a coach's decision.
When Lamar Miller signed with the Houston Texans in free agency, Ajayi became Miami's de facto starting running back. But that started to change when Arian Foster was signed, and then Foster won the starting job during the preseason.
Jay Ajayi will not play Sunday. Left home in Miami. A coach's decision.

— Adam Beasley (@AdamHBeasley) September 9, 2016
Beasley cited a Dolphins' player who said Ajayi was upset over being demoted, with some further indication the team wants the running backs behind Foster to contribute on special teams. Ajayi may be resistant to a humbling experience of primarily playing on special teams, even after a 2015 rookie season where had just 49 carries in nine games played.
Foster is clearly going to be Miami's workhorse running back on Sunday, against a tough Seahawks' defense, with Damien Williams, rookie Kenyan Drake and possibly Isaiah Pead behind him.
Ajayi clearly has a lot to prove to new Dolphin's head coach Adam Gase, who was critical of his all-around skill set during OTAs. Ajayi's status beyond Sunday's game is unknown, but without a change in attitude, he may be inactive in street clothes quite a bit. Frankly, an outright release may not be out of the question.
The Seahawks are favored by 11 points on Sunday, with a home field advantage that is unrivaled in the NFL. So the Dolphins aren't expected to go back home with a season-opening win, and Ajayi's status will not move that dial. In terms of players who will be absent for Miami at CenturyLink Field, center Mike Pouncey is far more important and noteworthy as he continues to deal with a hip injury.
This article originally appeared on