Miami Dolphins: How For Real are They?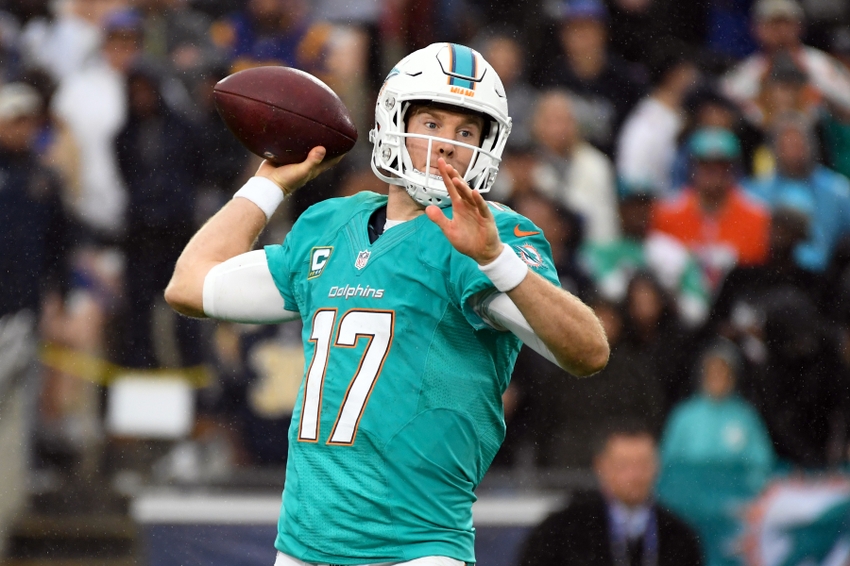 The Dolphins are one of the hottest teams in the league right now. Is this hot streak a lucky run or a sign of things to come?
After starting 1-4 and looking like a shoo-in for a top three pick in the 2017 NFL Draft, the Miami Dolphins now have an AFC-best five-game winning streak and are looking like potential playoff contenders against all odds. Despite a slew of injuries and a brutal schedule, the Dolphins are on track to capture a Wild Card spot. This of course begs the question: Is Miami the real deal or just a mirage?
You can look at the Dolphins' run in two different ways. On one side you can say the way they beat the San Diego Chargers and Los Angeles Rams was fluky and can't be sustained. I, on the other hand, don't feel that way. Their recent victories would have been losses in recent seasons. The fact they are winning games they typically lose is a big deal and shows a change of culture. They are showing fight and resiliency they haven't in the past.
During this winning streak, they have played close games against the Rams, Chargers, New York Jets and Buffalo Bills, while handily dismissing the Pittsburgh Steelers. That is not a group of victories to be scoffed at. And there are a number of reasons for their recent success.
First and foremost, when the offensive line is healthy, they are among the best in the league. This has been proven by the outrageous success of Jay Ajayi and Ryan Tannehill staying clean in the pocket. However, with Mike Pouncey, Branden Albert and star rookie Laremy Tunsil all injured Week 11, they still pulled of a big win.
Ajayi was still successful on the ground and Tannehill has been the star the past two weeks. After making all the throws we are used to see him miss in Week 10, he came back Week 11 and led the team downfield twice in the final five minutes for the win. All of a sudden we are seeing him hit those deep shots and thread the ball in on the run.
The recieving corps has stepped up as well. DeVante Parker is beginning to look like a first-round pick and Kenny Stills is filling his role as a deep threat. Jarvis Landry is, of course, the mainstay doing what he always does. It's also worth mentioning Damien Williams along with the entire group of tight ends have stepped up in a major way.
The defense has been making big plays when called upon as well. The defensive line is getting timely pressure and the Dolphins defense is getting turnovers right when they need them. Cornerback Tony Lippett and linebacker Kiko Alonso have been very pleasant surprises, piling up big plays during this run. They've done a great job of filling the void left by the injuries to Reshad Jones, Jelani Jenkins, Koa Misi and Xavien Howard. Then of course you have Ndamukong Suh and Cameron Wake up front. This defense is a bit of a bend but don't break D. However, they are no joke and continue show why they are a force to be dealt with.
The one area that is so often overlooked is the special teams. You can make a strong case the Dolphins have the best special teams in the NFL. Kenyan Drake, Jakeem Grant and Jarvis Landry make up and extremely dangerous return group. The kicking game is a great strength as well. Field goal kicker Andrew Franks has been very strong since struggling in Week 1 and punter Matt Darr is incredible. He is an underrated weapon and one of the two best punters in the NFL. His value can't be overstated.
With their new found ability to win tight games, the Dolphins are the real deal. Ajayi is shouldering the load while Tannehill is making all the plays he needs to get the job done. Combine that with timely turnovers and tremendous special teams play and you have a dangerous team that appears to be on track to make the playoffs. They currently sit just one game behind the Kansas City Chiefs and Denver Broncos for a Wild Card playoff spot. Both teams have a tough schedule and play each other twice.
There is reason for optimism in Miami and this team should not be disregarded like so many seem to be doing. Head coach Adam Gase has them trending in the right direction and they may be a force to be reckoned with in coming years. Moreover, they could make noise in the playoffs this season. One step at a time, though; first they have to make it. The health of their offensive line will be a major factor in their success.
This article originally appeared on