Miami Dolphins game 2 offensive recap Vs the Patriots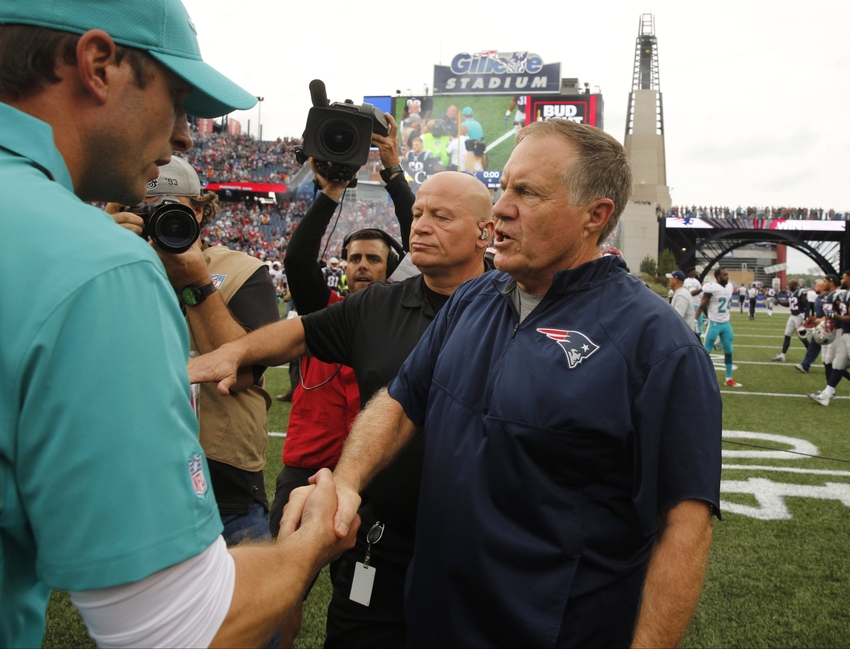 This Miami Dolphins' game was  like the last one with the keys to the game being to control the line of scrimmage.
A tale of two halves: Supposedly nothing changed Gase claimed that it was just execution and that even the same plays were used. Something sure looked different it was like night and day. Maybe getting into a rhythm played a part with Parker and Landry catching contested balls. It spread out to the rest of the players.
Ryan Tannehill under duress throws the pick.
By the time Ryan Tannehill made his 3rd pass attempt he was down 21 points. Those claiming hollow stats have hollow heads.
Ryan Tannehill was 13 of 14 for 176 yards in the third quarter. The one miss was when protection broke down, he passed into the ground near his receiver that was being held (no call) Overall in the second half he threw for 389 yards, two touchdowns and two interceptions outscoring the pats 21-7.
Jarvis Landry nice catch play and extra effort more on that later.
Landry with extra effort but ball comes loose/turnover.
Center / Guard Anthony Steen with the botched snap Mike Pouncey has 1 or 2 weeks to return.
There was reports that Adam Gase would start using the pass to set up the run, which is what took place however the run game is still lacking. Ryan Tannehill lead the team in running yards. The blocking by backs Ajayi and Drake were on point allowing Ryan Tannehill to set up plays better. "Some of the protections were a little different. For a guy that didn't get many reps in the walk through, he did a really good job."-Gase on Ajayi
Ryan Tannehill runs hard he has the most yards running yards this game and both games overall
Gase On Drake: "He did a good job. He can be very productive for us in the passing game. He gives us an element of speed on the edge. He's a very physical guy. We want to see how far we can take him, how much we can grow this season."
Parker caught eight passes for 106 yards, all in the second half. His first pass caught was an indicator of what had been missing. The short passes to Landry were not there in the first half.
Jarvis Landry had 137 yards from 10 catches on 13 targets.
These two had the bulk of the passing stats that were mostly limited to the second half of the game.
Tannehill completed his first pass in the second quarter. The Patriots' defensive line pressure culminated with Tannehill being intercepted by linebacker Jamie Collins late in the first half. The Dolphins had little to show for in the first half. The only score was a Franks Field goal.
Kenyan Drake had 12 rushing yards rushing to go along with his first career rushing touchdown. When Ajayi fumbled, this is probably the only way that Drake got much playing time.
Game scoring summary
1st Quarter
NE TD D.Amendola 12 yd. pass from J.Garoppolo (S.Gostkowski kick) (8-75, 4:07)
NE TD M.Bennett 20 yd. pass from J.Garoppolo (S.Gostkowski kick) (7-75, 3:10)
2nd Quarter
NE TD D.Amendola 10 yd. pass from J.Garoppolo (S.Gostkowski kick) (12-76, 6:21)
NE FG S.Gostkowski 34 yd. Field Goal (9-36, 3:01)
MIA FG A.Franks 27 yd. Field Goal (9-77, 0:58)
3rd Quarter
NE TD L.Blount 9 yd. run (S.Gostkowski kick) (5-68, 2:51)
MIA TD K.Stills 24 yd. pass from R.Tannehill (A.Franks kick) (7-75, 2:59)
4th Quarter
MIA TD J.Cameron 12 yd. pass from R.Tannehill (A.Franks kick) (5-88, 2:13)
MIA TD K.Drake 7 yd. run (A.Franks kick) (9-74, 4:43)
Garoppolo's injury came with less than five minutes left in the first half, he was on pace for 1K game yards.
Jacoby Brissett led the Pats to a touchdown the first possession of the second half. (4th TD score)
Gostkowski missed a field goal then an extra point. This gave the Miami Dolphins a chance to tie late in the game had the defense stopped the Pats. It was never to be however as the run could not be stopped as time ran down. At one point in the game the Pats continuously ran a successful sweep run left. They must have only stopped running the play out of boredom. LaGarrette Blount rushed for 123 yards on 29 carries.
Jay Ajayi with the fumble/turnover
Kenny Stills with the sure handed TD
Jordan Cameron has arrived: he went from dropping passes off his hands to making hard TD catches.
Kenyan Drake with his first TD he has the upside that should be leaned on.
"I don't think it affected things really at all," Tannehill said of Foster's injury. "I think that's the beauty of our system or our [running backs]. They're different and they have different skill sets, but we feel comfortable and confident with whoever is in there, going out and executing the offense."
Reading into this statement the keyword here is "system". Adam Gase was said to match skills to players, here we have a one fit all plug and play. It is also reasonable to assume that Drake and Ajayi would not have been used much sans Foster's injury. Yet another common coaching protocol.
Foster was averaging under 3 yards while in the game the same as his last one. When you factor in the other backs brought in the average goes over 4 yards per carry. This running backs system Gase is so set on will most likely work on teams like the up coming Browns. However as seen the last two games it fails versus high-end teams.
The big taking away from this game is the strong re-emergence of Jordan Cameron. To go from balls bouncing off your hands to making hard contested receptions is perplexing. Dion Sims looked good as well.
Another take away is the receiving overall, backs, tight ends and receivers. The blocking by this group helped to keep the wheel in motion getting everyone involved.
More from Phin Phanatic
This article originally appeared on