Miami Dolphins exactly where most expected them to be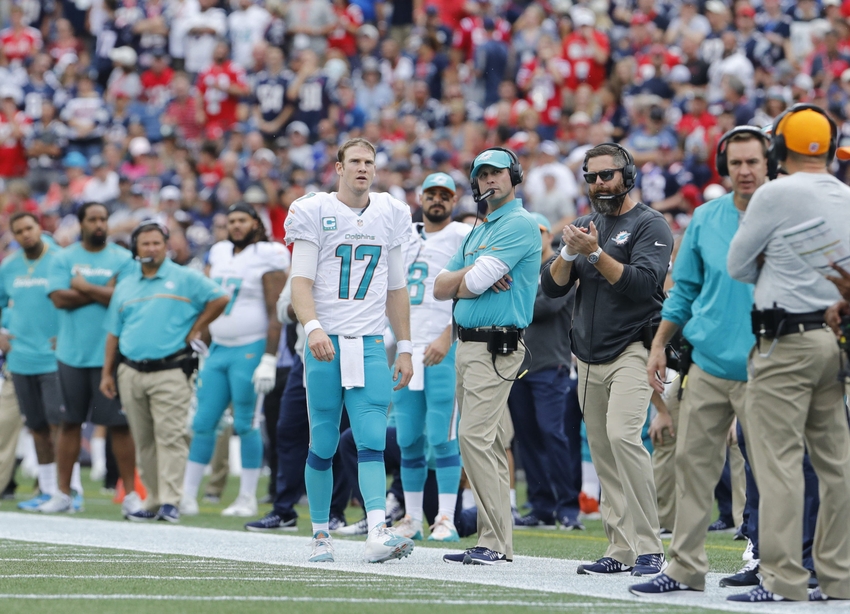 Before the season began, realistic Dolphins fans expected a rough start to the season.  Now that Miami is 0-2, why have fans expectations changed?
The Dolphins began the season playing a tough Seattle team in one of the most hostile environments in the NFL.  Last week they went to Foxborough where they haven't won since 2008.  Most people expected Miami to lose both games and that is indeed what happened.  Why the "gloom and doom" attitude?
Game 1 vs Seattle
The Kenny Stills dropped TD?  The fact that Miami took the lead with 4:08 to play?  Or that the Dolphins defense, as usual, held down the opponent's offense all game only to fold when it really matters?  I would say it was probably a little bit of all three.
The game was only 8 days ago but I think many fans forget how bad the offense truly was.  With the exception of the 4th quarter TD drive, Ryan Tannehill was 12 of 24 for 104 yards.  (And half of that was a 50 yard catch-and-run screen to Arian Foster.)  Meanwhile, the team rushed for 64 yards at 3.2 yds/carry.
While this game allowed Tannehill to show he is capable of bringing his team from behind in the 4th quarter, maybe it would have been better if he didn't.  If Miami didn't have that one drive, and take the lead, would it have made the loss more bearable?
Game 2 vs New England
A combination of Brady's suspension and Rob Gronkowski being out due to injury gave fans increased hope that Miami could steal a victory in Foxborough.
When the Patriots scored touchdowns on their first three drives, those hopes were dashed.  After halftime, however, a miraculous thing happened; the offense came to life.
Following Jay Ajayi's fumble to end the first drive, the Dolphins proceeded to score touchdowns on their next three drives.  What was once a blowout became a 7-pt game.  Fans began to hope….
Unfortunately, the defense allowed the Patriots to run out 5:02 of clock in the 4th quarter before Stephen Gostkowski missed a relatively easy 39-yd FG.  Tannehill's 29 yard "Hail Mary" was intercepted to end the game.
Conclusion
Miami came from behind in two games, against superior opponents and on the road, only to break our hearts in the end.  Does that make the two losses to start the season harder to swallow?  Of course.
Does it change the fact that the Dolphins, implementing a new offense and defense, are 0-2 with Cleveland coming to town, exactly like fans expected before the season began?
More from Phin Phanatic
This article originally appeared on