Miami Dolphins: Don't Give Up on Arian Foster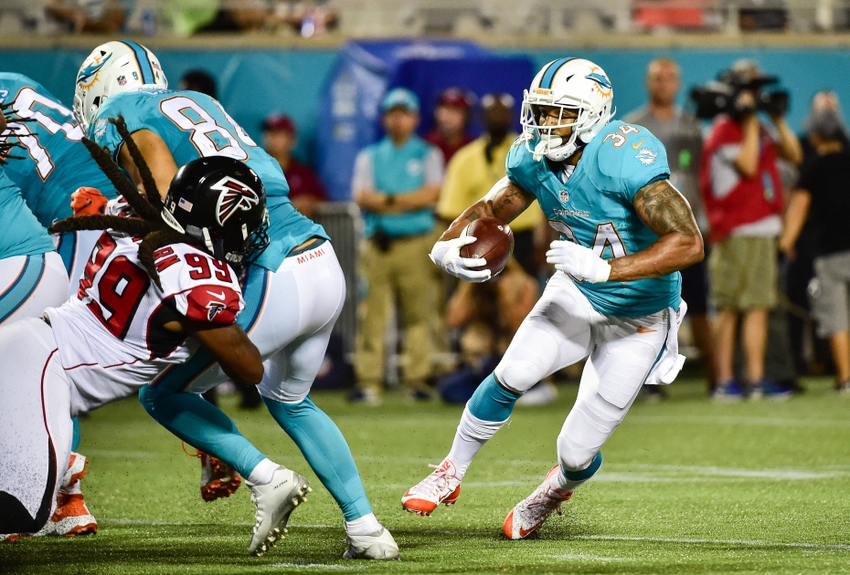 The Miami Dolphins signed veteran running back Arian Foster to fill a void at running back. Don't count the experienced back out yet.
In 2015, Arian Foster went down with a non-contact injury when his Houston Texans played the Miami Dolphins. The injury shelved Foster for the remainder of the season, and Houston ultimately cut ties with him in the offseason
The Texans' franchise leading rusher was suddenly a free agent. As fate would have it, Foster wound up signing with the Miami Dolphins, the same team he suffered his injury against.
It was a no-brainer for the Dolphins, who saw talented LaMar Miller leave for Houston. Miami needed a back, and Foster still has at least something in the tank. A lot of people think Foster will be serviceable, and that's about it.
However, there's a chance we could all see the Arian Foster of old return this year.
Although he's in a new offense, there's a good chance Foster receives a fair share of the carries. He's a do-it-all back who can contribute on every down. In fact, during 2010-2012, few backs produced more than Foster did.
Let's also remember Foster is another one of those players who has faced adversity and won. Foster went un-drafted as a rookie, but fought his way onto the Texans' team.
Obviously, the preseason should always be taken with a grain of salt. But Foster looked superb in Miami's clash against the Falcons. He scored his first touchdown since 2015, and he looked like his regular, dynamic self.
Foster displayed his signature jump-cut, swiftly avoiding contact with the defender.
Prior to thie year's preseason, Foster said he was itching to get back into the swing of things.
"Some years you don't really feel like you need any [carries]," Foster said, according to Omar Kelly of The Sun Sentinel. "Some years you feel like you need some. So it kind of varies as the years go. I need some this year. It's been a while since I've been hit."
To be frank, there really shouldn't be much reason to doubt Foster if he is, in fact, fully recovered. When he's been healthy, he's been one of the more lethal backs in the league. 2014 is perfect example of that.
Yes, he's 30, but Foster's best asset was never necessarily his breakaway speed. What Foster does best is using his vision, and making cuts that demolish defender's ankles. He's always been more quick than fast, too.
Foster missed three games, but still racked up 1,246 yards, eight touchdowns, and 327 receiving yards and five touchdowns.
At the very least, and I'm talking about worst-case scenario, Foster becomes  a mentor for Jay Ajayi. It wouldn't shock me to see Foster rush for over 1,000 yards this year. It also wouldn't shock me to see him take home Comeback Player of the Year honors.
More from NFL Spin Zone
This article originally appeared on