Miami Dolphins depth a present and future problem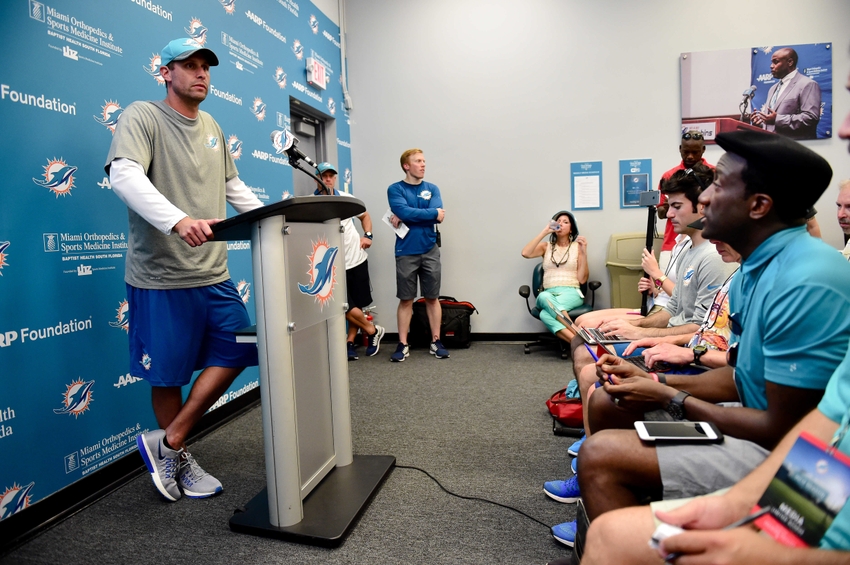 The Miami Dolphins are tweaking their roster today but they are all business getting ready for the Seattle Seahawks next week. There hasn't been much optimism about 2016 and 2017 may not be much better.
Someone has to say it so it may as well be me. The Dolphins have a depth problem. Right now. They will in 2017 and barring major upgrades to the team, they just might have problems in 2018 as well.
Making matters worse is that there are no guarantees that Miami won't need starting help either. That does not bode well for Adam Gase. Now the sky isn't falling and I'm not playing "Mr. Debbie Downer" here but looking over the roster as it stands today and there are legitimate questions that need resolved.
2016 will be intriguing but if the Dolphins find success in 2016, like a post-season birth, the changing tides may not be close on the horizon.
Looking position by position it's much easier to see what the Dolphins need to do and what problems may lie ahead for them. The Dolphins have only so many draft picks and free agency hasn't exactly been kind to the Dolphins.
Quarterback 
To say that Ryan Tannehill is the future of the franchise would be wrong. In fact his 2017 cap number balloons to just over $20 million. Releasing Tannehill would save over $9 million. Almost all of Tannehill's guarantees are already paid. If Tannehill doesn't play to the expectations of the team and Adam Gase, he could be gone.
If Tannehill is gone, the Dolphins have even more holes to fill. It's a reason that this season is so pivotal not just for Tannehill.
Matt Moore is on yet another one year deal and it's likely that the rest of his career will be one year deals and likely with Miami. At some point however the Dolphins have to hand over the back-up job to someone else.
Running Back
Assuming that Arian Foster works out and stays healthy, the Dolphins could re-sign him to another deal after the season. Jay Ajayi still has plenty left on his rookie deal so the Dolphins don't have to worry about him and Kenyan Drake is a rookie this year.
While the Dolphins will probably need to see if this unit can be productive it's not an immediate need for the present or the future. Frankly finding a running back in today's NFL isn't that hard either. Holding on to them is.
Wide-receiver
This is where it really starts to get interesting. Remember a few years back the Dolphins gave Brian Hartline a contract North of $7 million? Well Jarvis Landry is going to want a lot more than than. Landry is signed under his rookie deal through the 2017 season but it would not be surprising to see him ask for a new deal at the end of this season.
Kenny Still has looked a lot better in this offense than he did in Bill Lazor's last year. Stills is on the final year of his rookie deal and unless his season is just mediocre he likely won't be back in 2017. The good news is that the Dolphins already addressed this issue when they signed Leonte Carroo.
The biggest issue for the Dolphins in the coming two season is Landry.
Tight-ends
Dion Sims and Cameron Jordan both should be looking for work at the end of the season. Jordan is already running out of time and his contract is up at year's end. If he has a great season, he will want a bigger contract. If he has an average season, the Dolphins won't retain him.
2017 will likely be an all in off-season to find two new tight-ends and the lack of depth on the roster and practice squad says the Dolphins won't be looking internally for those replacements.
Sims on the other hand could surprise and thrive in the Adam Gase offense. After all, Gase made a name of a then unknown Julius Thomas.
Offensive line
Ja'Wuan James will be entering the final year of his rookie contract in 2017. The Dolphins will have to decide if they are going to pick up his 5th year option. Unfortunately James has not come close to his draft stock yet.
Somewhat inconsistent on the field but not horrible, James has battled nagging injuries and that is  more of the problem than anything else. At this point, James hasn't earned the 5th year option which means he has two seasons to get it together.
Branden Albert can only last so long. Luckily his replacement is playing guard next to him. The Dolphins believe that luck fell into their laps when Laremy Tunsil fell to them at 16 in April's draft.
Tunsil will be the anchor on the left for the next four years and likely more if he is as good as advertised. Guard has been an issue for the Dolphins and their depth is not good this year which means they need to fix it again next year. If Albert leaves next year the Dolphins will have a guard problem once again.
Jermon Bushrod has played well but he isn't the future just the best of what they have. Truth be told, the Dolphins offensive line has a lot of holes in it behind the starters and those holes will be more glaring in 2017 and '18.
For what it's worth, Mike Pouncey will count $9 million in each of 2017 and 18 which given the going rate these days is almost a bargain.
Defensive line
Ndamukong Suh is eating the most cap space of any player and he is signed through 2020. His cap numbers are enormous. $19 million in 2016, '17, '18, and in 2019 it balloons to over $20 million. Not until 2020 when his cap number grows to $22 million will the Dolphins get relief. They can release him and take a mere $10 million cap hit.
So Ndamukong Suh is staying for a while which is good news because the Dolphins still haven't found someone to line up next to him. Jordan Phillips has so far been a bust and Earl Mitchell has two seasons left on his deal but in 2017 the Dolphins can save $4 million by releasing him and lose only $5k of dead space.
Behind those three it is bare which means that either through the draft or free agency, the Dolphins will need to find depth and possibly someone new to compliment Suh.
Defensive ends
Cameron Wake has maybe two seasons left, three if he can stay healthy as a pass rush specialist but that is really being optimistic. Mario Williams is staring at a one year stint but his contract could be for two if he plays like the Williams of old and not like he did last year in Buffalo.
The Dolphins have some promising depth at DE and that is a saving grace but are any of them ready to be full-time starters on the edge? Not yet but that is the job of the coaching staff so there is not only room to develop but youth as well.
Linebackers
If only Jelani Jenkins could stay healthy these days. He looked like he was going to take over the outside but injuries have kept him from finding that consistency. As good as Neville Hewitt looked last year, there are still big concerns with his read and react time and that is holding him back.
Koa Misi is still doing enough to keep his job but he needs to become more aggressive in his attack instead of waiting for the offense to come to him. Misi's final contract year is 2017 but if he has a poor 2016 season, the Dolphins can save just over $4 million by releasing him.
Kiko Alonso is an enigma. Can he have the season he had when he was a rookie or will he be the player that got traded to Philadelphia from the Bills and then to the Dolphins? Playing on his rookie contract, the final year of his rookie deal, Alonso may not be around in 2017.
The depth at linebacker is not good either. Spencer Paysinger is a special teams player only, Zac Vigil and Mike Hull have not shown they are ready for bigger roles just yet.
The Dolphins entered this past off-season needing help at linebacker and it's likely to be a topic next off-season as well.
Corner back
Byron Maxwell's contract is $8.5 million the next two seasons and then increases to $10 million in 2018. Maxwell however is erratic and inconsistent. The Dolphins are only on the hook for his contract this year as the guaranteed money has already been paid. Miami could save $5.5 million in cap next season if Maxwell doesn't perform.
Beyond Maxwell are questions, not that Maxwell isn't a question all his own. Xavien Howard is a rookie so the Dolphins have one corner set for the future, they hope, but behind Howard is Bobby McCain who is promising as a nickel corner, and then…well it trails off considerably. Jordan Lucas barely made the team this year and there is no guarantee he will make it to week one.
Miami will need to address the position next season.
Safeties
Reshad Jones wanted a better deal and held out for a couple of mini-camps before returning to the team. He has two years left on his deal but he is going to want the Dolphins to do a deal next season and will likely threaten a hold out again.
Isa Abdul-Quddus (sounds like a character from Harry Potter) will line up next to Jones this year but his deal is a short one. The Dolphins are still waiting for Michael Thomas or Walt Aikens to step up but frankly their time is just about over.
Overall
The Dolphins have to deal with Tannehill next year, Jarvis Landry, Ja'Wuan James, Branden Albert, potentially two guard spots, Kenny Stills, both tight-end positions, possibly all three linebacker positions, Earl Mitchell, Jordan Phillips, Byron Maxwell, Reshad Jones, cornerback in general, and had I just said that to begin with, this would have been a helluva lot shorter.
In other words, over the next two seasons the Dolphins have some tough decisions to make and not a lot of depth to make those decisions easier.
More from Phin Phanatic
This article originally appeared on