Miami Dolphins defensive recap Vs Rams week 11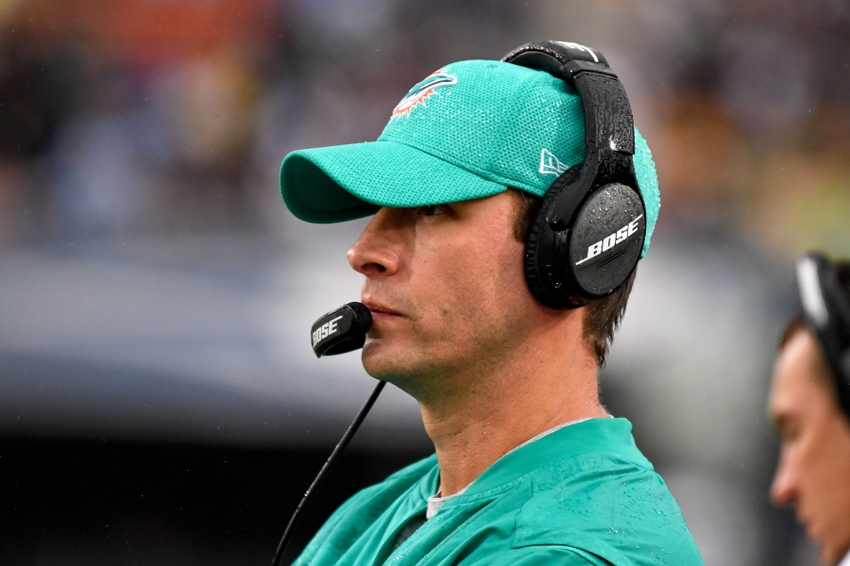 When the Rams' Todd Gurley ran in the first touchdown early in the game it looked like the Miami Dolphins defense was in for a long day, but they locked things down afterwards and hung on for the win.
It was short fields and quick turnover all day. The offense did them no favors all game aside from the last two drives and they wouldn't get their first third-down conversion of the game until 5:44 remaining in the fourth quarter. Early in the season there were times when this same situation would be the blame of this Miami Dolphins defense faltering from fatigue, there were no signs of that this game.
There was a nice balance of how the players were allocated and time of play from them. Vance Joseph is starting to get this part of the game dialed in and better play should be coming soon. This better play will come not just because of the next teams lowly level but from having a better balanced roster to handle all aspects of play and not having to rely on one alone.
QB pressure was causing the Rams rookie Goff to throw to his receivers feet, otherwise he was throwing a bit too high most of the game. Cameron Wake had the only sack of the game but there was six tackles made for losses in the game. There were ample amounts of tackles this game Spencer Paysinger had 4 tackles two of them being big third down stops. Neville Hewitt had the same amount of tackles as Paysinger playing half the snaps.
The defense was setup with QB pressure having a big role and maybe being too reliant on it. Playing with a lead was the other stipulation set up that makes it the focus of getting after the QB. These things were absent for the most part this game and still the defense pretty much carried the game. They kept them in the game under hard circumstances throughout the game and did not wilt like a flower late in the game when it mattered the most.
Kiko Alonso got called with at a few face mask penalties during the game but did lead with tackles made and caused the only turn over in the game. He knocked the ball lose from behind and recovered it.
Tony Lippett does seem to be catching on he had a tough task covering Tavon Austin and did well for the most part. However there was a play where he allowed a completion and missed the first tackle on Austin then got up chased him down and missed tackled him again.
Top defensive grades from profootballfocus
CB Byron Maxwell, 88.0
S Isa Abdul-Quddus, 84.9
LB Spencer Paysinger, 83.7
CB Tony Lippett, 82.2
ED Andre Branch, 80.0
Secondary stands out in Dolphins' win
"The Dolphins' defense did a great job getting pressure on rookie Jared Goff, and played just as well on the back-end in coverage. Defensive ends Andre Branch and Cameron Wake caused problems for both L.A. offensive tackles throughout the game, as they combined to record nine of the team's 15 QB pressures; that brings Wake's total to 30 on the year, which is among the best in the NFL. The Dolphins were stout on the interior of the defensive line, as well, with Ndamukong Suh leading the way with an 81.5 run-defense grade; that in turn freed up linebackers Neville Hewitt and Spencer Paysinger to make stops against the run. The secondary didn't allow Rams receivers to separate most of the game, as cornerbacks Byron Maxwell and Tony Lippett were targeted a combined 14 times, allowing eight catches for a total of 85 yards, with the longest being a 21-yard catch-and-run by Tavon Austin. The Dolphins' secondary as a unit did a spectacular job limiting Goff's options, as they held him to 4.7 yards per attempt."
Best player at every position week 11 from profootballfocus
Cornerback: Byron Maxwell, Miami Dolphins, 90.2
"Byron Maxwell's season has been anything but consistent. His best games have been excellent, and his worst have been bad enough to see him sat down as a starter. This week, however, we saw Maxwell at his best. He broke up one of the few deeper passes rookie QB Jared Goff attempted, and was in tight coverage on another couple of occasions; he also made some plays in the run game."
Team stats Rams
First Downs 12
Rush-Yds-TDs 28-102-1
Cmp-Att-Yd-TD-INT 17-31-134-0-0
Sacked-Yards 1-9
Net Pass Yards 125
Total Yards 227
Fumbles-Lost 1-1
Turnovers 1
Penalties-Yards 8-70
Third Down Conv. 2-13
Fourth Down Conv. 1-1
Time of Possession 31:19
The intermediate pass continues to be a problem although not as bad as last game, might have something to do with a rookie QB playing in the rain.
Over pursuit on the left side and it wasn't even misdirection. Very bad lane discipline on this 24 yard Todd Gurley TD run.
Bad pass interference call on Byron Maxwell who looked to have made a great play on what should have been a stop on 3rd down.
Game notes
• The Dolphins are the 1st team to win back to back road game in Southern California in 29 years.
•The last time the Dolphins were shut out was in 2010, a 16-0 loss to the Bears on November 18.
Last words
The maturation of this defense is growing with each game. Something like how the workload is distributed can play big dividends and it was on full display this game. Players that perform well should be accumulated into the fray by working a fine balancing act with the workload they already had with special teams play.
More from Phin Phanatic
This article originally appeared on