Miami Dolphins: Cameron Wake is up to his old tricks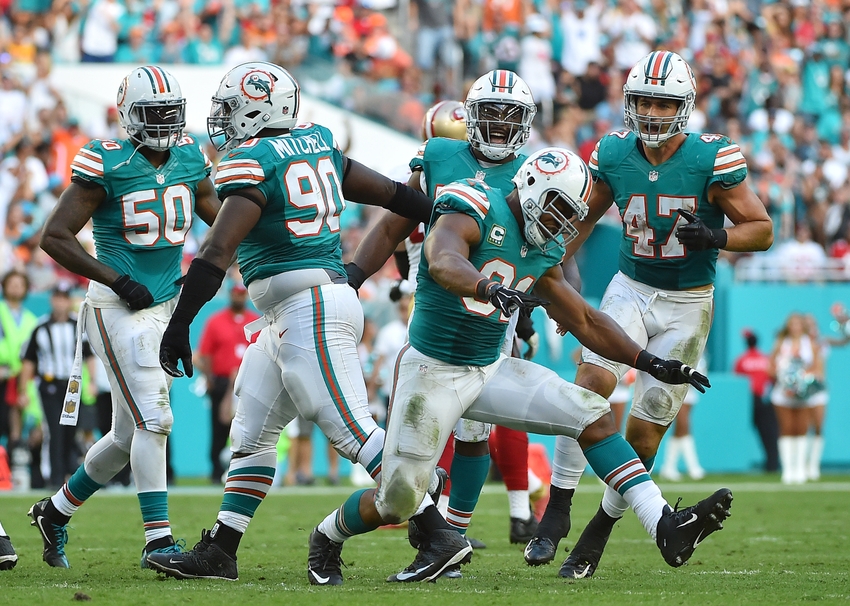 Miami Dolphins edge rusher Cameron Wake is 34 years of age, and is still a terror for opposing quarterbacks to have to deal with…
How is Cameron Wake defying Father Time?
The Miami Dolphins found a gem in Wake when they snatched him up from the CFL back in 2009, and he's been one of the league's best pass rushers ever since. It's a shame his NFL career didn't start until he was 27, but Wake has played more years at an elite level in the NFL than most.
How in the world is he doing it?
The Dolphins are making good use of the 34-year old's snaps, and he's reciprocating the added rest by getting after the quarterback whenever he does get the chance. So far this season, wake has 8.5 sacks, and the most sacks on a per snap basis of any player on the team.
Heck, he's one of the most efficient in the entire NFL:
Among players with at least 200 snaps, Dolphins DE Cameron Wake is (by a country mile) the leader in sacks per snap. Has 8.5 sacks thus far.

— Chris Kouffman (@ckparrot) November 28, 2016
What Wake is doing is simply remarkable. This is a player who is not only 34 years old, but he's also coming off of a season in 2015 in which he played just seven games.
Wake suffered a torn Achilles in the 2015 season, but was back at full speed by June of 2016. He's now at full playing speed obviously, and is combining with some other very talented players on the front seven of the Dolphins to create havoc for opposing quarterbacks.
The Dolphins have been one of the surprise teams in the NFL, and their underrated defensive front can be critical for them down the stretch. If there's anything we've seen from recent Super Bowl champions, it's that winning in the trenches matters. Getting after the quarterback matters.
Wake — at 34 — is still one of the league's very best.
This article originally appeared on