Miami Dolphins 2017 decisions are being decided now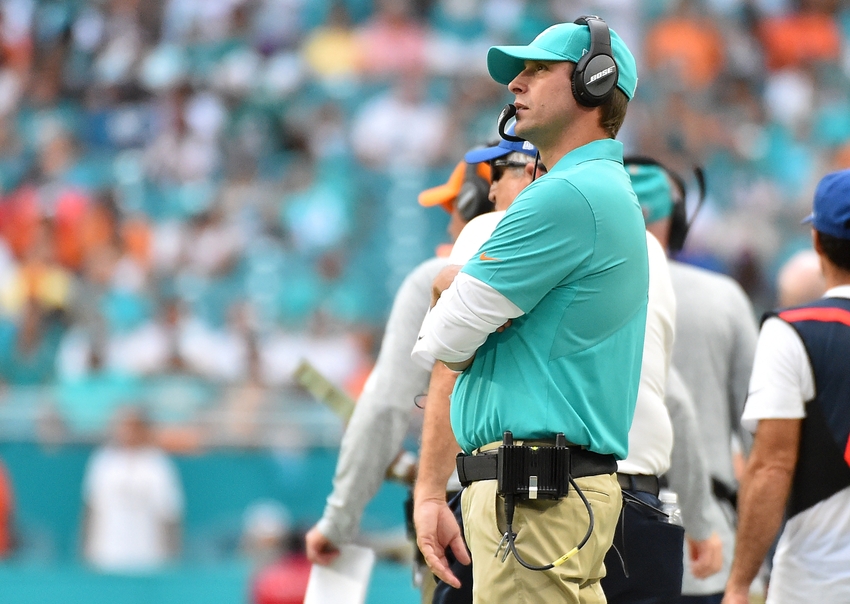 The Miami Dolphins are going to have some interesting decisions to make at the end of the 2016 season. Those decisions will be based on the performances on the field of play throughout the season.
It looks more and more likely that the Dolphins will keep Ryan Tannehill in 2017 despite his ballooning cap hit. Adam Gase likes what he is seeing in Tannehill but admits there is still a lot of growth that needs to be made.
Changes on the offense and defense will be interesting but no position is going to be safe and no players will be either. It's far too early to be talking about 2017 but it's really about the players who are basically auditioning for another chance after the season. It's important now, as we will update it throughout the year, because those players who could be gone, are playing for their careers now.
It's entirely possible that Matt Moore will be on the roster again next season unless Ryan Tannehill gets hurt in 2016 and Moore completely flounders. The Dolphins like Brandon Doughty but he isn't likely to be ready to assume a number two role next year. However given the money being spent on Moore, Miami could opt to take their chances and let Doughty take over the back-up job at a league minimum salary.
Will Jay Ajayi be on the roster in 2017? That's a big question because if this year is any indication thus far, he won't be worth a roster spot. Ajayi is in his 2nd season so he is still very cheap and the Dolphins will likely turn to free agency or the draft in 2017 to find a suitable starter. With the team high on Kenyan Drake, Ajayi could be an odd player out but it's too early to tell just yet. What's not too early to see is the investment in Arian Foster and it's highly unlikely that the Dolphins keep him for more than the season. His injury concerns continue to mount and he will miss another game this Thursday.
Wide-Receiver is a strong position for the Dolphins. De'Vante Parker is in his 2nd year and Jarvis Landry is closing in on the final years of his rookie deal but there is still time with Landry. The bigger question is what the Dolphins will do with promising yet inconsistent receiver Kenny Stills. Stills is on the final year of his rookie deal and while he is playing well despite his week one drop, he isn't playing up to the contract he will likely ask for at seasons end. With the position being deep and the Dolphins having drafted Leonte Carroo and Jakeem Grant, Stills is likely playing his final season for the Dolphins.
It would be nothing short of an absolute shock if Jordan Cameron is back next season and frankly, Dion Sims is no lock to return either. Cameron took a minimal salary cut entering this season and has hardly been a consistent productive tight-end on the field. The Dolphins should have probably let Cameron go this year and saved the cap space it would be surprising if they offered him another deal unless he his game gets much better as the season progresses.
It's very likely that tight-end will be a significant target for the Dolphins in the off-season.
The offensive line right now is nothing close to the drafted talent Miami has accumulated. Ja'Wuan James was benched in overtime against the Cleveland Browns and Branden Albert is having ankle issues. It's likely however that major changes to the offensive line are not made heading into 2017. Miami could still look for a better guard to play in the right spot and possibly find someone to start over James but money is invested in James at this point so it's unlikely. Miami has a lot of money tied up in Albert and Mike Pouncey and could turn to one or both of them for a restructure but major changes are not likely, yet.
The defensive line still can not stop the run and this is something that has to change heading into 2017 because it's not likely going to improve throughout the 2016 season. Earl Mitchell will likely and should be gone after the season and there is no guarantee that Jordan Phillips will be back either. Phillips is having some good games but frankly is too inconsistent to be relied upon play by play. On the outside, Mario Williams is very uneven so far and his contract is essentially a one year deal which means if his play doesn't become consistently good, he will be looking for another team next season. With Cameron Wake now a 3rd down specialist (when not playing more snaps due to injury) his career has been extended by another year or two.
Linebacker is as much to blame for the Dolphins defensive run stopping ability than anything else. I wouldn't be surprised to see the Dolphins change from a 4-3 to a 3-4 in the next few seasons but the Dolphins have to find the right linebackers. Jelani Jenkins has not improved on his breakout season of two years ago and Neville Hewitt is not making the strides many believed he would after last season. Koa Misi on the outside is still not a consistent player in both pass and run defense. He is average at best.
The real problem still is at middle linebacker. The Dolphins traded for Kiko Alonso and the results are 50/50. Alonso is not making game changing tackles and his pass defense isn't improving either. Alonso will be a free agent at the end of the year and the Dolphins, barring a major uptick in his play, should be prepared to look for a replacement in free agency or the draft.
Byron Maxwell is having the same struggles he had in Philadelphia and his large contract is going to get bigger after the season is over. The Dolphins will either need to restructure his 2017 contract or release him. They would not take a big cap hit to cut him loose. Maxwell is out of position many times and has shown an inability to keep up with faster receivers. Xavien Howard is playing well and looks like he will grow over the season which will allow the Dolphins to find a replacement for Maxwell if his game doesn't improve.
Miami must find better depth at the position however because frankly there is too much youth with little experience and the veterans who have experience are not performing well enough when given the opportunity.
At safety the Dolphins will likely see Reshad Jones hold out again for a new deal and they should give him one. He is playing again at a high level and Isa Abdul-Quddus looks to be a solid addition at safety. Miami still needs to find replacements for Michael Thomas and Walt Aikens who still struggle and are not progressing.
Over the course of the next three months the Dolphins will evaluate their players ahead of the 2017 off-season. Miami will wrap the first quarter of their season on Thursday night and hopefully positive changes start to show on the field after Adam Gase made it clear that he will get players on the field that will play and not simply go through the motions.
This article originally appeared on