Mexico City Crowd Shines Laser Pointer in Brock Osweiler's Face (Video)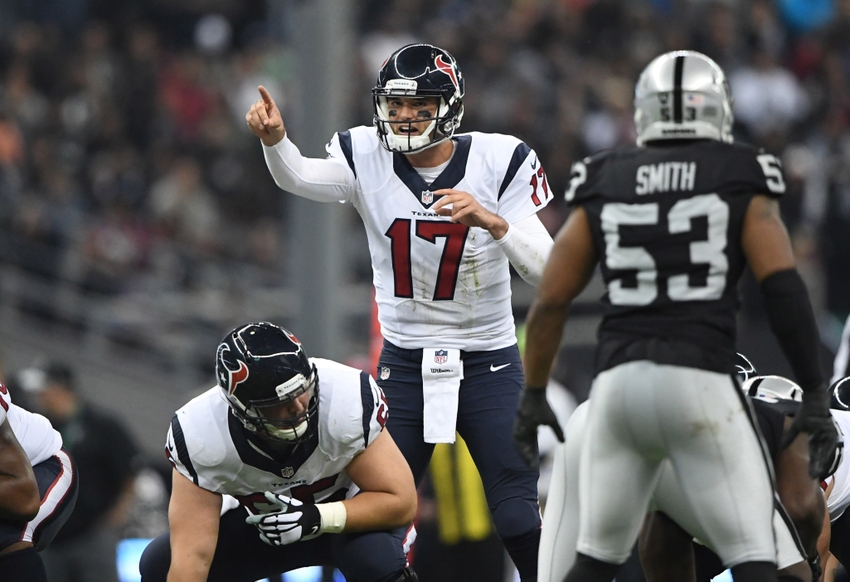 The Houston Texans and Oakland Raiders were putting on a show in front of some the Mexico City fans, but at least one member of the crowd is causing problems.
The last time Houston Texans quarterback Brock Osweiler played in a primetime game, things didn't go so well. The man whom John Elway talks about like a scorned lover gave his old employer something to gloat about on Monday Night Football.
Against the Denver Broncos on Oct. 24, Osweiler needed 41 passes to throw for just 131 yards, finishing with a 60.1 QB Rating. The Broncos won 27-9 and the Texans were embarrassed in front of a national audience for a second time at that point in the season, having been shutout by the New England Patriots in Week 3.
On Monday Night Football from Mexico City against an elite Oakland Raiders team, Osweiler came out firing. An interception to Malcolm Smith put a damper on the proceedings, but the Texans were tied 10-10. Osweiler threw a touchdown pass to Braxton Miller and completed 11-of-18 passes.
Unfortunately, however, Osweiler was victimized by a fan wielding a laser pointer. You can clearly see green light going over Osweiler's faceand this could be a dangerous situation if it continues. The annoying kid in class with the laser pointer is at an NFL game and his immaturity could turn this harmless prank into something more if Osweiler isn't lucky.
Chris Trapasso notes that this occurred earlier in the game, so it is something to watch for in the second half. I wonder why on earth a fan would decide to do something like this anyway, because there is nothing to gain. Even though it's a pro-Raiders crowd, this is still a bit much.
More from NFL Spin Zone
This article originally appeared on