Maturing QB Robert Griffin III Voted Team Captain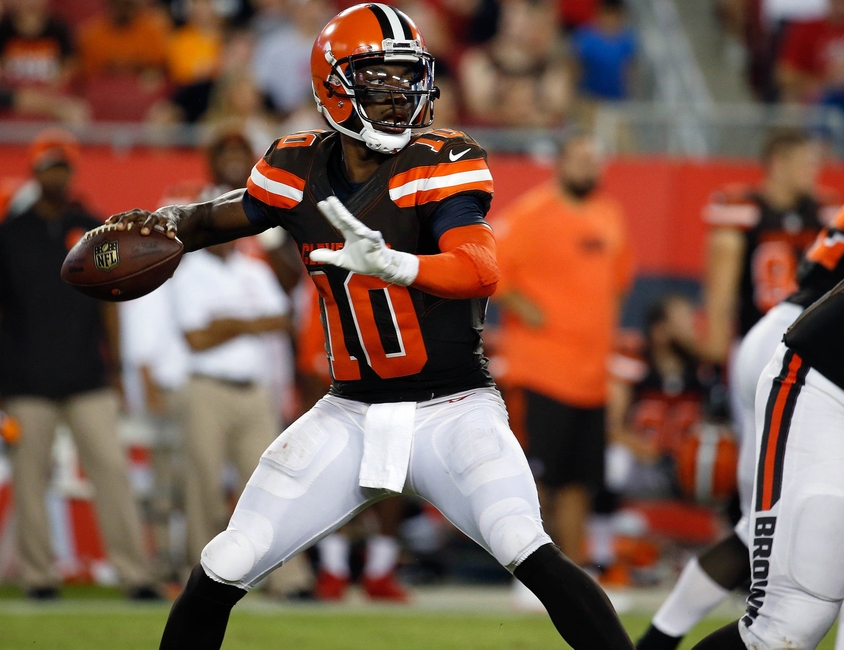 Robert Griffin III is maturing!
When I say maturing, I mean he did a complete 180 from the guy that was so full of himself. After winning NFL Rookie of the Year in 2012, RGIII was too hot to handle and too cold to hold. He even started to tell the Washington Redskins how to run the offense.
Then of course, his health and play deteriorated and the Redskins decided not to hold onto him. And there wasn't a long list of teams wanting to sign him when his contract was up this offseason. But when Hue Jackson was hired to coach the Cleveland Browns, he gave RGIII a shot.
Included in that shot was RGIII humbling himself, hiring a throwing coach and taking to Jackson's coaching. So far, things are working out pretty well for RGIII. We've seen how he looked this preseason, completing the beautiful deep balls he's throwing.
But more importantly, his team noticed how much he has humbled himself and voted him team captain. RGIII joins Joe Thomas, Joe Haden, Demario Davis and Tank Carder with the honor. Jackson was as surprised as anyone to learn of such a vote for him.
He told NBC, "I was a little surprised because he hasn't been here very long. He should feel good about that." 
Cleveland Browns: Will Andrew Hawkins make the final roster?
Mary Kay Cabot of the Cleveland Plain Dealer tested RGIII's maturity Wednesday. She confronted him with quotes from an interview Hall of Fame cornerback Darrell Green did with the Sports Junkies on 106.7. Green ripped RGIII, calling him "selfish" and "childish."
But RGIII didn't bite, saying, "I make sure I don't focus on those things. "That's the first time I've ever heard of that. For Darrell, a guy that I know personally, that's his prerogative. Whatever you say in the public sphere, you have to make sure you're ready to say that in the private sphere as well.
"Darrell hadn't approached me about anything and I consider him a friend, so that's disappointing, but it's nothing that I can control. I just focus on being here with the Browns, worry about football, focus on that and don't let anything distract me."
While trying to start over in Cleveland, voices are still coming from Washington but so far, it's not working. He appears to have his focus on the team instead of himself and what others think. RGIII has come a long way and we'll see how far starting Sunday.
More from With the First Pick
This article originally appeared on