Matthew Stafford Shows Off Wheels You Never Knew He Had (Video)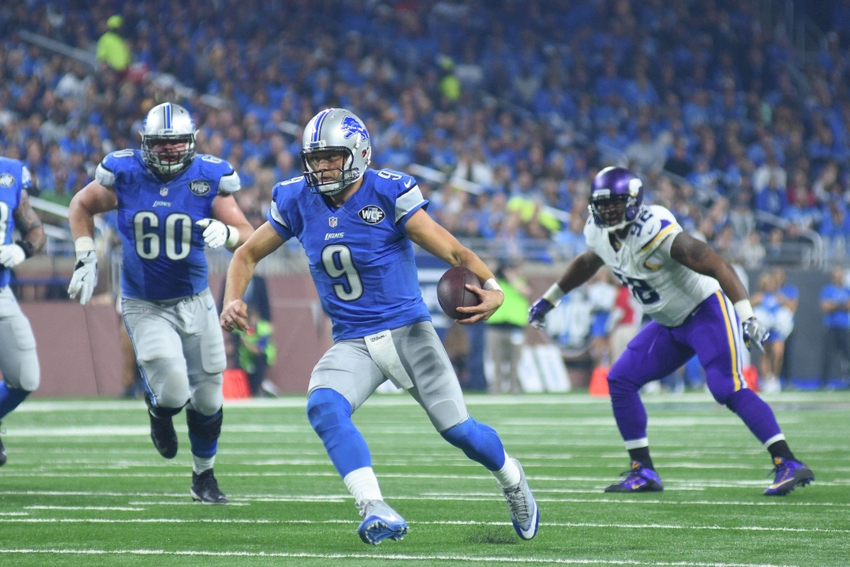 Matthew Stafford is not what you would call a mobile quarterback, but the Detroit Lions star was picking up first downs with his legs on Thanksgiving.
2016 has been arguably the best season of Detroit Lions quarterback Matthew Stafford's career. While it might not wind up being the most jaw-dropping statistically, it's certainly the best in terms of stats in addition to the success of the Lions. However, the veteran former No. 1 overall pick showed something on Thanksgiving that isn't often seen from him: wheels.
While Stafford was in the process of dicing up the Minnesota Vikings on Detroit's first drive, they got down in the red zone. Once down there, the Georgia product looked to throw, but had no one there. So he took off and got his team in better position for the eventual touchdown with a six-yard scramble, eating a hit at the end as well. Later, he also ran outside to the sideline for a first down.
However, he had yet another run on the day, the last in the fourth quarter. Stafford's protection broke down a bit and he was flushed to the right. He then saw his open lane and took off. Somehow outrunning the ball-hawking Vikings defense, Stafford "sped" up the sidelines 15 yards for the first down:
Matthew Stafford is just TOO fast. 🏃💨💨💨 #MINvsDET https://t.co/PZD4pjNrVb

— NFL (@NFL) November 24, 2016
Pure, hot, unadulterated speed has always been Matthew Stafford's game…except not. However, it's impressive that he's not only carrying his team with his arm this season, but throwing in a few rushes as well. That final first-down run left him at three carries for 32 yards.
This article originally appeared on