Matt Forte is a projected fantasy football bust in 2016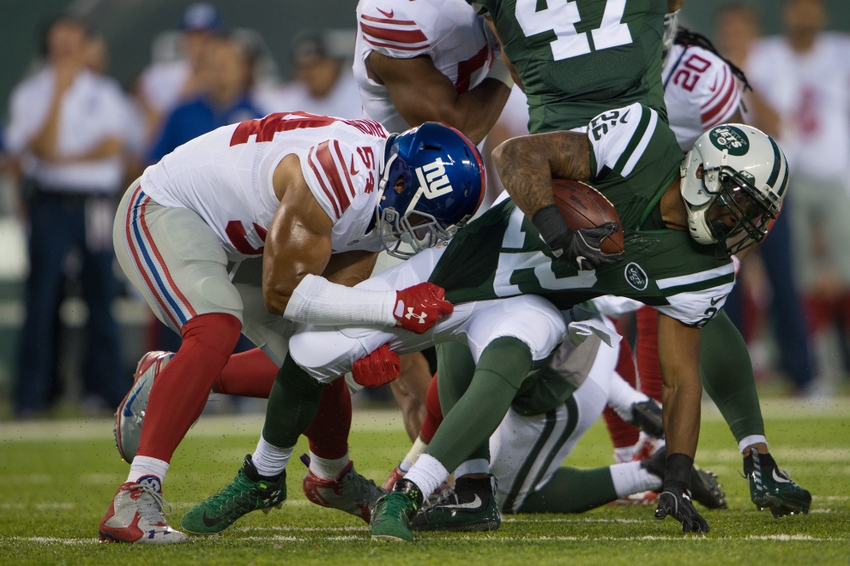 When it comes to his Fantasy Football value, running back Matt Forte might be on the New York Jets but won't have much success. Don't get caught up in the nostalgia when finalizing your starting lineup.
So, it's a few hours before game time and you have a tough decision to make when it comes to your running back in the starting lineup of your fantasy football team. Assuming you drafted running back Matt Forte of the New York Jets, you're probably wondering if it's a good idea to start him if he's going to have a favorable matchup for the week.
Forte's name triggers a flashback to you from his heyday with the Chicago Bears. Well, just like the Bears, you, too, should pass on the 30-year-old with a bum knee. Yeah, it's true, Forte is 30-years-old, remember? That dreaded age, historically, when running backs in the NFL tend to experience a steady decline in production.
In fact, only a handful of backs were able to churn out a 1,000-yard rushing season past the age of 29-years-old. A list headlined by Pro Football Hall of Famers, such as Franco Harris, John Riggins, Tony Dorsett, Emmitt Smith, Barry Sanders, and Walter Payton.
It's difficult to see Forte's name indelibly stamped among those greats. That's not a knock on his talent, either. The shelf life of a running back simply isn't what it used to be. Just look at how Forte's tenure with the Bears ended.
He was dropped, cold turkey, after racking up 898 rushing yards, four touchdowns in 2015, due to long-term health concerns.
In other words, Forte missed three games with knee difficulties, and management got cold feet.
Yet, this decision wasn't just out of the blue.
A heartfelt goodbye/thank you statement wasn't just slapped together overnight for the second leading rusher in franchise history. No, this was calculated.
Those calling the shots in Chicago knew that the former Pro Bowl-caliber dual-threat back had much less in the tank than they were willing to publicly admit. Perhaps out of respect.
As a word of advice, avoid the heartbreak, the frustration. For those that already drafted/signed Forte, trade him. If Forte pops up in the draft, scroll past. Swap him out for the Jets' younger halfback, Bilal Powell.
He is expected to split carries with Forte this season anyway. Then, once tragedy strikes, his fresh legs will receive even more carries, guaranteeing Powell to be, at worst, a solid bench player. Think 2015 Chris Ivory.
Remember, draft smart, draft wise. Don't gamble on a 30-year-old running back with a bum knee.
This article originally appeared on