Matchups to Watch: Oakland Raiders vs. Houston Texans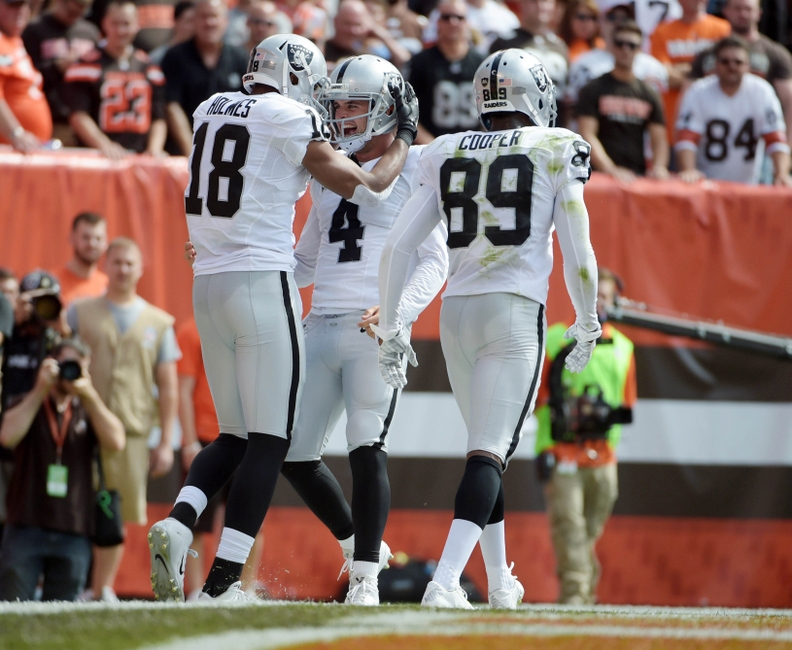 In a Monday night matchup in Mexico City, the Oakland Raiders and Houston Texans face-off in an important AFC battle. Here are matchups to watch.
With the Raiders at 7-2 and the Texans at 6-3, this is an important game for the AFC. Here are the matchups to watch.
Dan Williams vs. Xavier Su'a-Filo
Dan Williams has proven to be a quality under the radar signing for GM Reggie McKenzie. He made some negative headlines when he came in to camp a bit heavier than the team wanted and had to work his way back up the depth chart, but has looked good since his return. As he continues to improve and stay fresh with a rotation that includes Justin Ellis and Darius Latham, the defense also continues to look more stout against the run.
Xavier Su'a-Filo was drafted 33rd overall in the 2014 NFL draft. Derek Carr was drafted three picks later. The Texans had a big need at QB and Carr was easily the best one available. Unfortunately for the Texans, the selection of an elder Carr brother in the franchise's infancy left a bad taste in their mouth and they opted to pass on a player that looks like a potential franchise QB.
Su'a-Filo was a player that impressed me a lot with his physical skills but has only developed into an average LG. He has had some good games and has looked dominant at stretches this season but his play has been inconsistent to say the least.
The same can be said for Dan Williams, who has played well in stretches but has yet to play consistently well. Williams must put forward a good showing and keep Lamar Miller and the Texans running game in check.
It may very well end up being difficult for the Texans to pass the ball on the Raiders and if they find early success running the ball, it could end up being a long game for the Raiders defense.
Raiders WRs vs. A.J. Bouye
The Raiders WRs have been nightmares for defenses around the league. It is impossible to dedicate the resources required to cover both of these playmakers.
Michael Crabtree continues to move the chains and score touchdowns as Amari Cooper moves the ball up the field at a breakneck pace producing big plays. The duo has faced some notable competition, including many AFC West DBs that are very talented, and again they face some impressive talent.
Jonathan Joseph continues to headline the Texans secondary and in all honesty I don't really know why. For my money the Texans best CB is A.J. Bouye and it really isn't even that close.
Bouye missed last week's matchup with the Jaguars but it looks like he will be good to go for Monday night in Mexico. Bouye has burst onto the scene and his incredible play has been a big surprise but his production is undeniable. He is consistently sticking on very good NFL WRs and he is doing it rather quietly.
Like many good CBs, Bouye doesn't trail specific players. Instead, he stays on one side of the field. This can possibly be exploited if the Raiders feel that one of Crabtree or Cooper is a better matchup, but Bouye is talented enough to play either WR tightly.
At just a shade over 6′ and well under 200 lbs., Bouye's frame generally isn't detrimental to his game. His feet, vision and instincts make him tough to beat and his skill-set matches up well against the Raider WRs.
I expect Cooper and Crabtree to both produce pretty good numbers but it won't be easy. It will be interesting to see if the Raiders try to exploit his size with a larger WR such as Andre Holmes.
David Amerson vs. DeAndre Hopkins
David Amerson has taken his lumps this year, but has had a mid-season resurgence of sorts.
Amerson now has 15 passes defended, good for 4th in the NFL. His size and length continues to give WRs fits, as they feel they have a step only to have the ball poked out at the last second. Amerson's improved play has been huge for a defense that has been getting gashed in the passing game. His play was huge in keeping the Bronco's talented WR in check.
Amerson will need to play even better on Monday.
DeAndre Hopkins is one of the best WRs in the NFL. He has had a down year, possibly due to poor QB play, but despite what his stats suggest he is still one of the most talented athletes that the league has to offer.
Hopkins isn't the biggest or fastest WR but he can beat any CB in the league with sharp cuts out of his breaks and a nose for the ball. He is a natural WR in every sense of the word. If the Raiders defense returns plays like they did early in the season Hopkins could have an extremely productive day.
Amerson has quite a size advantage on Hopkins, but it likely doesn't matter. Hopkins has shown the ability to win jump balls against bigger more physical CBs and when the ball is in the air, he is as tough as anyone. This could present problems for Amerson as he can often dislodge well placed passes. Hopkins will go after the ball much more aggressively. Amerson will have to play one of the best games of his career and not let Hopkins create too much separation.
Donald Penn vs. Jadeveon Clowney
Donald Penn continues to get older, yet Derek Carr continues to stay upright. Left tackles have one of the hardest jobs in the league — as QB's passing attempts increase, passing concepts get more complex. Pass rushers are also continuing get more athletic.
It hasn't mattered yet for Penn, who takes pride in the fact that Derek Carr has been sacked less than any QB in the league — while also having more pass attempts than all but five QBs. Carr has time to sit back and find Cooper, Crabtree and the other weapons, and Penn is a huge part of that.
When Jadeveon Clowney was drafted #1 overall in 2014 it seemed like a no-brainer. He was an absolute physical freak that wrecked offensive linemen throughout the SEC and inhabited the nightmares of RBs and QBs.
It looked like the Texans were getting the league's next great pass rusher. Now it looks like they should have taken Khalil Mack — who has as many career sacks as Clowney has games played. Clowney's career has been riddled with injuries and he has yet to live up to the lofty expectations set for him when he was drafted.
While Clowney's career hasn't panned out as the Texans have hoped, he still possesses the mind boggling talent that got him drafted so highly. He still shows flashes of absolute dominance that make NFL tackles look like children, and Donald Penn will need to be ready.
While I think injuries have slowed Clowney, it only takes one play for Penn to be a split second slow out of his jump set, and Derek Carr could be staring down the barrel of #90. Clowney is still talented and this will certainly be a matchup that could effect the game.
More from Just Blog Baby
This article originally appeared on