Matchups to Watch: Oakland Raiders vs. Buffalo Bills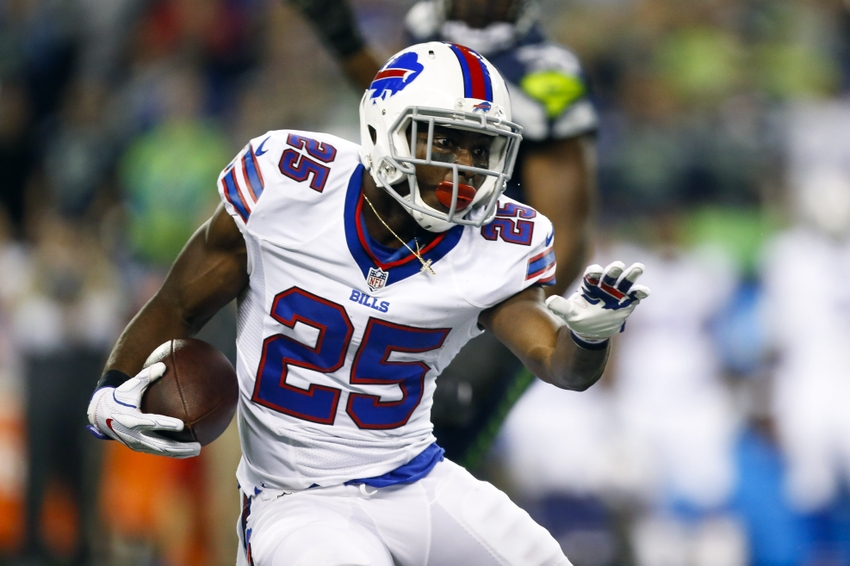 The Oakland Raiders host the Buffalo Bills in Week 13. Here are the matchups to watch.
Looking to continue their five-game win streak, the Oakland Raiders will take on the Buffalo Bills on Sunday.
Here are three matchups to watch in this Week 13 contest.
Antonio Hamilton vs. Marquise Goodwin
When the final 53-man roster was announced before the start of the season, no one expected Antonio Hamilton to make the squad — not even Hamilton himself. But to everyone's surprise, Oakland opted to hang onto the rookie undrafted free agent, hailing from South Carolina State of all places.
Hamilton is a gifted athlete that has been largely untested, only playing significant snaps last week after the injury to D.J. Hayden. A weak Raiders secondary will be heavily tested as Hayden is heading to IR and David Amerson's status is still up in the air. Welcome to the NFL, rookie.
A cursory glance at Marquise Goodwin's stats this season may suggest that he is not a real threat to the Raider defense. That assumption would be foolish.
While it is true that Goodwin is averaging only about 2 catches per game, he is the definition of a deep threat. He has 3 TDs, but of those touchdowns, one came from 84 yards out and another from 67. Goodwin possesses legit Olympic speed, something that the Raiders have been struggling with all season.
Goodwin has the agility and speed to give Sean Smith fits, and in many ways, he comes in the same mold as Ginn. It will be imperative for Hamilton to stay disciplined and give Goodwin plenty of cushion. Hamilton isn't an ideal fit against Goodwin but with Hayden out there aren't many options to hang with the speedster, so the Raiders will have to take advantage of Hamilton's 4.46 speed.
Amerson's health is still in question, meaning that T.J. Carrie and Sean Smith may have to occupy the the outside, putting Hamilton in the slot against the ever-explosive Goodwin. Oakland got toasted by a speed last week and Hamilton will have to step up his game quickly or things could get out of hand for Oakland.
Malcolm Smith vs. LeSean McCoy
We can (and have) talk ad nauseam about how the recent additions of rookie Cory James and veteran Perry Riley Jr. have helped the Raiders defense. However, this game is going to have to feature the play of a vested Raider in Malcolm Smith.
James has played well, as has Riley, but the latter has been battling through injury and may not even play. James has flashed, particularly earlier in the season, but he is still inexperienced. That means a lot of the responsibility to contain will fall on the shoulders of Malcolm Smith.
Malcolm will need to play disciplined football more than anything against McCoy, who has a knack for exploiting overaggressive linebackers on cutbacks and counters.
LeSean McCoy has been having an incredible year, averaging an insane 5.2 yards per carry. Dallas gets a lot of love for their run game, nut surprisingly it's the Bills that lead the league in rushing, thanks in large part to the ability of LeSean McCoy.
McCoy has agility that is unmatched by anyone in the league. He has everything that you look for in a RB and can make defenses everywhere look silly. He already has 9 TDs and over 800 rushing yards this season because of his uncanny ability to make plays where most other runners would take losses.
McCoy has the speed and agility to get an edge that most humans can't. Any over-aggression in the running game and McCoy could be loose on the defense. Maintaining the backside edge has been a major weakness for the Raiders this season and there is no better player at exploiting that in the league than McCoy.
It will be the responsibility of Smith and other force players to make sure that they maintain backside discipline, because even when you think McCoy is contained, he can spring for a long TD.
Raiders OL vs. Bills Pass Rushers
It's no secret the Raiders offensive line has been among the best in the league in both the running and passing game. The passing game, in particular, has been superb, allowing fewer sacks than any other offensive line in the league.
It is thanks to Carr's protection that the Raider's Offense ranks as a Top 5 unit in the league. The passing offense ranks 4th in the NFL. There is no arguing that the Raiders OL is phenomenal but they have yet to face a pass rush like this all year.
The Bills rank 2nd in the league in sacks behind only the Broncos. Unlike the Broncos, the Bills don't have superstar talent like Von Miller and Demarcus Ware. Instead, the Bills use scheme and savvy to create sacks from less than elite athletes, such as former Raider Lorenzo Alexander, who currently ranks 2nd in the league in sacks after being nothing more than a special teamer for the Raiders.
The Raiders are built to stifle a pass rushing scheme like the Bills. Oakland's OL plays disciplined football. They know how to deal with stunts, they understand their offense and they can consistently pick up blitzers thanks in large part to protection calls from Carr and center Rodney Hudson.
While the matchup favors the Raiders, the Bills haven't accumulated 33 sacks this season for no reason. The pass rush is good and they know how to finish at the QB. Carr needs to be able to take care of his hand and the football. If the Bills pass rush gets rolling, then things could start to unravel for the Raider offense.
This article originally appeared on