Matchups to Watch: Oakland Raiders at Tennessee Titans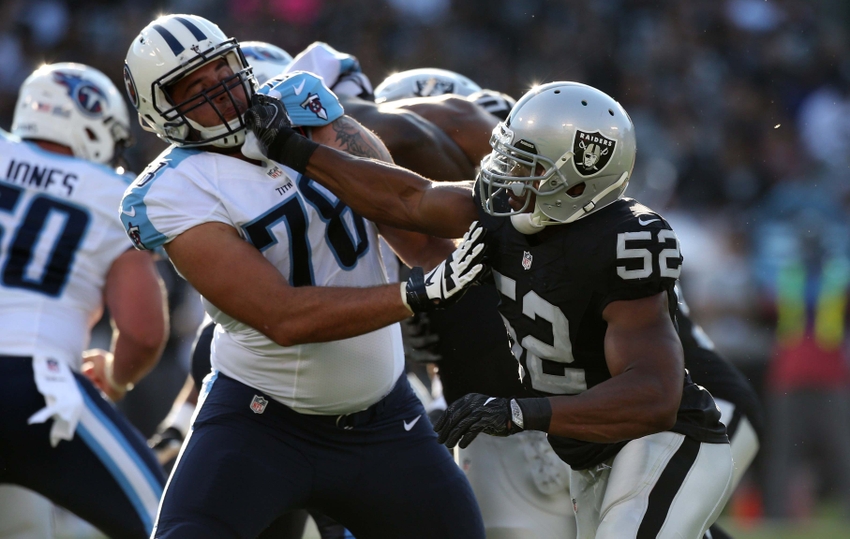 The Oakland Raiders look to get back in the win column in Week 3 against the Tennessee Titans. Here are four matchups to watch.
The Raiders couldn't make it two comeback victories in a row, falling to 1-1 on the season after a loss in Week 2 to the Atlanta Falcons.
In Week 3, Oakland will face a team they played less than one month ago — the Titans.
Here are four matchups to watch in the upcoming game.
Raiders Pass Rushers vs. Titans Young Offensive Tackles
There is no need to mince words — the pass rush of the Oakland Raiders has been a massive disappointment. A group that is so talented and includes two elite pass rushers has recorded only two sacks and has not been disruptive in the slightest.
Some of their slow start can be blamed on schemes to slow them down and game plans that help neutralize them, but so far they have been inexcusably bad regardless of the circumstances.
The young offensive tackles in Tennessee have been a different story. Taylor Lewan and rookie Jack Conklin haven't been expected to produce much as a duo, particularly due to the lack of translatable skills that the latter showed on game film throughout his senior season.
The Titans, however, should be pleasantly surprised with what the rookie has been able to do in his first couple of games, looking much better than many analysts, including myself, predicted.
Regardless of the particularly surprisingly good start that the Titans tackles have had, they still are far from the Raiders pass rushers in terms of overall talent and athletic ability.
On paper, Khalil Mack and Bruce Irvin should be living in the backfield come Sunday — but the game won't be played on paper. The Raiders pass rushers must rebound quickly or things could start to get out of hand.
Raiders Safeties vs. Delanie Walker
Who is going to cover Delanie Walker? I really don't know. None of the LBs will be able to stay with him.
On Thursday I tweeted (with much disdain from Raider Nation) that Keith McGill may be the best option from a physical standpoint, but he isn't particularly good.
It could be Nate Allen, though he isn't a phenomenal option either.
Karl Joseph is likely too small to cover Walker, although he is athletic enough.
The fact is that it will probably be a mixture of Allen and McGill with LBs and CBs seeing some snaps matched up with him.
Fortunately for the Raiders, Walker is injured and was unable to practice on Friday. Unfortunately for the Raiders, Walker at 50 percent is likely far too much talent for the team to defend.
The teams ability to cover any player, particularly a TE, has been vomit inducing. Oakland gave up "Madden" yardage to a bunch of third-tier tight ends in Atlanta and now face the prospect of covering Walker, a veteran star TE that through two games, is on pace for 1,000 yards this season.
There is nothing that suggests to me that Walker will be kept in check unless he is unable to play on Sunday. He is too talented and any non-CB on this defense is either too small or not athletic enough (or in many cases both) to cover him.
Walker should be their bread and butter, racking up plenty of yardage and a TD or two if this defense doesn't step up big time.
Ben Heeney vs. Marcus Mariota
Again, we get to another disappointment on this defense, as Ben Heeney was expected to be a major leader on this defense.
Athletically, Heeney should be able to cover many TEs and LBs and physically, there is no reason to think that he shouldn't be able to fulfill his duties in run defense. That hasn't been the case though as Heeney has been a major liability in coverage and has been unable to tackle anyone.
He is slow to fill holes, misses plays in the backfield and gets lost in coverage. If Heeney is going to contribute to this defense, he will have to regain confidence and help the team as a leader on defense against the young QB in Tennessee.
Marcus Mariota is starting to come into his own as an NFL QB, and while it is still too early to tell what his career will entail, it is readily apparent that Mariota is a talented and gifted athlete with a good head on his shoulders.
Mariota has thrown two TDs and one INT in both of his games this season, and his team is 1-1. This season will be pivotal in his development and the future success of the Titans.
Heeney needs to make an impact as a defensive leader, controlling aspects of the defense that will put him and the team in better position to defend the Titans offense.
While Heeney doesn't have the green dot anymore and will likely loose snaps to rookie Cory James, he still needs to contribute to the defense if it is going to be successful. He needs to play a chess match with Mariota at the line of scrimmage and help the defense be in position, even if he isn't ready to contribute physically.
Ken Norton Jr. vs. Terry Robiskie
You may have noticed a theme throughout this piece, as every matchup has included a disappointing aspect of the defense. Those problems start with Ken Norton Jr.
Whether the issues are more schematic or fundamental (there are both), it falls on the players and Norton. He needs to develop the young talent on defense and put them in a position to be successful. There is enough talent on the defense to be a top ten squad, but right now the team currently ranks dead last in the league.
Terry Robiskie is the offensive coordinator for the Titans, who began his coaching career in Oakland as RB coach in 1982. The Titans offense as a whole has been relatively average, currently ranked 21st in total offense and passing offense and 13th in rushing offense. Luckily for KNJ, the Titans offense doesn't feature a playmaker as dynamic as Drew Brees or Julio Jones.
KNJ needs to improve, plain and simple. There are no excuses at this point. He will need to get this talented defense more productive or he will be fired.
There is already talk of Jack Del Rio taking over some (all?) responsibilities on defense. This is the chance that KNJ needs to get back on track. The offense he is facing isn't bad and it is led by an experience coach in Robiskie, but at this point in the season he needs to figure it out.
Norton has pieces to the puzzle but right now it seems like he has no idea how to put it together.
This article originally appeared on