Marquette King gets flagged after dancing with penalty flag (Video)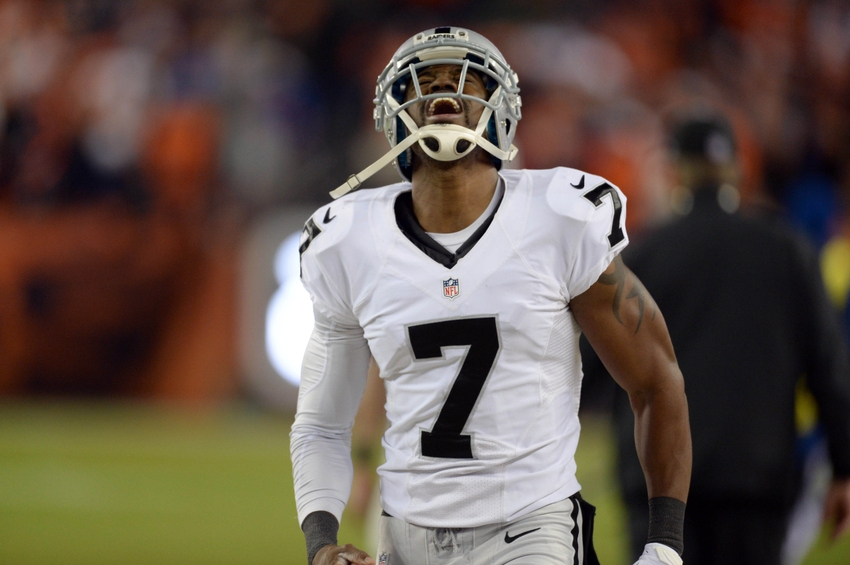 Oakland Raiders punter Marquette King got roughed during a punt. He drew a penalty of his own after dancing with the penalty flag thrown. 
Punters and kickers rarely have swag in the NFL. Sure, there are kickers who love to celebrate like Justin Tucker, but generally, people paid to kick for a living are fairly boring players. Someone forgot to tell this to Oakland Raiders punter Marquette King.
Against the Buffalo Bills, the Raiders punter got knocked to the ground, drawing a flag. King, who has made a name for himself as everyone's favorite enthusiastic punter, ended up getting a flag of his own after dancing in celebration of drawing a penalty.
Punter gets roughed, taunting penalty with the ref's flag pic.twitter.com/UjKiUM9XxI

— Pick Six Previews (@PickSixPreviews) December 5, 2016
The Raiders punter has already made a name for himself with some silly celebrations. It's been such a long time since a special teams guy other than a returner has been so exuberant, King is a welcome change.
Oakland brought King in back in 2012 so he could eventually replace Shane Lechler. It hasn't been an easy road, but there hasn't been much to hate about his tenure as punter. King hasn't relinquished his starting role since beating out Chris Kluwe in 2013.
While the NFL has drawn criticism for trying to remove fun out of the league, you can't use that defense here. King knew (or should have known) playing with the penalty flag would be considered unsportsmanlike conduct. However, this might be the most hilarious thing a punter has done, so it's worth it. You have too Bellevue that Al Davis is somewhere smiling knowing that King is the punter for the Raiders.
This article originally appeared on