Marquette King Celebrates Drawing Penalty, Flagged (Video)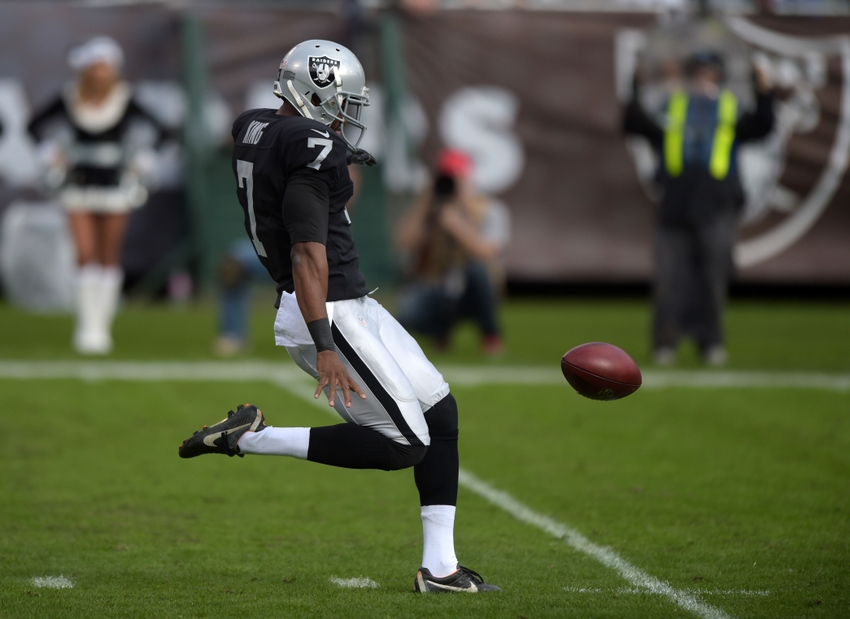 Oakland Raiders punter Marquette King may have gotten a bit too hype for drawing a penalty as he was flagged for his celebration of it.
There are so many things to love about the 2016 Oakland Raiders. From their late-game heroics to the way that they play all-out, they are simply a fun team every week out. However, perhaps the most underrated part of their entertainment is their punter, Marquette King. King has dabbed, danced, and generally celebrated his special teams work all season. In Week 13 against the Buffalo Bills, though, he went a little far.
After the Bills defense came up with a big stop in the fourth quarter as they tried to claw back, King was out to punt. He let off a boomer, but also got taken out hard by the block attempt. That drew a huge roughing the punter penalty, which essentially sealed a win for the Raiders.
King couldn't just pump a fist, though. After seeing that he got the penalty drawn, he started walking to the sidelines. He then picked up the official's flag that was thrown, danced with it, and then went on his way. Naturally, he was flagged for celebrating a penalty—a nice touch of iron:
How can you not love this guy? Yes, it's a dumb taunting penalty. But it didn't really hurt his team. They still had the ball and the chance to run out the clock.
But Marquette King really embodies the spirit of this Raiders team right now. They're out here having the time of their lives and enjoying all of this success. So much so that their punter is out here taunting opposing teams after penalties. If that gets you to 10-2, though, can you complain about it all that much?
This article originally appeared on