Malcolm Smith Picks Off Brock Osweiler, McGregor Struts (Video)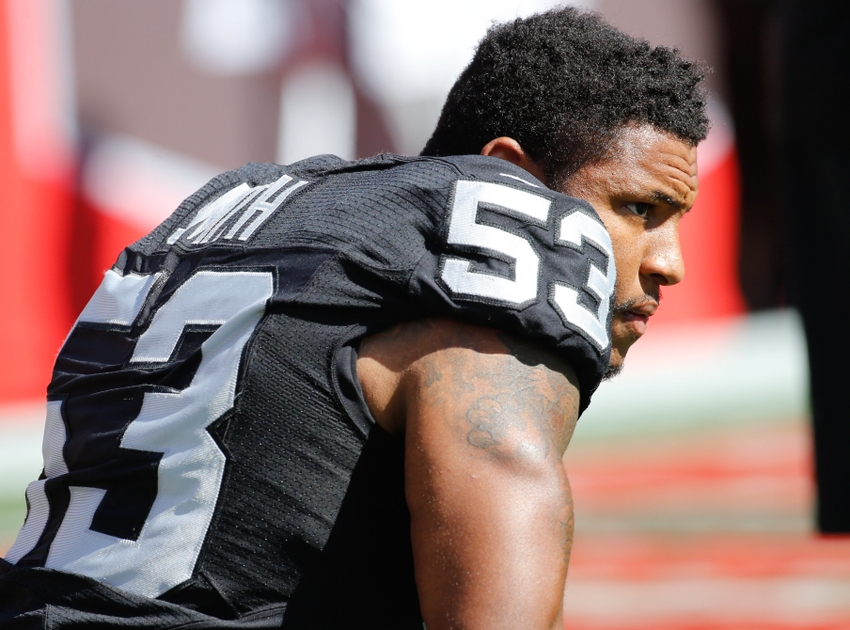 Oakland Raiders linebacker Malcolm Smith hasn't been having the best year, but he knows how to make a timely interception—and how to celebrate.
Houston Texans quarterback Brock Osweiler hasn't been the best in primetime games this season. In Week 3, the New England Patriots shut him out on Thursday Night Football. Just last month, Osweiler had an opportunity to stick it to his former employer, but he threw just 131 yards on 41 attempts against John Elway's Denver Broncos. Oakland Raiders linebacker Malcolm Smith looked to keep those woes going.
Osweiler seemed to be off to a bright start in the first half of Monday night's game in Mexico City against the Raiders. He threw a touchdown to Braxton Miller and looked much more accurate than he did in his previous games.
Smith looked to turn the tide, though, securing an interception of Osweiler with just 1:38 remaining in the second quarter.
Osweiler had plenty of time to make a decision, but he elected to send the ball to a tight end who was absolutely draped by Smith in coverage. Smith won Super Bowl MVP for his big plays, which included a pick-six of Peyton Manning. This guy is more than capable of making quarterbacks pay with a poor decision into his coverage, and he did so here.
But Smith wasn't done making his presence felt on Monday Night Football in Mexico City. He threw the ball to the ground and did the Conor McGregor strut. OK, it's really the Vince McMahon strut, but some of you probably don't know who McMahon (the real moneymaker) is.
In any case, Smith used the strut of one of the most confident athletes in history and I wonder if he has the confidence to make some more big plays for a new-look Raiders defense that has steadily improved this year.
More from NFL Spin Zone
This article originally appeared on