Los Anglees Rams: Jared Goff To Throw Deep More?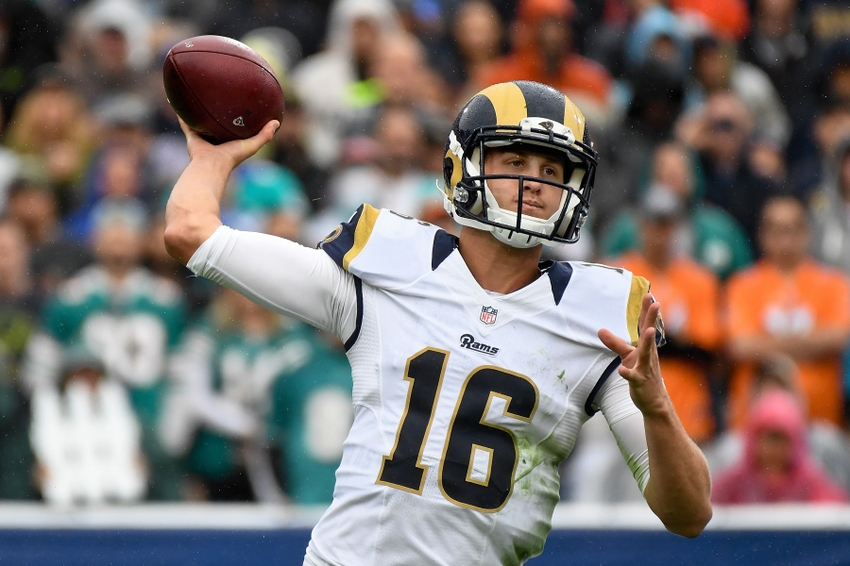 Jared Goff might finally be given a chance to open up the Los Angeles Rams offense in Week 12 against the New Orleans Saints.
After sitting behind Case Keenum for ten weeks, the Los Angeles Rams decided to give Jared Goff his first career start in Week 11 against the Miami Dolphins. Goff predictably struggled, leading the Rams to just 10 points. The Rams offense looked as inept as it did under Case Keenum, as their only score was a rare long touchdown run from Todd Gurley.
Goff completed just 17-of-31 passes for 134 yards, averaging a meager 4.3 yards per pass attempt. Somewhere out there, even Brock Osweiler grimaced at that uninspiring performance.
That said, nobody could have realistically expected more from Goff in his debut, especially given the Rams lack of weapons and even more abhorrent blocking. Goff was only asked to attempt three deep passes against Miami, and all of them (two to Kenny Britt, one to Brian Quick) fell incomplete, per Pro Football Reference.
In Week 12, the Rams will need more than just even 14 points to dethrone the New Orleans Saints. Drew Brees and this offense can put up points in a hurry. Moreover, the Rams know that they will eventually have to force Goff to attempt more deep passes to see what he has and an increase in deep passes would be important to Gurley and the running game.
According to the Los Angeles Times's Gary Klein, Los Angeles is expected to let Goff attempt more risky passes against the Saints. Goff, of course, says that he hopes this happens.
The Rams will face the Saints on the road, but that's a good thing for the passing attack. Weather won't be a factor on Goff's deep attempts, so he can focus on just trying to hit Britt and Quick with accurate passes to attempt to keep the pace with Brees and company.
This article originally appeared on