Los Angeles Rams vs. New York Giants: Five Questions With GMEN HQ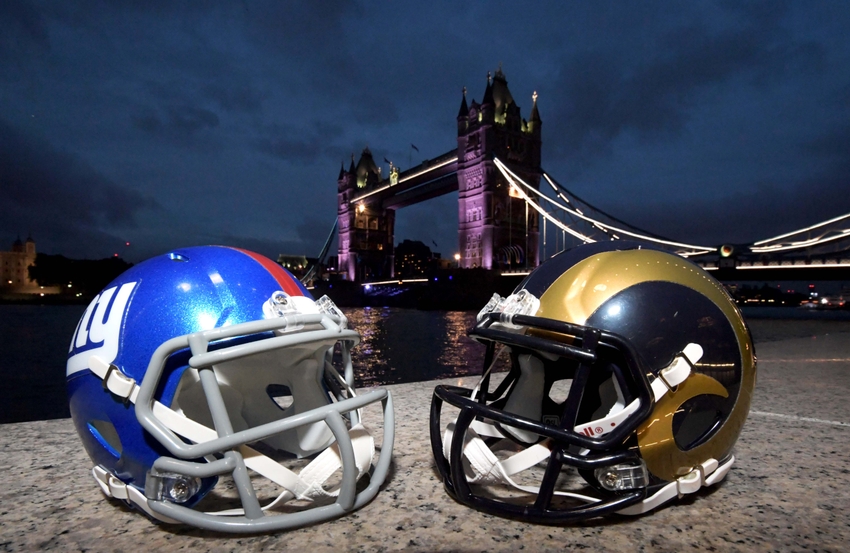 With Sunday's game between the Los Angeles Rams and New York Giants taking place in London, here's five questions with GMEN HQ.
After two tough losses to the Buffalo Bills and Detroit Lions, the Los Angeles Rams hope to get back on the winning track with a matchup against the New York Giants on Sunday.
Despite a strong performance by Case Keenum against the Lions in which the quarterback threw for more than 300 yards for just the second time in his career along with three touchdowns, the Rams' defense failed to prevent Matthew Stafford from throwing four touchdowns. With Trumaine Johnson already ruled out for the second-straight week, Los Angeles is going to need all of the help they can get if they have any intention of shutting down Eli Manning and the rest of New York's passing game.
As a way to prepare for Sunday's game, we asked Curt Macysyn of our sister site GMEN HQ to get a perspective of what the Rams should expect from the Giants in London.
Odell Beckham Jr. is coming off one of the best games of his career against the Baltimore Ravens. Will the wide receiver continue his recent hot streak against the Rams?
I believe that the distractions that plagued Odell Beckham and the offense are behind them, but that was only one part of the equation. Moving forward, the offensive line still has the potential to be a problem for Big Blue. Ereck Flowers seems miscast as a left tackle, and a healthy Robert Quinn could give him problems.
All of this impacts Beckham because Eli Manning needs time in the pocket to find Beckham, as well as Victor Cruz and Sterling Shepard. New York was successful against Baltimore running the no-huddle offense, but that can be draining for the offense as well as the defense. If the Giants fall behind, I expect that they will resort to the no-huddle again, meaning that Beckham will need a lot of attention from the Rams.
There's been a ton of controversy surrounding the investigation of Josh Brown following his 2015 arrest. Is this going to be a distraction for the Giants as they prepare forSunday's game against the Rams?
Strictly from a football standpoint, the team has to get Robbie Gould acclimated to the long snapper and holder. Long snapper Zak DeOssie injured an ankle against the Ravens, so his game status is up in the air. With the "no longer automatic" extra points, this could become a challenge for the G-Men.
Regarding the distraction of Brown, there's been something almost every week in Giants-land with Brown I and Brown II, Weston Richburg ejected in the Redskins' game, Beckham's meltdown against the Vikings and Ereck Flowers shoving a reporter. The team has a first-time head coach and a largely absent general manager. Right now, they are 3-3, which is probably where they should be based on talent.
The running game has been a disappointment for the most part with New York this season. What running back needs to step it up for the most against the Rams to give this team a better chance of winning? 
Veteran Rashad Jennings is what he is at this point, a nice back without breakaway speed, and when he was injured the team turned to Orleans Darkwa. After a bad game at Green Bay for Darkwa, seems like the team is down on him. Bobby Rainey was a surprise out of training camp, and actually played his way onto the roster.
But Rainey is not an every down back, something the team found out about Shane Vereen when he got injured. That leaves rookie Paul Perkins as the last man standing. Perkins has shown some big play ability, so it behooves the Giants to try to play that hand. Pass protection will be a problem with Perkins, and New York has no fullback of H-Back on the roster.
Once again, a poor roster construction by Jerry Reese. New York will start with Jennings, and use Rainey on third down. Expect Perkins to spell Jennings initially, and then play extensively if Jennings can't get the job done.
At 3-3, the Giants are still in the running for what is turning out to be a tough division in the NFC East. Do you believe this team is capable of winning the division title despite the intense competition? 
The division is still up for grabs, but both Dallas and Washington have been playing well of late. The three-game losing streak by the Giants definitely hurt their chances, but there are enough division games to make up the difference. New York gave one away to Washington in Week 3, and I feel that one will bite them in the end. Overall, to win the division, the Giants will have to become a more consistent enterprise, something they have yet to show in their DNA this season.
What is your prediction for Sunday's game? 
In previous games in England, it never seems that the field conditions are not conducive for a track meet, so guys like Tavon Austin and Beckham may be negated a bit. In addition, I feel like the kicking situation will be more of an on-field problem than people expect. Maybe I'm wrong, but I get  bad vibe this week, and see a Rams' 17-16 victory.
This article originally appeared on