Los Angeles Rams' Trumaine Johnson Out Indefinitely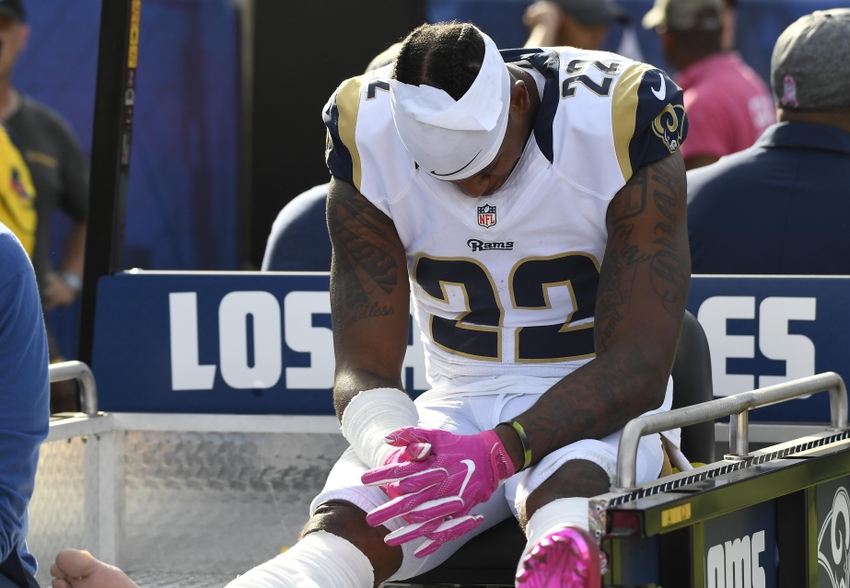 With starting cornerback Trumaine Johnson being sidelined  indefinitely with a lower leg injury, the Los Angeles Rams suddenly face a new problem concerning the secondary.
The Los Angeles Rams lost a heart breaker at home last Sunday as they fell to the Buffalo Bills with a final score of  30-19. It was a statement game for the Rams, and they arguably blew it, but that's not even the worse news.
Early in the fourth quarter, starting cornerback Trumaine Johnson was closing in on a tackle when his ankle would be landed on by an opposing offensive lineman. The injury would leave Johnson being carted off the field and would be later seen in a walking boot with crutches.
Honestly, this injury could not come at a worse time for Los Angeles.
Just before the Johnson injury, the Rams made a move by cutting cornerback Coty Sensabaugh to make room for defensive lineman Morgan Fox. The addition of Sensabaugh turned out to be a fail as the cornerback would only play four games into his three-year deal.
With both Johnson and Sensabaugh out of the lineup, the Rams are suddenly down to only three natural corners in E.J. Gaines, Lamarcus Joyner and Troy Hill.
While Gaines seems to be coming back into his 2014 form and Joyner playing his best football yet, Hill has seemingly struggled for the Rams thus far.
To give a better perspective on Hill's play, Hill has played in eight games so far in his young career.
In those eight games, he has managed to defend one pass. Meanwhile, Johnson has nine passes defended so far this season.
Yikes.
Also, the Rams made another recent move by signing defensive back Marqui Christian off waivers after he was released by the Arizona Cardinals. Despite the move, many experts see Christian as more of a safety, and not necessarily a natural corner, which means there's still areas to fill for Los Angeles.
As we can see, the Rams are in a tough spot. While Gaines and Joyner are reliable starters, Hill is certainly not. When taking all of this into consideration, should the Rams look to the free agent market?
Currently, there are a few notable names worth consideration to bring on board.
One name that comes to mind is free agent Brandon Browner. Browner offers plenty of experience by winning two super bowls with the Seattle Seahawks and New England Patriots. He was also named to the Pro Bowl in 2012. Plus, Browner is originally from the Los Angeles area, so the Rams are only a few miles away.
Another potential free agent is Keenan Lewis. Lewis has size at 6-foot-one and according to ESPN's Mike Triplett, was one of the top players for the New Orleans Saints from 2013-14. Lewis was released due to injury issues and chemistry problems with former defensive coordinator Rob Ryan. Maybe a fresh start with a new team is just what Lewis needs to get back to his 2014 form.
Besides the free agent market, Los Angeles can look to their practice squad as they've had success with undrafted free agents.
From the practice squad, Mike Jordan may be the best option. Jordan had an excellent preseason as his name was called multiple times each game. He played so well that he even beat out recent Rams corner Marcus Roberson. At 6 feet, 200 pounds, Jordan has the ideal size of being a lengthy corner to line up outside.
The Los Angeles Rams find themselves in a hole with only three natural cornerbacks currently in the lineup as they will have to add another player towards the position. Do they address the position via free agency? Or do they go in-house and rely on another young player to an already young roster?
Want your voice heard? Join the Ramblin' Fan team!
This article originally appeared on