Los Angeles Rams Score Five Touchdowns in 37-32 Win Over Tampa Bay Buccaneers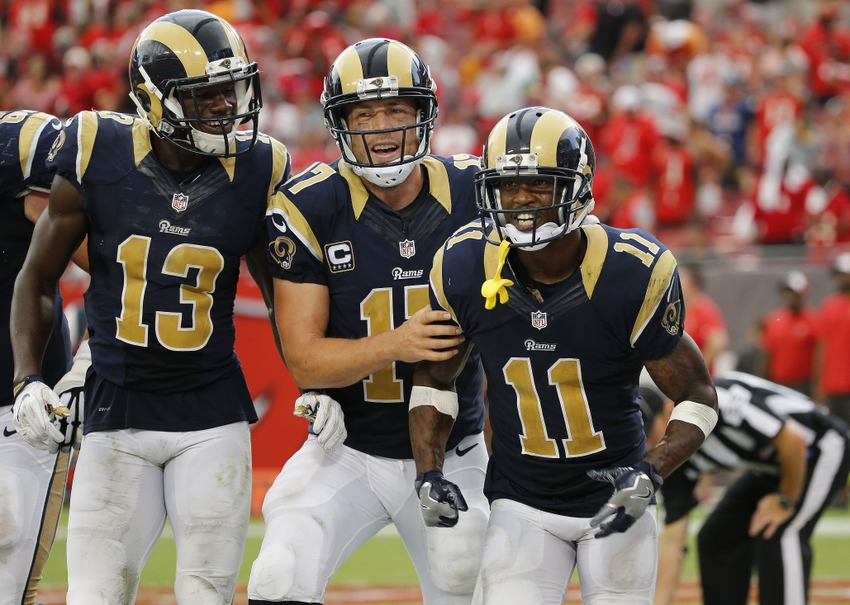 After averaging just 4.5 points per game over the first two games, the offense for the Los Angeles Rams finally got rolling in Week 3 against the Tampa Bay Buccaneers. Unfortunately, the performance of the defense was a different story, but the important factor is the Rams came up on the winning end in this one.
Thanks to solid performances by Todd Gurley and Tavon Austin, the Rams came through with the 37-32 win over the Buccaneers to improve to 2-1 on the season. Los Angeles had been waiting for Gurley to break out of his funk after recording less than 100 rushing yards in two games, and the running back didn't disappoint after finding the end zone twice on 85 rushing yards.
As for Austin, let's just say the Rams are feeling better about their $42 million investment after the wide receiver caught five passes for 82 yards–including a key 43-yard touchdown in the fourth quarter to basically seal the game. Austin also picked up 22 rushing yards on two carries, and after the frustrations from the previous two games, let's hope this wasn't just a one-time thing for the former first-round pick.
While Case Keenum (14 of 26 for 190 yards with two touchdowns and an interception) has done everything in his power to get the speedy wide receiver involved on offense, Austin just couldn't seem to get anything going after catching just nine of 21 targets over his first two games. Los Angeles' offense ranked near the bottom of the league last year, and Sunday's performance was the perfect example of just how dangerous they can be when their stars are producing.
Of course, the defense didn't look as sharp as they did last week against the Seahawks after allowing Jameis Winston to complete 36 of 58 passes for 405 yards with three touchdowns. Even if they forced two turnovers on Winston, the defense is the strongest part of this team, and a similar performance next weekend against the Arizona Cardinals simply won't cut it for this team.
For now, Los Angeles fans have to feel better about the way their team looks when considering how awful they looked in Week 1. For a team to score five touchdowns after failing to find the end zone in each of the first two weeks, this was a big win for Jeff Fisher's squad as they're becoming a team to keep an eye on in the NFC.
This article originally appeared on