Los Angeles Rams Lose TV Ratings Battle in Own Market in Week 10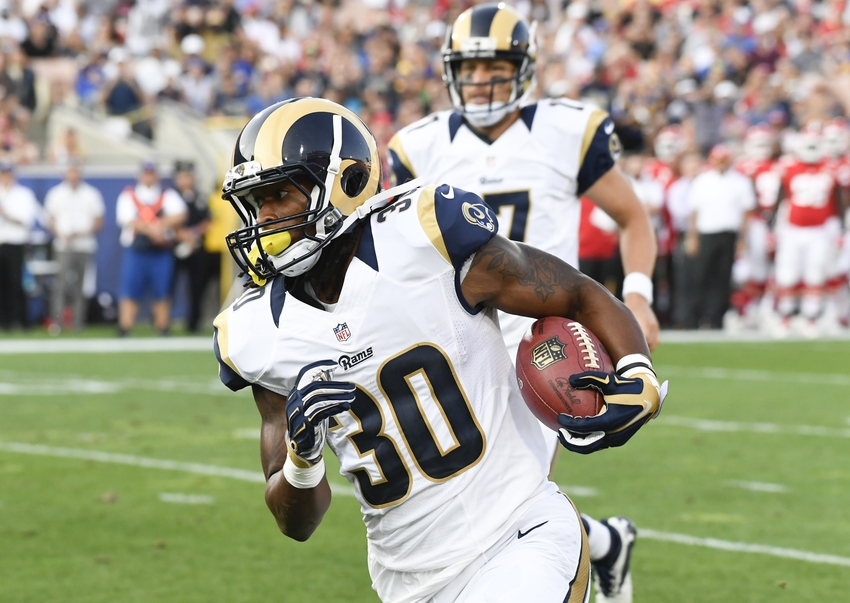 The Los Angeles Rams lost the television ratings battle in Week 10, with their game against the New York Jets finishing in third in the L.A market.
While it was a successful day for the Los Angeles Rams this past Sunday (well, you know, they won and stuff), the ratings weren't so great. Los Angeles finished in third place behind two other games in its own market.
The Seattle Seahawks-New England Patriots game was a nationally televised contest on Sunday night and finished first. The shootout between the Dallas Cowboys and Pittsburgh Steelers came in just ahead of the Rams in second place.
NBC sports guy Fred Roggins tweeted out the details:
Sunday LA TV rankings.
1. Patriots-Seahawks
2. Cowboys-Steelers
3. #Rams-Jets
4. #Chargers -Dolphins
5. #Lakers– TWolves
6. #Kings – Jets

— Fred Roggin (@FredNBCLA) November 14, 2016
If the Rams had a winning team that was playing well on both sides of the ball, this likely wouldn't be the case. However, as Rams legend Eric Dickerson says, this team is just "boring" and "hard to watch."
The Rams rank 25th in passing and 29th in rushing, so it's no surprise head coach Jeff Fisher's team isn't winning any ratings battles. Things are about to turn around for Los Angeles, though.
The Rams have announced that No. 1 overall pick Jared Goff would be starting  in Week 11 against the Miami Dolphins, an event that all Rams and NFL fans alike have been waiting to see.
That should be more than enough to give the Rams a boost this Sunday and put them over the top in the L.A. ratings battle in the foreseeable future.
Gone are the days when the Rams played second (or in this case, third) fiddle to other NFL teams in their own market – at least for now.
This article originally appeared on