Los Angeles Rams Let Strong Defensive Performance Go to Waste After Loss to Miami Dolphins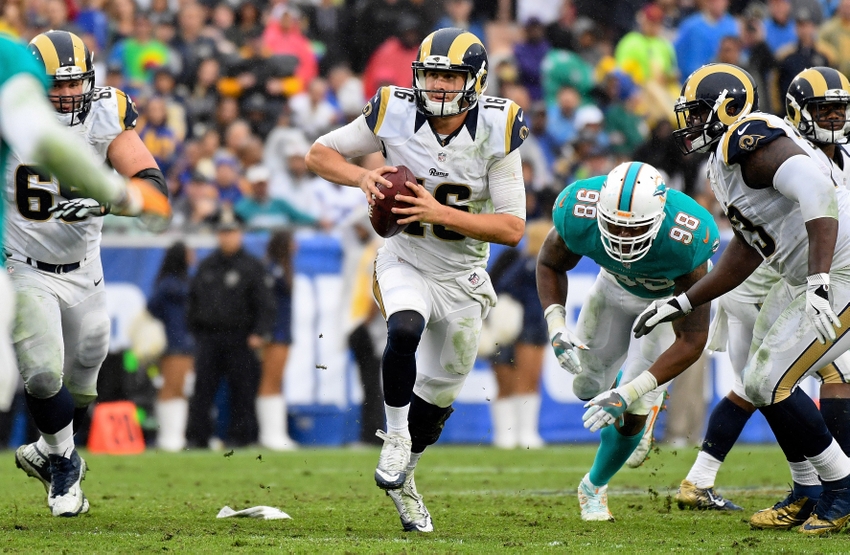 Despite a strong defensive performance, the Los Angeles Rams collapsed in the fourth quarter against the Miami Dolphins.
In typical fashion, the Los Angeles Rams suffered another heartbreaking performance in Week 11 against the Miami Dolphins as they let another strong defensive performance go to waste during their 14-10 loss. Jared Goff made his NFL debut in his first start with the Rams, and while the rookie didn't do terrible at quarterback, it still wasn't enough to help the offense overcome the Dolphins in this one.
One of the reasons why Jeff Fisher made the switch from Case Keenum to Goff was to hopefully give the offense the type of spark they so desperately needed. When considering Goff only completed 17 of 30 passes for 134 yards, it's easy to understand why Los Angeles fell short against Miami for their sixth loss of the season as the team only scored 10 points all game.
The most frustrating factor from this loss is the Rams allowed another strong performance by the defense go to waste as they shutout the Dolphins up until the final five minutes of the fourth quarter. To top it off Ryan Tannehill led Miami to two scoring drives in the final five minutes, which is amazing to think about when seeing how much they struggled on offense leading up to this point in the game.
Once again, offense continues to be an issue for Fisher's squad, as fans couldn't have asked for a better performance by the defense. The fact that Los Angeles has only scored 39 points over their last four games is the perfect example of just how bad this offense truly is.
For a head coach that was already on the hot seat, it will be interesting to see if Fisher continues to receive heavy pressure after watching his team let another one slip away. To say the 2016 season has been a frustrating one would be the understatement of the year as the Rams continue to find new ways of disappointing each week, which is a shame when seeing the defense emerge as one of the best in the league over the last couple of weeks.
This article originally appeared on