Los Angeles Rams: Jared Goff Continuing to Sit Hurts Future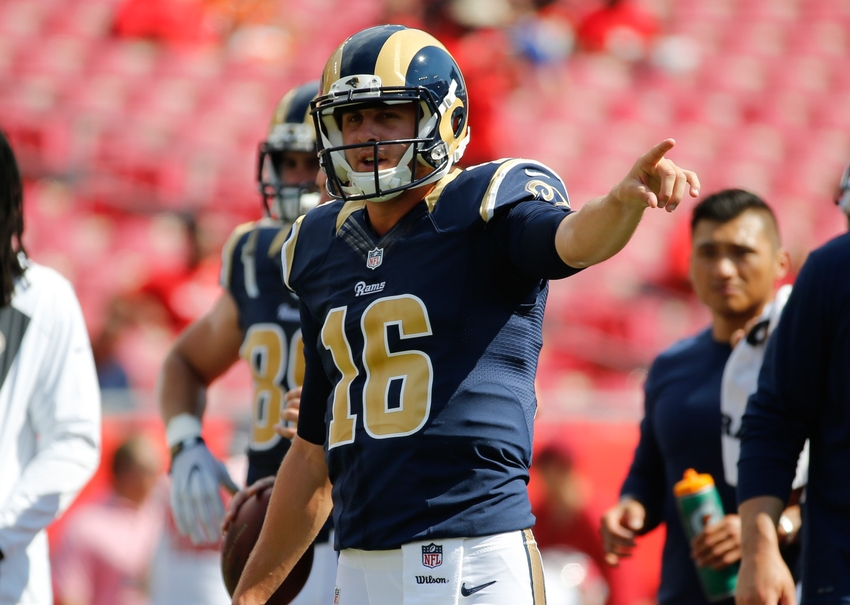 The Los Angeles Rams have nothing to lose but much more to gain if they finally decided to start quarterback Jared Goff.
The Los Angeles Rams have been a complete and utter disappointment this season. At 3-5 so far, nothing has gone right for a team held to high expectations in 2016. On offense, quarterback Case Keenum has been abysmal, yet the Rams feel rookie Jared Goff needs more time before being unleashed in the pros.
So far this season, Keenum has totaled 2,004 passing yards, 174 completions, nine touchdowns and the second-most interceptions in the NFL at 11. Keenum simply doesn't have the required skill-set to be an effective starting quarterback and is better suited as a backup.
The truth of the matter is, the Rams are making a terrible mistake by not letting Goff get some valuable playing time in football games that actually matter. Goff was unimpressive in preseason action. But if he were able to play against starting defenses, it would undoubtedly give him the solid experience needed to take into next season.
For anyone expecting the Rams to magically turn things around this season and make a run at the NFL Playoffs, it simply isn't happening. This season will go down as one to be forgotten due to all their inconsistency across the team, especially on offense. It's no secret the Rams will need to continue rebuilding. At the end of the day, though, they need to get a good, hard look at everything Goff brings to the table.
The Rams offense can't score touchdowns and, even though they'll more than likely end this season under .500, Goff would at the very least bring a much-needed offensive spark. It's surprising that the Rams continue to stick with Keenum even though he continues to look lost and defeated on the football field.
Starting Goff sooner rather than later has many more positives than hoping Keenum can deliver anything average over the final six weeks of the regular season. Goff would be able to learn what it takes to run a pro-style offense and prepare himself for what should be a bright future. One doesn't have to look far to see how much success fellow first-round draft pick Carson Wentz has been having in his rookie season.
Considering that many projected Goff to be even better than Wentz coming out of this year's draft, it's continually puzzling how LA has handled Goff. What exactly are the Rams waiting for. Goff has had more than enough time watching, studying, and learning from the sideline. He possibly can't do any worse than Keenum and would finally give Rams fans something worth watching come game day.
Overall, the Rams should start Goff as it makes a ton of football sense. When you have a quarterback playing as bad a Keenum, it's best to head in a different direction. Luckily for the Rams, they have the No. 1 pick of the 2016 NFL Draft waiting in the shadows for his rightful opportunity to prove his worth. But for now, him sitting does more harm than good for this team looking ahead.
This article originally appeared on