Los Angeles Rams Fall to 4-8 After Week 13 Loss to New England Patriots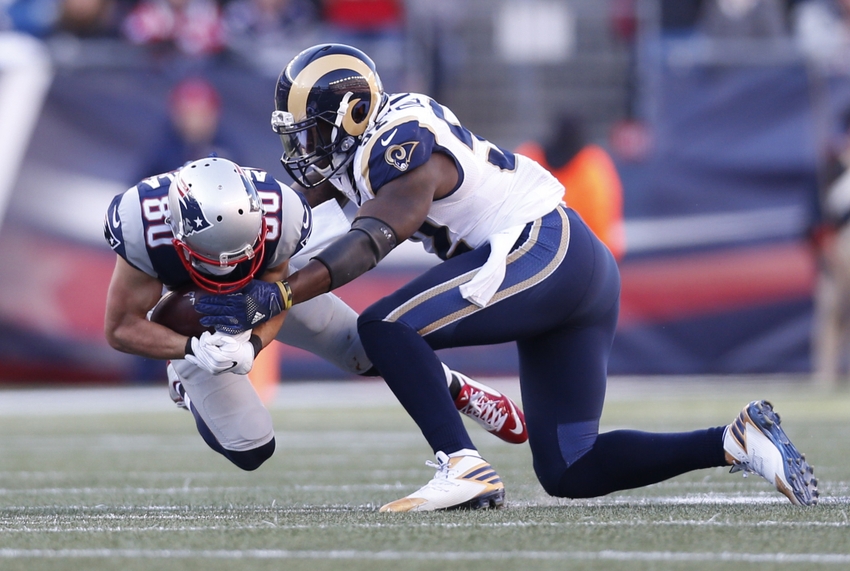 The Los Angeles Rams dropped to 4-8 on the season after a loss on the road to the New England Patriots in Week 13.
In the first game since the news broke regarding Jeff Fisher receiving an extension, the Los Angeles Rams suffered a tough 26-10 loss on the road to the New England Patriots. While expectations weren't high for the Rams coming into this game, it's safe to say they made it a much closer game for the Patriots than originally expected when looking at how the two teams compare.
Los Angeles entered Sunday's game as heavy underdogs after losing six of their previous seven games while New England is considered one of the top teams to beat in the AFC along with the Oakland Raiders and Kansas City Chiefs. Even after the news broke that Rob Gronkowski wouldn't be playing in this game due to back surgery, the Rams knew at the end of the day this was going to be one of those games in which they didn't stand much of a chance to win.
With that being said, at least Los Angeles played better on defense than they did a week ago against the New Orleans Saints after holding Tom Brady and the rest of New England's offense to scoring just two touchdowns. That may not sound like much of a big deal on paper, but at least the Rams' defense has one thing to feel good about as the Patriots' offense has always proven to be capable of putting up big numbers on a weekly basis.
As for Jared Goff's third career start, the rookie didn't standout like he did last weekend against the Saints, but he also didn't receive much help from his teammates in the passing game. Goff's lone touchdown of the game came in the final two minutes of the fourth quarter on a one-yard pass to Kenny Britt, so it's tough to even consider that meaningful as the game was already over at that point.
One week after taking on Brady, Los Angeles will head home to face another tough challenge against the high-powered offense of the Atlanta Falcons, who are coming off a frustrating loss of their own against the Kansas City Chiefs.
FOLLOW Ramblin' Fan on Twitter
This article originally appeared on